The results were impressive and encouraging. Nearly eight out of ten RIDE-CT & RIDE-New England readers voting in this website's latest poll say they "constantly" work on their skills when out riding.
A total of 79 percent voted that they practice "every time I ride," with an additional 20 percent saying they do so "occasionally – whenever I happen to think about it."
The reader poll was conducted between June 23 and July 14. The results showed that RIDE-CT & RIDE-New England readers are overwhelmingly aware of the inherent dangers associated with riding and routinely make an effort to minimize the risk.
NEW POLL POSTED ON MAGAZINES
A new two-pronged poll is now up focusing on motorcycle magazines. It comes in the wake of the closures this year of "Motorcycle Consumer News" and, recently, "American Iron" magazines. It inquires whether readers subscribe and, if not, why they don't. Readers may vote atop the right-hand column on any page on the website.
Surprisingly, there was a decided lack of arrogance among the respondents in the just-completed poll. Only one person voted that they never practice their skills because "my experience will see me through," and no one voted "rarely – because I'm a skilled rider."
A total of 99 percent of readers voted that they do work on their skills. The percentage of votes in the poll totaled 101 percent, presumably because of rounding done by the software.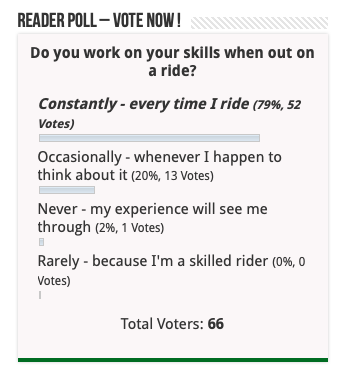 RIDE-CT & RIDE-New England began polling readers back in February on a variety of issues. Questions have ranged from the impact of the COVID-19 pandemic this riding season to the appeal of BMW's new R 18 cruiser.
The website's polls are non-scientific. They run for no set period, usually for a few weeks, and are conducted out of curiosity and for fun.
Hello! You can help boost voter turnout by clicking on the social media buttons below and asking fellow riders to participate.