STURBRIDGE, MA – He's had an amazing life. Set jump records as a motorcycle daredevil and survived Stage IV cancer. Now, Doug Danger's story is being shared in a just-released "as told to" biography titled "Doug Danger – Dare to Dream."
Life-long friend Steve Hall was the man at the keyboard. The effort began in January. "The process was him basically telling the story," said Hall in a phone conversation Tuesday.
While Hall knew many of the highlights of Danger's life – how he jumped a motorcycle over an L-1011 jumbo jet on national television, jumped 14 schools buses on a 125cc bike, and flew over 11 tractor-trailer trucks – Danger's recounting filled in the many blanks.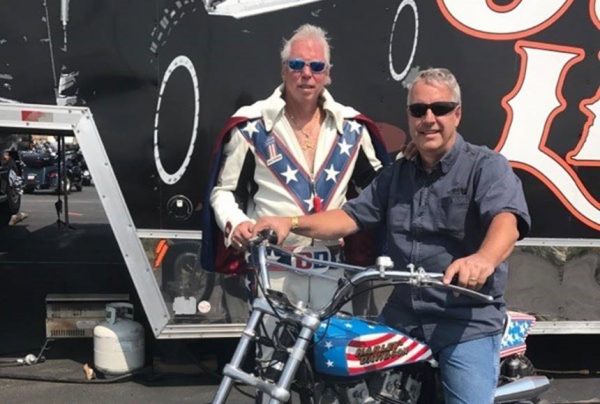 "There's something really unqiue about Doug. First of all, it's his demeanor. He's one of the nicest guys you'll ever meet, and I wanted to capture that," said Hall. "He's been doing stunts for 40 years. That's almost unprecedented."
"Doug Danger – Dare to Dream" is sub-titled "From tragedy to triumph: A daredevil's ride." It acknowledges that fear can sometimes be part of being a daredevil and how it must be overcome "one step at a time," Hall said.
Making a career out of risk-taking takes many qualities. "He's got talent and insights and a philosophy and methods we really wanted to break down," Hall reported.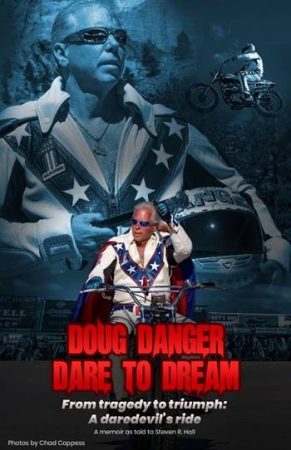 Leadership qualities and focus come into play, too. "Doug Danger – Dare to Dream" reveals "what makes him tick, what makes him successful," Hall said.
Danger, whose real name is Doug Senecal, was a longtime resident of Massachusetts, but now lives in Florida. At 58, he's still jumping motorcycles, adding memories and stories for future editions of the book.
Meet Doug Danger At These Locations
Several book signings with Doug Danger are scheduled over the next two weeks in New England. They include:
"Doug Danger – Dare to Dream" is available for purchase online through Hall's publishing company, 15 Rules Publishing.
Hello! If you enjoyed this story, please share it on social media by clicking on the buttons below.