Attendance at Laconia Motorcycle Week in New Hampshire is down this week, possibly because of the reported spread of COVID-19 by the recent Sturgis Motorcycle Rally. "The Laconia Daily Sun" has the story:

By Rick Green, The Laconia Daily Sun
LACONIA — Normally, the NASWA Resort, the official hotel of Motorcycle Week, would be rocking during the annual rally, but this is no normal year.
Cynthia Makris, whose family owns the business, said that when the event began last weekend, it was "like somebody turned off a switch."
The hotel had been full prior to the rally.
"We have no tourists, no bikers, we have no one," she told Gov. Chris Sununu when he stopped by Wednesday evening to cut a birthday cake for the 97th installment of the rally. "We have 50 empty rooms. So everyone was sufficiently scared."
Sununu said the Sturgis Motorcycle Rally in South Dakota may have contributed to those fears.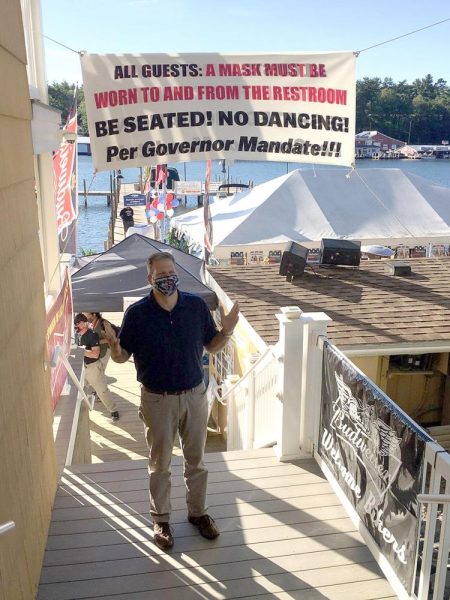 That rally, which ended Aug. 16, attracted large numbers of people who were in close proximity to one another and did not wear facial coverings. Now, more than 100 cases of COVID-19 connected to Sturgis have been reported in eight states, including six New Hampshire residents.
"I got to tell you, Sturgis didn't help," Sununu told Makris. "It sent the wrong message. The numbers out of Sturgis are really high and they're going to get higher."
Sununu, who was wearing a New England Patriots facial covering, walked to the cake-cutting ceremony, pausing briefly below a sign explaining precautions being taken at the resort's NazBar & Grill bar on the sandy shore of Lake Winnipesaukee:
"All guests: A mask must be worn to and from the restroom. Be seated! No dancing! Per Governor Mandate."
Makris joked with the governor.
"We were going to put you on a barge," she said. "We were going to socially distance you. We said, 'We'll put him out and then we'll pull him back in."
Instead, Sununu, who is up for re-election, spent time visiting with masked guests and employees, at one point shying away from an offered handshake, his hands held high.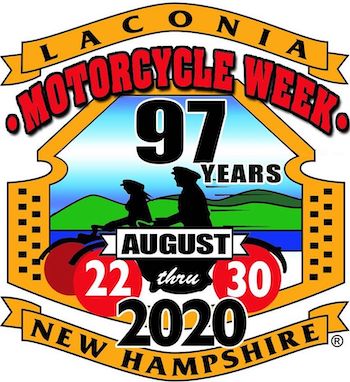 Absent from the cake cutting was Charlie St. Clair, executive director of the Laconia Motorcycle Week Association. He went to the Sturgis rally, but stayed in a campground away from the crowded areas. He has taken two COVID-19 tests, which came back negative.
He said Motorcycle Week attendance is down this year.
"But we've had a lot of people come up and say they were glad this wasn't called off," St. Clair said. "It's good to have some sense of normalcy even if everything is different. At least they've been able to come up to the Lakes Region and ride, see friends and just enjoy themselves. It's soothing."
Makris said in an interview Thursday that "the bad press coming out of Sturgis" hurt the Laconia rally. Some of the fear may have been based on a false impression.
"New Hampshire is not Sturgis," she said. "We have a different governor running our state."
For the remainder of the story, click here.
Hello! If you enjoyed this story, please share it by clicking on the social media buttons below.