NORTH SANDWICH, NH – It's harvest season and the Northeast is dotted with roadside stands abundant with the summer's crop of fresh farm offerings. That's part of the beauty of late summer and fall in the Northeast. But a farm stand creamery? Well, yes, there is such a place: The Sandwich Creamery.
Located down several miles of dirt roads in the New England countryside, Sandwich Creamery is unique and certainly off the beaten path. You could say it takes the cake; the ice cream cake, that is. It boasts dozens of rotating flavors for patrons.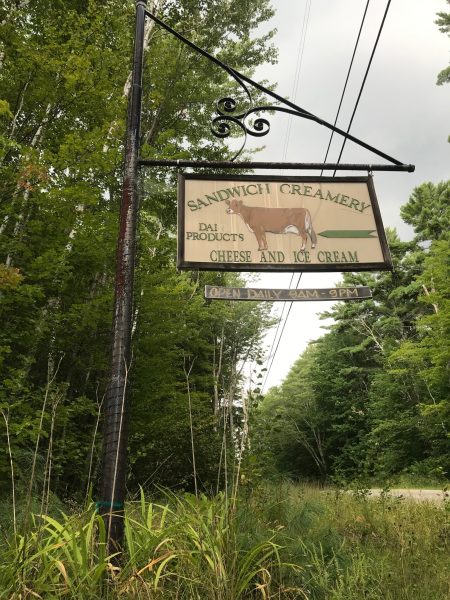 The establishment operates as a self-service farm stand operation. Pick out your flavor and size from one of the two large coolers in the stand (single serving, pint, quart), stick your money in the slot, grab a spoon and napkin, and enjoy. You'll have company, too. In addition to other customers, there are chickens on the property to visit with as you enjoy your frozen treat.
Celebrating 25 years in operation, Sandwich Creamery is a local small business run by Tom and Lisa Merriman. Its website perfectly captures the essence of this wonderful place:
"The rumors of delicious ice cream inspire the adventurous to brave the endless back roads in search of the Sandwich Creamery. Knowing that a little of what you fancy does you good, people arrive at the tiny creamery to find a peaceful spot that is well worth the drive. Come share a pint with a friend, see the cow and sheep grazing in the fields, and remember, ice cream is good for the soul."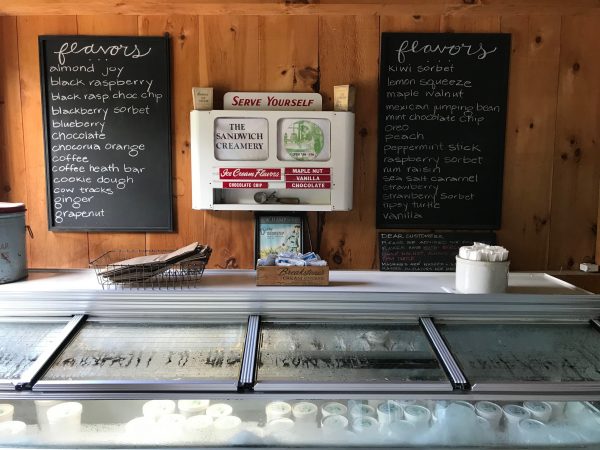 Upon our visit, I was overwhelmed with the many flavors of ice cream, sorbet and locally sourced milk, cheese and bread on hand. With so much goodness, I had to ponder my choice carefully, deciding upon two rounds of single serving size ice cream that both sounded delicious.
First up, the Almond Joy flavor which consisted of a vanilla base with coconut, almonds and chocolate bits. It was frozen dairy perfection. Next up, Grasshopper Pie, a mix of chocolate ice cream, mint and Oreo cookies. Another winner. Other signature offerings include Chocorua Orange, Dirt Road, and Kiwi Sorbet flavors.
They even make ice cream sandwiches, offering a Raspberry Sorbet & Licorice Pizzelle combo. It looked amazing.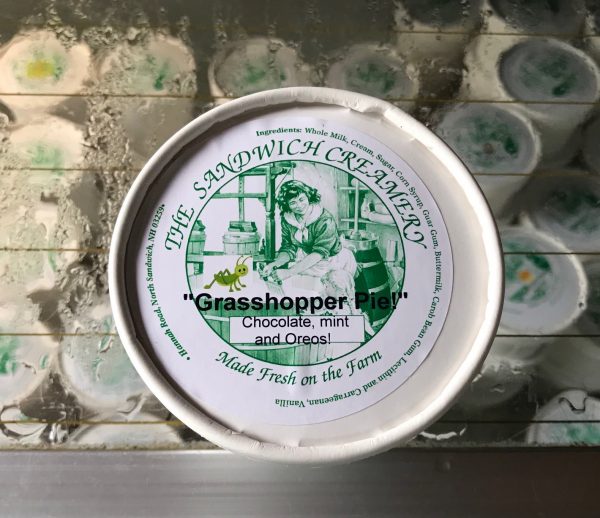 Area riding is among the finest in the Northeast. Sandwich Creamery is located along the newly-developed Northeast Backcountry Discovery Route (NEBDR). It was nice to share our visit with a few Harley-Davidson riders in the area for Laconia Motorcycle Week. I had to give them credit for navigating the dirt access road on their tar roaming steeds as there were a few small challenges to navigate due to recent weather.
Fine paved routes are also in abundance, offering mountain and lake views. Route 113 is a great one which runs along New Hampshire's beautiful Squam Lake. Route 113A continues north towards the creamery and past Hemenway State Forest on to Tamworth. To the south, Route 109 runs through Moultonborough along Lake Winnipesaukee towards Wolfeboro. Route 171 is also worth venturing down for a visit to the historic estate Castle in the Clouds.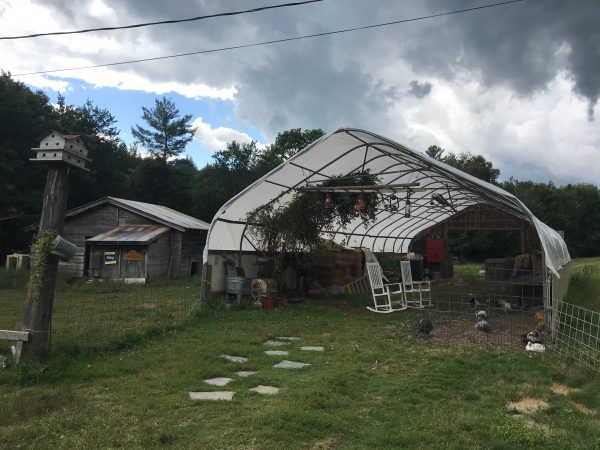 Sandwich Creamery is located down a winding dirt road, Hannah Road North. Hours are from 9 a.m. to 9 p.m. Bring your cash to stick in the slot as there are no credit card machines.
Be sure to also visit the creamery's Facebook page to get the latest goings on. If you have any questions, the owners are very responsive via Facebook messenger and can also be reached at (603) 284-6675.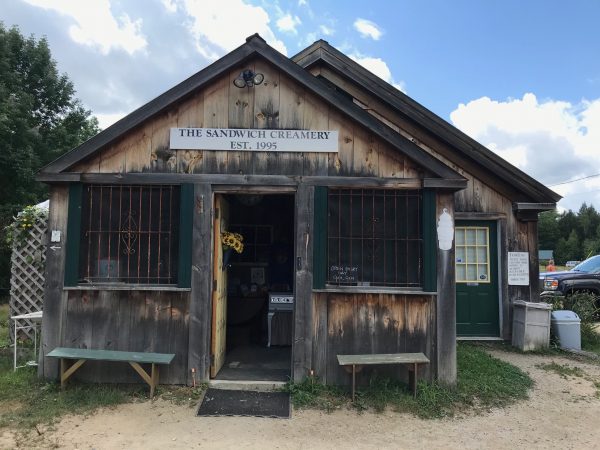 Other stops on this year's "Great Northeast Ice Cream Run" include:
Hello! If you enjoyed this story, please share it by putting down your cone and clicking on the social media buttons below.