Spotted While Out Riding: 1978 Laverda 1200
All it took was a ride on a friend's Laverda RGA1000 and the availability of a used 1978 Laverda 1200 for Louis Frazier of Stratford, CT to change his allegiance from one Italian brand to another. "It would take me faster than I'd ever been on land," he recalled of his friend's Laverda when RIDE-CT & RIDE-New England chatted with him on Sunday.
Frazier was living in Hollywood, CA at the time. It was the late 1980s and a Laverda dealer had just moved into his neighborhood.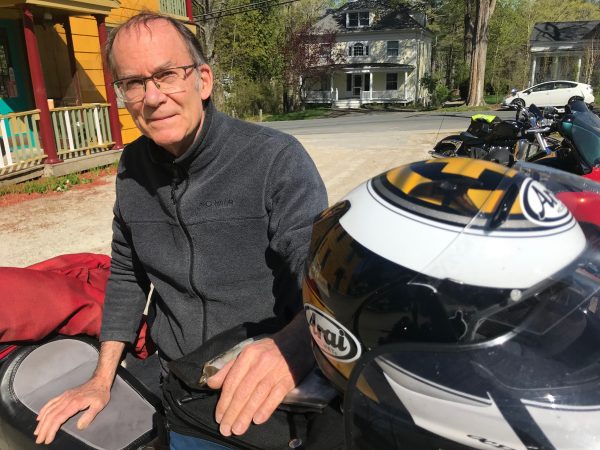 "I was a (Moto) Guzzi man. I had been a Guzzi man for about 15 years. I had a T3 that I bought new in '76 and it was about worn out. And then I had a Le Mans, a '75 LeMans, the first series Le Mans, and I thought that was the cat's ass. But then a Laverda dealer was right around the corner from where I lived in Hollywood," he said.
Frazier took the Laverda 1200 for a spin. "I rode it once and I had to have it. I just fell in love with it. It was kind of customized already. It didn't have a 1200 gas tank. It had a thousand cc (model) gas tank, which is a lot better than the 1200 tank," he said, adding "It was expensive. I think it was like $3,000." ("Motorcycle Classics" lists the original retail price in 1977 at $1,995.)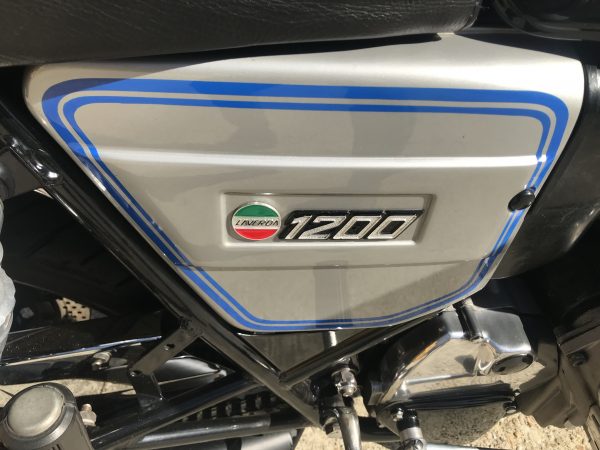 That was in 1988 and he's had it ever since. The Laverda's on its third paint job and its 1,116cc, three-cylinder motor has been gone through four times. The 73-horsepower model has reported top speed of 133 miles per hour. Laverda built the model for the 1978 through 1982 model years.
"I loved it. It was just perfect for me. I put a rack on it. I loaded it down. I couldn't kill it. It was the first bike that I had that wouldn't wear out. I beat the hell out of it all day on the road," Frazier said.
"In the '70s and '80s, a Triumph or a Moto Guzzi, a Norton, if you rode it really hard, like over 70 (mile per hour) all day, the bike would actually feel tired. It wouldn't be snappy but the Laverda didn't care one bit. Ride it as hard as you want. Never cared." 
Frazier, who moved to Connecticut in 2008 and works as a fabricator for Dragone Classic Motorcars in Orange, CT, also added a Jota fairing. When it got destroyed in accident involving a deer about 10 years ago, he bought a replacement.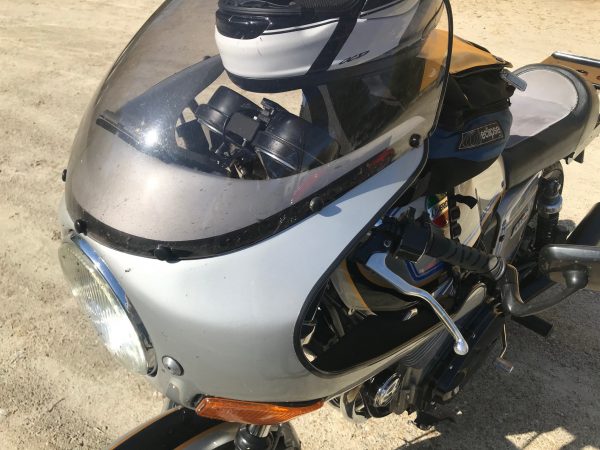 Just how many miles the Laverda 1200 has logged isn't known as it had speedo cable problems early-on. Said Frazier, "It's probably got over a hundred thousand because I've done over a dozen round trips from L.A. to the East Coast and back."
Given its age and mileage, the Laverda 1200 looks good, a testament to how well Frazier has taken care of it. It's put away every winter, stored in a breezeway at his house.
"I wish I could put it in the house. It might be possible one of these days. I'd put in in the dining room if I could. The breezeway works fine," he said.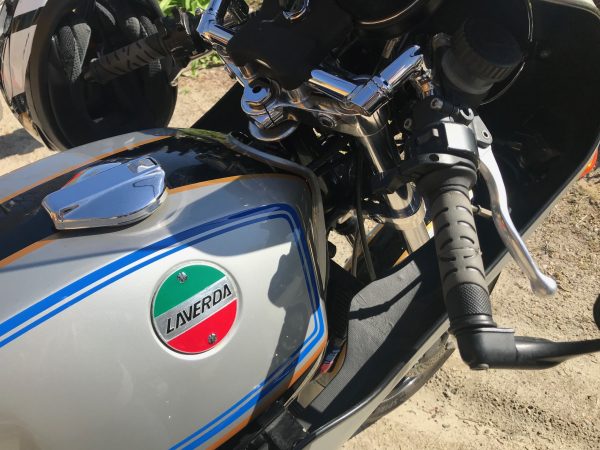 Hello! If you enjoyed this story, please share it with other riders by clicking on the social media buttons below.