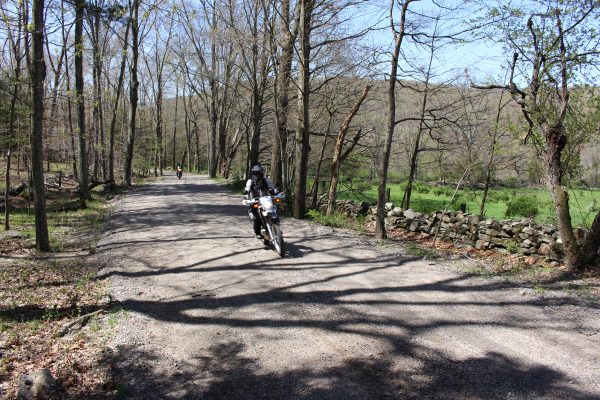 New England provides riders opportunities to explore the many facets of paved and off-road motorcycling – from the famously twisty mountain roads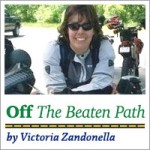 that meander up and down the hills and mountains to the scenic shoreline rides along the Atlantic Ocean.
There are those hidden bits that can only be found through off-tar exploration, aka adventure riding, which the above picture shows me enjoying. These wonderfully elusive, out of the way routes and destinations will be the focus of Off The Beaten Path.
As a child, I was mesmerized by the dirt bike scene, unrelentingly pestering my parents to support me in joining the neighborhood rat-pack with a bike of my very own. After riding my cousin's mini-bike over summer vacations in Pennsylvania, I was hooked.
My family questioned whether it was prudent to have a young lady embarking upon such a dangerous hobby. A dare-devil tomboy at heart, I pleaded my case that I had both the agility and responsibility necessary to successfully master the art and science of riding. Finally, upon my 12th birthday, I was rewarded for my efforts with a 100cc Kawasaki two-stroke to cut my teeth on. That bike took a beating while I came up the learning curve, but it provided me the foundation for the rider I am today.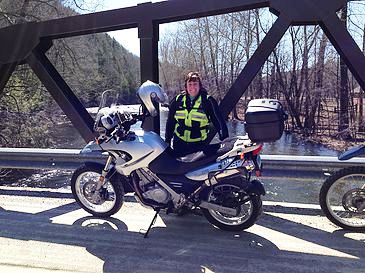 As I look back over the many years in the saddle, I fondly recall my youth and the carefree days spent in the woods with friends; finding and building new trails; and jumps and running through every mud puddle we could find with our knobbed ponies.
We'd search out every off-road area that allowed undisturbed riding enjoyment.  I quickly realized the camaraderie that riding engendered amongst my two-wheeled pals. We became a tight-knit group who'd help each other work on/fix our respective steeds, and raced to help each other pick up our bikes after an 'off' on the trail.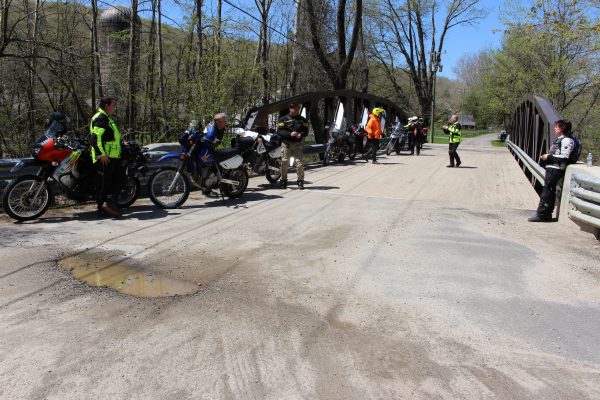 Being the only female dirt rider amongst my contemporaries was not always easy. I was viewed by many as a freak or social outcast during those all so tender teen-age years, just because of my two-wheeled passion. Despite the jeers, I stayed with it, as it provided such a sense of joy and serenity to my soul. As my skills grew, so did the dirt bikes in my stable. I got my first true enduro bike for my 14th birthday. At 15, a true motocross racing bike joined the fray.
By this time, I was not only competent, but proficient in the sport, and gained the respect of many of my male counterparts. I was no longer seen for my gender by them, only as a solid, competitive rider.
What I did not realize then is how much dirt-riding taught me about being a safe and proficient road rider. Unbeknownst to me, after years of riding on the trail and track, these transferrable, life-saving techniques had become ingrained in my riding style. At 16, I received my motorcycle endorsement and soon had a brand new 500cc road bike.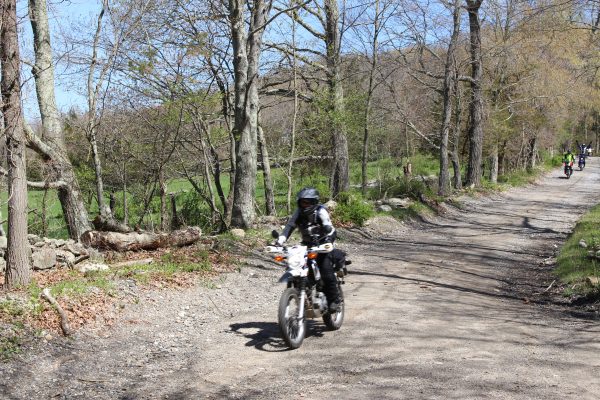 In that first year, I was tested with various road-conditions (rain, sand, pot-holes) in addition to having to avoid obstacles at speed (woodland creatures). Those skills learned on the trail all came rushing back to save my hide multiple times on the tar – braking, sliding, accelerating, and counter-steering.
Over the following years, I have owned several on-road and off-road motorcycles, and have enjoyed leading riding groups both on and off pavement. I must say, however, that dual-sport and adventure riding still holds a very special place in my heart. I am so very grateful to my parents for allowing me the opportunity to get the skills I needed from an early age, as no doubt, I am still alive, well and riding for their decision to give in to my desire to go Off The Beaten Path.
Thanks for tuning in and I hope you will join me in my quest to discover everything off-piste riding has to offer in New England.