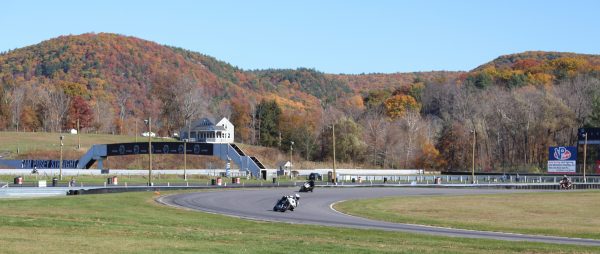 SALISBURY, CT – The reviews are in and motorcycle track enthusiasts love Lime Rock Park. A test track day today at the bucolic 1.5-mile racetrack in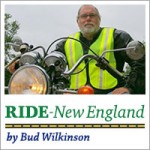 advance of formal track days in 2016 had riders praising the facility.
Team Pro-Motion of Horsham, PA staged today's event and more than 30 riders participated. They rode everything from high-end models from MV Agusta, Ducati and BMW to more common Japanese models from Kawasaki and Suzuki.
"It's one of my favorite tracks already and I'm very picky," said Cassi Laufer of Bay Shore, N.Y., who is seen above and below riding a yellow Suzuki SV650. "It feels like I'm riding out in the country without all the issues (found in street riding)."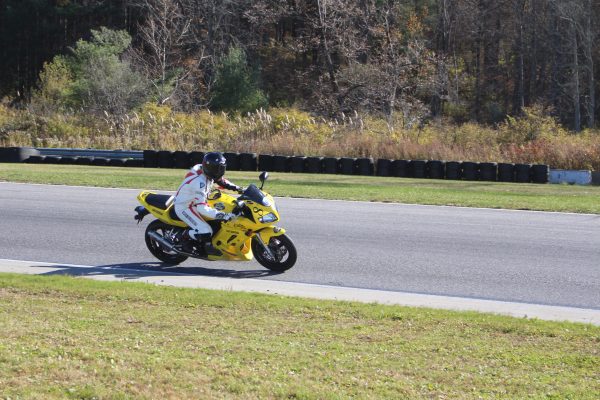 Team Pro-Motion tested the track last week before hosting. "I always wanted to ride it. This was a treat," said Team Pro-Motion's Glen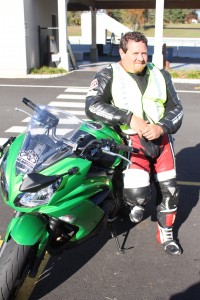 "Goldie" Goldman, who announced that his club has booked six track days at Lime Rock Park for next year. They will be staged monthly between May and September.
"I'm totally sold on this track. The surface is very smooth," said Goldman. "The track to me is an intermediate track … enough of a challenge to keep riders coming back."
In recent years, Lime Rock Park has limited motorcycle access to occasionally taking motorcycle clubs on parade laps around the track. From the 1960s through the mid-1990s, though, testing of motorcycles was commonplace.
Lime Rock Park now wants to expand its customer base beyond the amateur sports car drivers and professional racers that have used the rural facility for nearly 60 years. It began studying re-opening the racetrack to motorcycles more than a year ago. In mid-April, it hosted professional motorcycle racers from Yamaha and track school instructors to obtain feedback on the track's suitability for motorcycles. Over three days, they rode the road course.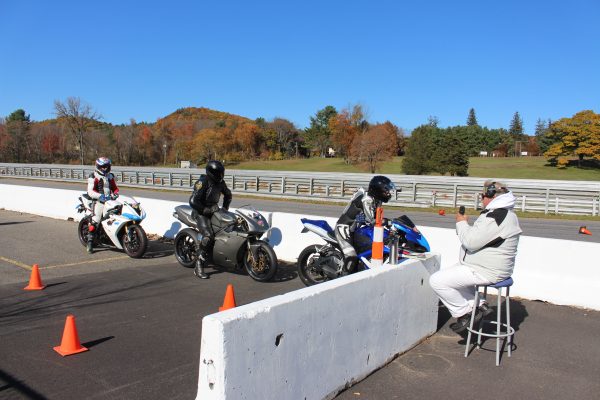 That was followed up by today's track day. The racetrack hopes to book other track schools as well as bring in manufacturers for motorcycle testing. "We're still figuring out dates," said Lime Rock "motorcycle tsarina" Kate Erwin when asked how many days might be reserved for motorcycles. "A lot of people are excited about it."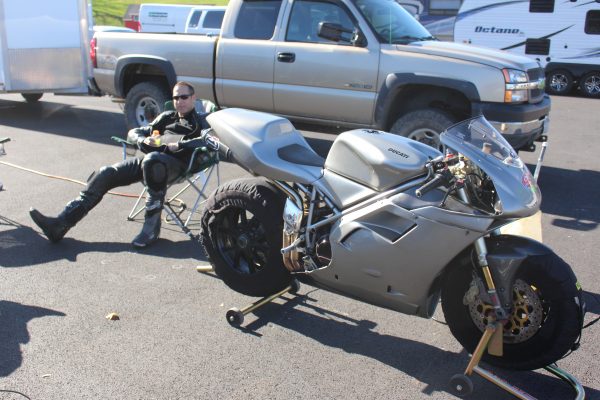 Among those giving a thumbs up to Lime Rock Park as a place to ride motorcycles at high speeds upwards of 140 miles per hour was David Gelerter of Winchester, CT (above and below), who brought his Ducati 996.
"It's a good track," he said. "The skepticism that I've heard is that it will get boring. I don't think that will happen. I think people will enjoy it and come back." Gelerter said he plans to add Lime Rock Park to the list of tracks he regularly rides.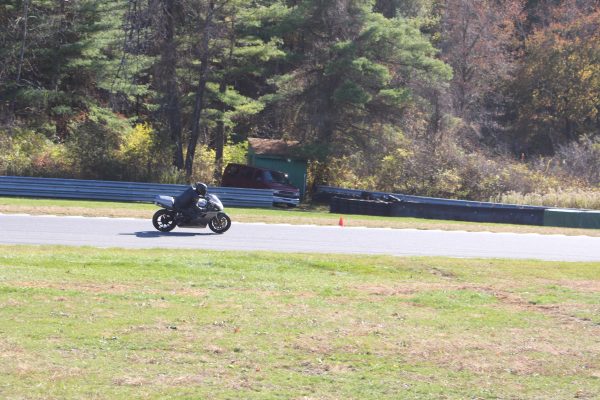 Joe Esile of Granby, MA (pictured below), who brought his Kawasaki ZX-6R, also liked the layout. "It's an easy track to learn. I really like it. It flows very nicely and it's a nice rhythm track," he said.
There was at least one crash today. Bob Machinist of New York City went down while riding his Ducati Sport 1000, despite his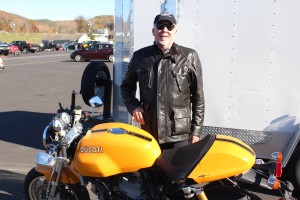 experience in having driven cars around Lime Rock Park for 35 years. "I messed up coming out of a corner. My ribs are sore and my thumb will be sore for a week," he said.
Nonetheless, he was pumped up over the racetrack's potential as a motorcycle venue. "I'm glad the bikes are back here. It's magnificent. It's so beautiful here at this time of the year. It's annoying that you drop your bike," Machinist said.
Erwin noted the diversity in styles of bikes in the paddock, suggesting that motorcycle events at Lime Rock Park will appeal to a broad cross-section of riders. "I hope this is the track little boys and little girls learn to ride on," she said.