BROCKTON, MA – Four suspected members and one associate of the Outlaws Motorcycle Club from four states, including Connecticut and Vermont, were arrested by the Massachusetts State Police Gang Unit and other troopers at a Motel 6 here on Friday.
Troopers seized six illegally-carried guns, ammunition, a knife, brass knuckles and drugs. The five were reportedly in Brockton to attend a memorial service for a local member of the motorcycle club.
According to a state police press release issued Sunday evening, an investigation began about 2 p.m. Friday when a man suspected of being a member of the club's Tennessee chapter was seen at the motel in the afternoon. The man, Matthew Miles of McMinniville, TN, acknowledged that he was carrying a pistol.
Troopers determined Miles did not have a license to carry a firearm in either Massachusetts or Tennessee. He was arrested and his Taurus 38 caliber revolver was seized, after which ammunition, brass knuckles and a small amount of suspected crystal meth was found in his car.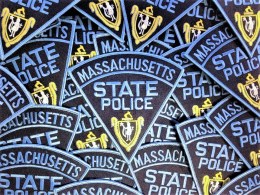 Miles was charged with unlawfully carrying a loaded firearm, unlawfully possessing ammunition and possession of a Class A substance.
State police then learned that another motorcycle club member from Tennessee, Pedro Tapia of Murfreesboro, was in Miles' motel room. They found a 45 caliber handgun on a nightstand. Tapia lacked a carry permit in Massachusetts and was charged with improper storage of a firearm.
Later, state police saw a man identified as Matthew Ballingham of Waterbury, CT arrive at the motel and determined he was carrying a loaded 9 mm Glock handgun without a license.
Ballingham, a member of the Outlaws chapter in Connecticut, was charged with unlawfully carrying a firearm, unlawful possession of ammunition and possession of a large capacity feeding device.
Shortly before 8 p.m. Friday, troopers stopped two motor vehicles near the motel and took possession of a Cobra 38 caliber handgun, a Smith & Wesson M&P 40 caliber Shield handgun and a Smith & Wesson M&P 9 mm Shield handgun.
They arrested Edward Mahon of Cornwall, VT, also a suspected Outlaw club member, on firearms charges. They also arrested a suspected club associate, Margaret Cahill of Westmont, IL, on firearms charges.
All five were booked and released on bail. They are expected to be arraigned in Brockton District Court this week.