WEST SPRINGFIELD, MA – In an abrupt reversal, Eastern States Exposition has scrapped its decision of two weeks ago to implement a "no colors" policy for events staged on its property, notably at the upcoming Springfield Motorcycle Show.
That sudden mandate put the future of the motorcycle show in jeopardy by prohibiting "the wearing of colors or the selling of club and gang affiliated paraphernalia."
Backlash over the policy – first reported Saturday evening by RIDE-CT & RIDE-New England – was immediate and loud. Many motorcycle owners across New England expressed outrage on social media and some threatened to boycott the show.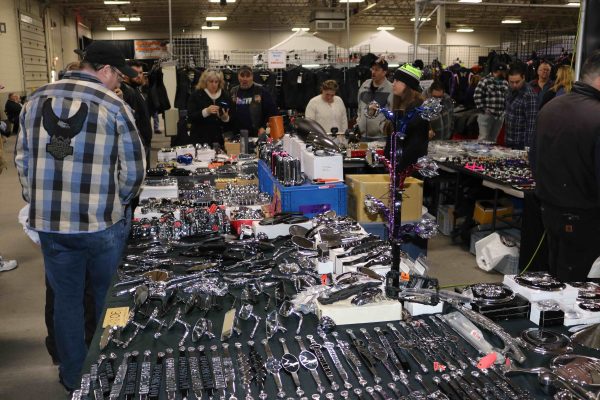 Attendees at the show, set for Jan. 18 and 19, will now be able to wear attire that gives their motorcycle club affiliation. The reversal in policy was announced this evening.
"We had nothing to do with it. It was all Eastern States reconsidering," said Doug Sousa, whose Outdoor Sports Expo Group has rented an exhibit hall and staged the annual show problem-free for the past 14 years.
In a statement issued through Sousa, Eastern States Exposition said that it now "welcomes all motorcycle enthusiasts to the events held on its grounds," but added, "We continue to strive to make our 175-acre facility a safe and secure environment for all of our guests."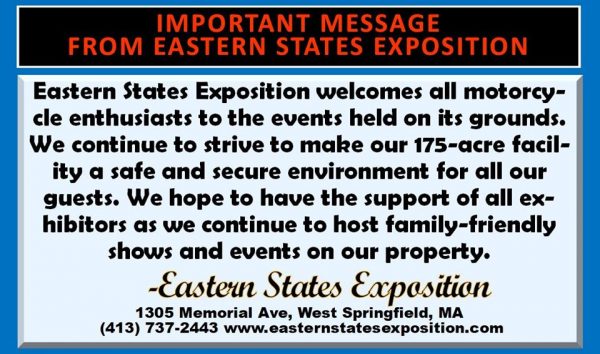 Sousa, who first heard of the "colors" ban two weeks ago and got the official wording on Friday, subsequently lobbied Eastern States Exposition that its blanket position on "colors" worked against such show attendees and exhibitors as B.A.C.A. (Bikers Against Child Abuse), the Christian Motorcyclists Association and veterans groups.
"Their understanding and willingness to work with us overcame an initial reaction to try and protect their property," said Sousa.
Negative reaction to the banning of "colors" also apparently played a role in the policy reversal. "Social media gave them (riders) a chance to let us know that they don't believe this was a fair policy," Sousa said.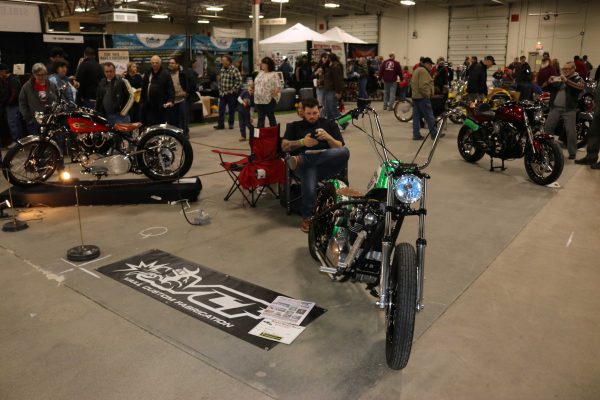 A phone message left Monday afternoon by RIDE-CT & RIDE-New England with the Eastern States Exposition seeking info regarding the situation was not returned.
Sources tell the website that the short-lived and ultimately ill-conceived policy was instituted at the urging of Cliff Hedges, Eastern States' director of public safety. Hedges was hired in Feb. 2019 after 26 years with the FBI.
Sousa is hopeful that the issue has been finalized and that attendance will be strong for the Springfield Motorcycle Show. "We've had a good, long-running relationship (with Eastern States Exposition) that we'd like to maintain because we can't find another facility to run the type of show we want at this time," he said.