HARWINTON, CT – Not being precisely on the mark when writing or speaking is easy, and excusable, if you've never been introduced to the vernacular…
However, knowing the culture of motorcycling a bit, I cringed a lot earlier this week when I came upon a story in the local "Republican-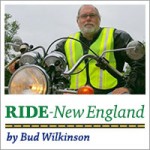 American" newspaper (for which I write a motorcycle column) that told of Santa Claus visiting an elementary school. "He drove in on a Harley…," the reporter wrote.
Drove in? Don't know about Santa, but I ride a motorcycle. So do many of my friends. I drive a pickup daily. I drive a lawn tractor occasionally. In the past, I've driven a car, a go-cart and even a dump truck. But I've never driven a motorcycle – despite having spent thousands of hours on many motorcycles.
Besides riding a motorcycle, I have ridden a bicycle. I've also ridden a horse, a camel (at the Bronx Zoo as a kid) and even an elephant. In fact, I got to play jockey in an elephant race once when the circus came to town back when I lived in Phoenix.
Thinking that perhaps I was experiencing some pre-Christmas stress and grumpiness over being disturbed by the use of "drove," I took to RIDE-CT & RIDE-NewEngland's Facebook page and hastily put up a poll that asked riders what designation they prefer to describe operating a motorcycle.
The vote total as of this morning is 62-2 in favor of "rode a motorcycle" over "drove a motorcycle."
That's 97 percent to 3 percent.
Voter Keith Haywood noted, "You 'drive' if it has a steering wheel. 'Ride' if it has handlebars."
Or reins, maybe. But only if you're sitting on the beast. The person holding the reins on a stagecoach is a driver, but is also known as a whip. A driver of a freight wagon pulled by oxen is a bull-whacker.
I suppose you can drive cattle, but only when they're in a herd and being moved from one place to another.
What about other modes of transportation?
A pilot doesn't drive or ride an airplane. A pilot flies it. Is this still true if the auto-pilot is engaged?
An engineer on a train doesn't drive it, rather "runs" it. At least in the U.S. In the U.K., the operator is known as the driver and does "drive" the train. Or so I'm told by Howard Pincus, who runs trains for the New Railroad Museum of New England in Thomaston, CT.
What about the person at the controls of a hovercraft? No idea.
The bottom line here, though, is that a motorcyclist doesn't drive. I'm a motorcycle rider. The polls are still open on Facebook. You're invited to vote here.