It has been a while. Ten years of living and working in Torrington, CT and,  all of a sudden, I've had to spend most of the year in my native England to sort out some stuff.
By coincidence, this past summer happened to be the hottest and driest since the 1976 heat wave when I was 10 years old.
So what is it like to ride a bike in the U.K.? Firstly, some rough numbers. U.K. motorcycle ownership is not much different to the U.S. A rough search on the internet reveals two percent of the population owns a motorcycle versus 2.5 percent in the U.S. Average miles ridden is 2,000-4,000. Of course, we drive on the right – that is, left – side of the road.
We also have a smaller area to ride in. The U.S. is roughly 40 times larger; its population five times larger, although New England comparisons are closer. Connecticut, Massachusetts and Rhode island have a combined population density of around 780 people per square mile, compared to England at 1,100.
Weather is slightly more clement, too, allowing year-round commuting to work in most parts of England.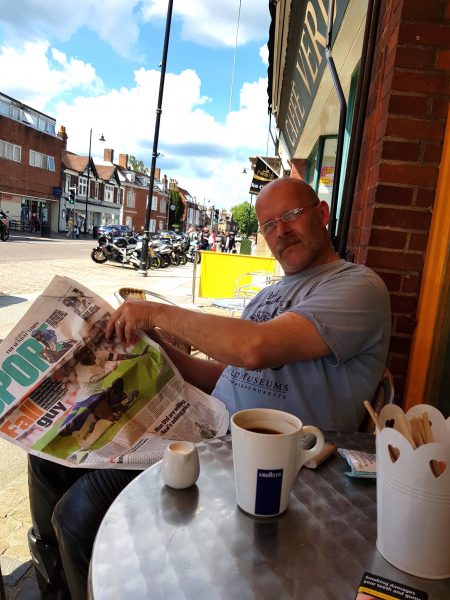 Historically, there is another big difference. In the U.S., with the advent of the Ford Model T, owning a car became the most cost efficient means of transport. Motorcycling became a sporting and leisure activity to the masses. In England, where most people struggle to own property big enough to park a car, motorcycles are still seen as full-time transport for many.
Other big differences? Way more traffic and way smaller roads. Lane splitting is allowed and essential. A New Englander would be horrified to see lines of motorcycles moving 20 mph faster thru heavy congestion, and overtaking constantly on solid lines. The size of the A25, a major road running south of the London suburbs (and outside the highway ring road M25) is about the same width as Riverside Avenue in Torrington for much of its length.
Of course, it usually rains all summer. The area I grew up in has always been a hotbed for motorcycling. Epsom, Surrey is the outskirts of suburban London, so a quick ride south leads to relatively open roads. Boxhill is five miles south and has been a huge meeting place for bikers escaping from London for years as any fan of Richard Thompson and his song "1952 Vincent Black Lightning" knows.  (James takes Red Molly for a ride down to Boxhill in the opening verse.)
For more eclectic musical motorcycling connections "Boxhill or Bust" by Dumpys Rusty Nuts is a closer approximation of my youth. Indeed, I snapped a conrod on my 1972 Triumph TR6P (the YouTube video shows an example) trying to keep up with a Kawasaki GPZ 550 on the Mickelham bends in the late 1980s. Memories, memories.
Another famous local meeting point is Newlands Corner. It's just a short blat down the A25 from the Hill. We also have Brooklands, the site of Europe's first purpose built racetrack, and the hub of the British Automotive industry in the early years of the Twentieth Century as well as Hungry Hill, the site of the famous Talmag Trial, one of the earliest trials venues in the country.
So what was summer like ? First up, I needed reliable transport – and fast. The venerable Moto Guzzi T3 that has been in the shed since 2003 had not been fired up for three years, and had only occasional use for the last decade. It needed time and money thrown at it,  so what could I find? A couple of days research and visit to a dozen local bike dealers left me feeling a little worried, so I called good friend Ian Paize, an ex -TT racer who until recently commuted nearly 200 miles a day on a round trip to work as an aircraft engineer for the Ministry of Defence.
"You need a BMW K75 or a Kawasaki ZZR 600" was his instant reply. "They're cheap and cheerful mile-eaters." I had a K75 a few years back, and it was great for long distances, but hard work in the heavy south east traffic, and the tight and twisties. I had previously owned a Kwaka GPX 600R  for a couple of years in Australia, so this was also known territory. A hunt started.
A local search showed around half a dozen ZZRs of various years available, but there was a really nice looking one for sale 10 miles from Ian, so we decided to kick the tyres. As the owner popped inside to find some paperwork, Ian hissed, " Buy it. Whatever he wants. " Done deal. £1,500 and I owned an immaculately maintained 1999 model with 17k miles.
The ZZR was dripping with extras and upgrades, stainless 4-into-1, hi-quality rear shock and progressive fork springs, upgraded brakes, and a dynojet tuning upgrade (giving  a few extra and unneeded horses at the rear wheel and better torque thru the whole rev range). The inch risers on the bars were great for my middle-aged frame, and I rode off into the night with a huge grin on my face. Great wheels within four weeks of landing at Heathrow.
With the turn of the new year, though, I'm back to Torrington…
– By Tim Raindle