HUDSON, NY – It began with four pieces of apparatus in 1925 and has grown into an impressive, multi-gallery repository filled with approximately 60 retired firefighting vehicles. Not only does the FASNY Museum of Firefighting amaze visitors, it also prompts staffers to reflect on the past.
"I can only imagine what some of 'em have been through; some of the heights these ladder trucks must have reached, some of the amount of water that some of these pumpers must have pumped at one time. The fires that they extinguished were some pretty big fires," said the museum's Jerry Hallenbeck late last month while showing off the collection.
The oldest piece went into service in 1731. The newest and most recent addition is a 1978 pumper. "On display you'll find ladder trucks, pumper trucks, hose wagons, hand pumpers. We have quite a collection of some nice steamers, one of which was built right here in Hudson, the Clapp & Jones steamer," said Hallenbeck, himself a former volunteer firefighter.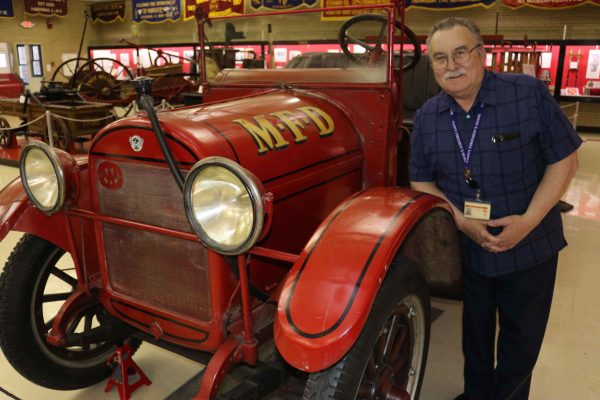 Originally totaling 2,600 square feet, the museum now boasts a total of about 50,000 square feet. "These trucks are from volunteer fire companies all around New York state, all the way from Long Island to Lake Placid to Rochester, Buffalo area and all through the middle of New York state," Hallenbeck said.
"The volunteer fire companies own their equipment so when they're finished with it and it ages out, they're able to donate it and most of them like to see it on display here in the museum."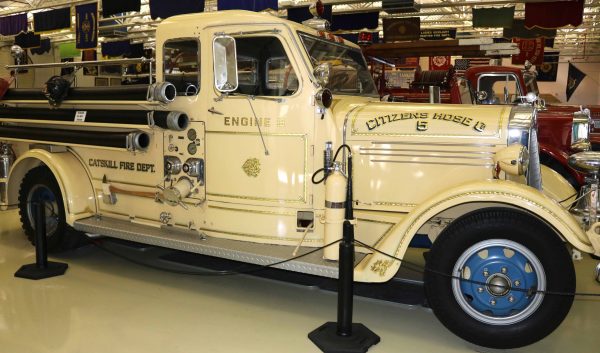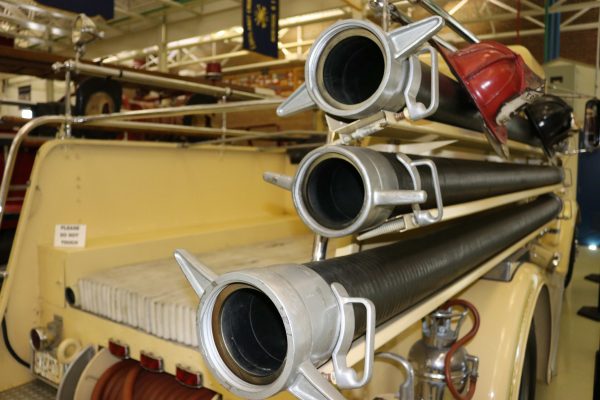 Gazing at old trucks, it's impossible for visitors to overlook the decorations and embellishments. "Some of the gold leafing on some of the pieces are just beautiful," he said, also noting the bells with eagles on top.
The ornamentation reflects a bygone era. Said Hallenbeck, "A little bit back in time there was a lot more pride, a bigger brotherhood, a lot of camaraderie. Back in the day they would apply their trade. Some of them might have been silver platers, some of 'em might have been forgers, some of 'em might have been glass etchers. A lot of that showed in the pieces of equipment that they kept in their fire houses."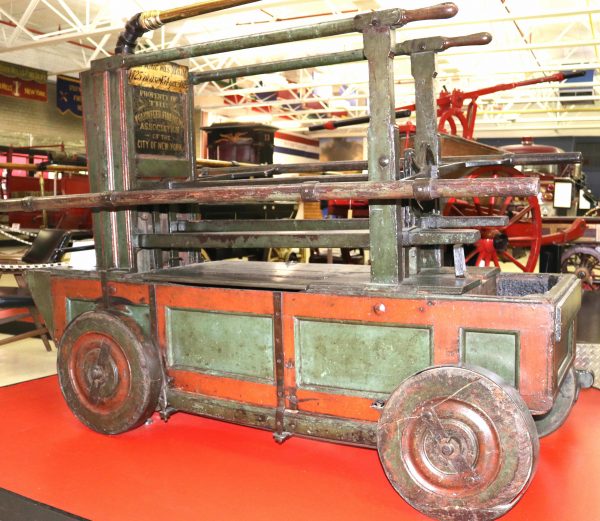 The most remarkable piece of equipment in the FASNY Museum of Firefighting – FASNY standing for Firemen's Association of the State of New York – is the hand-drawn Newsham pumper. It was built in London in 1725, transported from England on a ship called "Beaver" and authenticated as going into service in New York City in 1731.
"It took four to six men to operate. No hose was used. The hose hadn't been invented yet when this was used," said Hallenbeck. "They would fill it with buckets of water and the bottom part was just called the hand tub. They'd start pumping it back and forth, rocking those arms, and water would squirt out the top (through a nozzle). It shot quite a distance although they did get pretty close with these heavy old pieces of equipment."
The nearly 300-year-old pumper was one of two purchased at the time. The other one was lost during the American Revolution.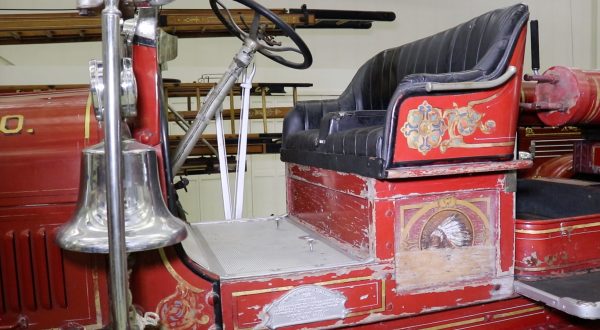 Another notable piece of apparatus in the collection is a 1929 Seagrave aerial ladder truck that belonged to the Poningoe Hook & Ladder Company in Rye, N.Y. Hallenbeck said it reportedly once responded to a call at the home of Barbara Bush.
Many of the old fire engines have their steering wheels on the right side. Hallenbeck explained, "It was believed that if the fire truck could be driven and brought up to the curb on the right side that the fireman would be able to see the hydrant and pull up to it better."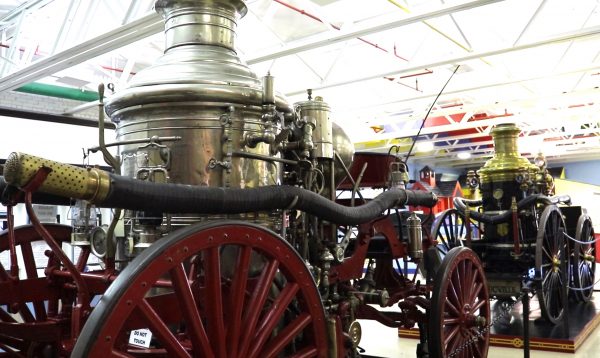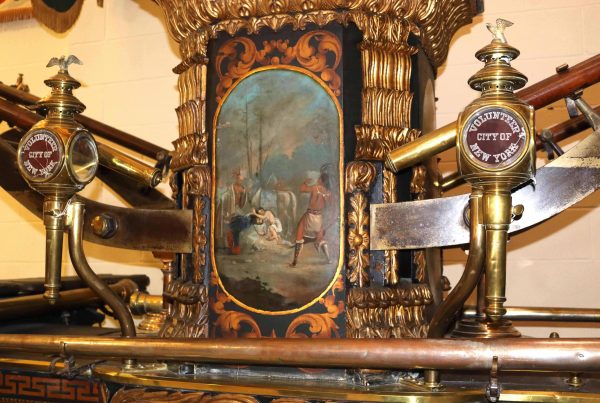 In addition to apparatus, there's also gear and firefighting implements on display, including scaling ladders, safety nets and unique nozzles. Hallenbeck said that over the years "trucks have changed a tremendous amount. Obviously from the hand pumping to gas-power to steam-power to what we have today. It's a long ways from where it used to be; a lot easier to use a big piece of apparatus than it used to be."
The FASNY Museum of Firefighting is located at 117 Harry Howard Ave. in Hudson, N.Y. Hours are from 10 a.m. to 4:30 p.m. daily, except for major holidays. Admission is $10 for adults; $5 for children.