If it seems like gas prices are always changing, it's because they are. But some days are better to purchase gas than others, according to a new study done by the fuel savings app GasBuddy and revealed today in a "USA Today" story.
On average nationally, Monday is the cheapest day to fill-er-up and Friday the most expensive, although Saturday is the most expensive in 16 states and Tuesday the best day in 19 states. Earlier in the week tends to be slower in terms of gas station traffic, while prices can spike on Friday when folks are filling up for weekend activities.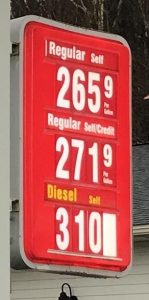 GasBuddy reports the busiest time at the pumps is 5 p.m. Friday.
Here in the northeast, the price pattern is uniform for the cheapest day to buy gas. It's Monday in Connecticut, Maine, Massachusetts, New Hampshire, New York, Rhode Island and Vermont.
The worst day to buy gas is Wednesday in New York, Friday in Massachusetts and Vermont, Saturday in Connecticut, Maine and New Hampshire, and Sunday in Rhode Island.
GasBuddy says that switching to Monday to fill the tank could save a driver $20 to $30 per year. GasBuddy routinely tracks petrol prices from more than 150,000 gas stations across the country.
Given the small size of motorcycle gas tanks, motorcyclists seems less concerned about price than availability – getting to the next station before running out.