HARWINTON, CT – I'd love to say that I'm starting 2018 with a new attitude. A fresh, optimistic outlook filled with generosity and cheerfulness would make the next 12 months so much more enjoyable, but with a milestone 65th birthday later this year and some body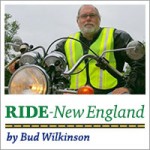 part always aching, it's not going to happen. I'm just too persistently grumpy. The best I can do is maybe shed some lingering animosity.
Is there anyone who hasn't carried a grudge against someone for actions or slights, real and imagined? It has been almost 21 years since my journalism career got derailed by a new boss. My contract at the TV station in Phoenix was expiring and a new news director informed me a few days in advance of its expiration that he wanted to go in "a different direction." One possible translation: Younger.
(The above picture shows me begging to get a photographer from the Channel 10 assignment desk with my new boss standing behind me.)
That's the nature of television. Turn on the local evening news and how many on-air people, except for a few enduring anchors, do you see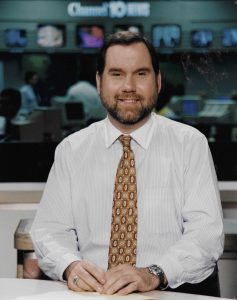 in their mid-40s or older? Very few. Given that TV is prone to covering car crashes, fires and shootings, all that's needed is an earnest young face who excelled at "Show and Tell" in elementary school – and never grew out of it.
Not only would I soon be out of a job after eight years, I was facing the longterm stress of being the sole caregiver for my elderly and sickly father, who would soon pass, as well as the stress of a failing relationship with a narcissistic fiancé. I'll never forgot her words when dad finally died late one afternoon: "So, would you like me to come over or what?" Hey, if you have to ask…
It was no surprise that she returned the engagement ring a short time later, completing a triple whammy of job loss, death of a parent and the end of a relationship within a short period of time. Thankfully, a psychiatrist that I consulted quickly bucked me up by saying that if I didn't feel like crap at that point, he would have been worried. The bleakness of my life was a sure sign of normalcy.
In the years since, I've kicked myself endlessly for wasting time on the wrong girl and have seethed over getting let go. It wasn't an issue of job performance or attitude, at least I don't believe so, it was hubris on the part of the news director.
Late last year, though, it gradually dawned on me how many different and positive life experiences I never would have enjoyed had another contract been offered by the TV station.
There never would have been "Broadway's Biggest Hits," the weekly radio program of Broadway music and interviews that began in December 1997. It started as a local show called "Sunday Showtunes" on KOY in Phoenix and eventually ended up airing nationally on some 40 stations, including WDRC in Hartford.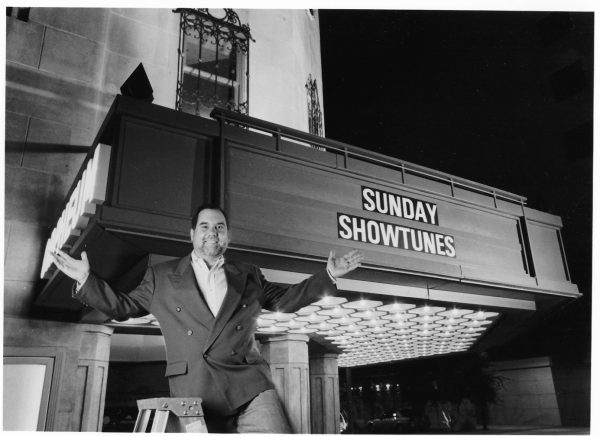 The show lasted about a dozen years, during which time I moved back to Connecticut from Arizona. The move allowed me to visit Broadway, see countless shows and interview numerous performers and composers. I'd interviewed for a job with a New York ad agency during my senior year in college but ended up going into newspapering in Ohio instead. To be finally working in New York, if only one day a week, made me feel like I'd made it.
Never would have happened without getting let go.
There never would have been a RIDE-CT motorcycle column in the "Republican-American" newspaper or a RIDE-CT & RIDE-NewEngland website.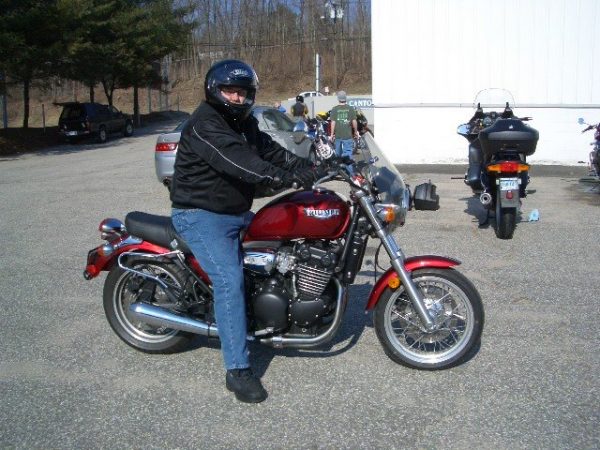 If I hadn't exited Arizona in 2002, I never would have taken a friend to Canton Cycles in Winsted, CT in late 2004 to pick up his bike, spotted a used Triumph on the showroom floor and decided in an instant to learn to ride a motorcycle. That led to pitching the newspaper on carrying a motorcycle column, which also resulted in the My Ride car feature of the past 15 months.
Never would have happened without getting let go.
There never would have been the gratifying experience of becoming a member of the Harwinton Volunteer Fire Department, and spending more than 10 years answering calls with the Harwinton Fire Police.
Never would have happened without getting let go.
If that news director hadn't opted to go in "a different direction," who's to say where I'd be. Certainly not stuffing a wood stove in a corner of Connecticut on a snowy January day.
I'd probably never have come to root for UConn women's basketball team, Crystal Palace of the Premier League or the Washington Nationals of the National League – or seen many of their games in person. (Have only seen Palace once; an exhibition match in Philadelphia.)
I'd probably never would have ridden Acela, made a stab at being a police dispatcher, worked mowing greens and fairways at a golf course, or made so many friends in the motorcycling community.
In hindsight, instead of animosity, I maybe owe the news director a thank-you for cutting me loose. So many wonderful experiences never would have happened had he offered a new contract. Why did it take so long to realize this? While a new attitude may not be possible, perhaps letting go finally is.
It's fitting to recall a famous Alexander Graham Bell quote: "When one door closes, another one opens, but we often look so long and so regretfully upon the closed door that we do not see the one which has opened for us."
Really, is there anyone who can't say this?