WILLIAMSTOWN, MA – Some of the sights will be familiar to riders in the Northeast, such as the Rip Van Winkle Bridge across the Hudson River in New York and Mount Washington in New Hampshire. Most of them won't, though. They're too rural and obscure.
"I think even locals may learn something," said Tim James, board vice president and creative director of Backcountry Discovery Routes, following the sold-out premiere Saturday afternoon of the non-profit organization's newest adventure-riding documentary.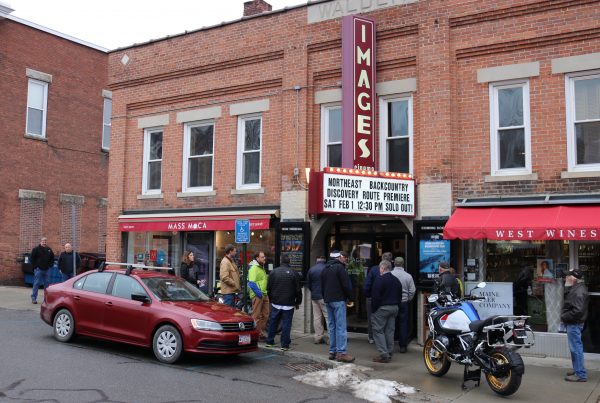 The intimate Images Cinema in downtown Williamstown provided the setting for the debut of the 90-minute documentary that shows some hardy adventure riders covering 1,400 miles in seven states over 10 days.
The route goes from New York (into Pennsylvania and back into New York), through Connecticut, Massachusetts, Vermont and New Hampshire, and to the Canadian border in Maine. Their excursion was shot from mid to late September.
The documentary itself mixes action with tourist tips. There's humor, some crashes on gnarly Class 4 roads, and loads of scenic beauty. The use of helmet cams and a drone enhances the action and foliage. The result is a film that's bound to stir any rider into trying at least a portion of the route.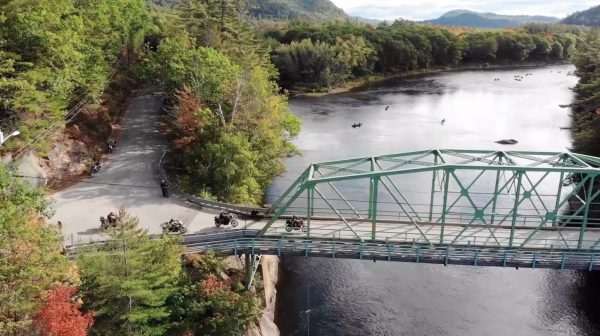 The "North East Backcountry Discovery Route" is the tenth in a series that reveal the joys and challenges of riding on unpaved roads, forest roads, and Class 4 roads, which are generally abandoned and unmaintained, although parts of the route are on tarmac.
Northeast Route Has High Degree of Difficulty
"If you do all of the Class 4 roads, it's one of the most difficult," said James of the newest route. Indeed, in the film, riders are seen ascending rock ledge steps, sometimes going down in the process. There are other prangs, too, requiring imaginative repairs. In one case, a discarded beer can came in handy.
However, the route does offer alternative options. James said that using go-rounds turns the route into one of medium difficulty. BDR doesn't actually rate its routes because so much depends upon rider skill, the size of the bike used, and the amount (weight) of the luggage carried.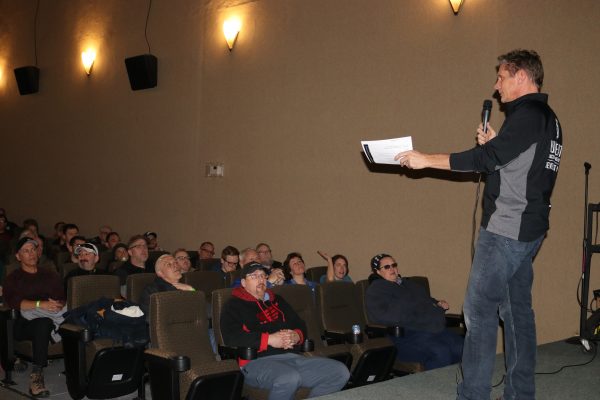 BDR has a multi-purpose mission. The primary mission, James said, is to develop and preserve off-road routes. Another is to help boost the economies of small rural towns. Stores, shops and lodging spots are highlighted along the route in the new film.
BDR also promotes responsible riding and riding with respect for local residents. For instance, one theme that was harped upon in the documentary and in comments made adjacent to the screening is riders shouldn't gather near homes where a group may be bothersome, rather at some other spot along the way.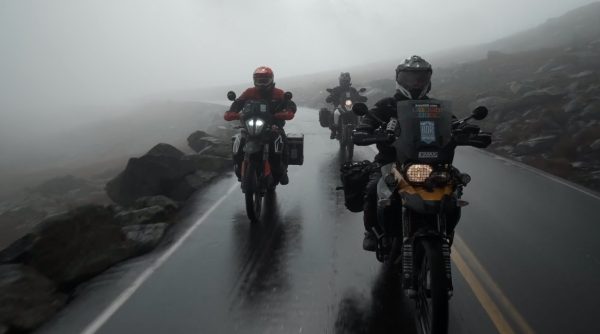 While the "North East Backcountry Discovery Route" film covers a lot of territory in a relatively short amount of time, it manages to be fairly comprehensive, although map shots showing the specific locations along the way would have been helpful.
The documentary could not have been made without sponsors, notably Max BMW and KTM in this case, and the filmmakers have done a splendid job of incorporating them without beating cinema-goers over the head. 
Screenings Planned in Northeast, Nationally
The "Northeast East Backcountry Discovery Route" documentary will now roll out across the country. BDR's website shows about 50 screenings scheduled or in the works.
Here in the Northeast, it will be shown this Friday at Cross Country BMW in Metuchen, NJ; on Saturday at Max BMW in South Windsor, CT; on Feb. 13 at Frank's Motorcycle Sales and Service in Essex, VT; on Feb. 22 at Hanover Powersports in East Hanover, NJ; and on Feb. 25 at Frank's Café in Brunswick, ME..
Other screenings will be on March 1 at Union Garage in Brooklyn; March 6 at Cross Country BMW in Hasbrouck Heights, NJ; March 27 at AlphaCars & Motorcycles in North Hampton, NH; and March 31 at Libby's Motoworld in New Haven, CT.