It takes gumption, fortitude and a hefty checkbook to ride a pre-1929 motorcycle from coast-to-coast. Eight men and women from across New England, including three from Connecticut, did just that this month. They were among the nearly 125 riders who registered to compete in the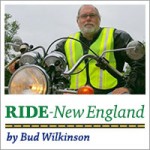 biennial rally known as the Motorcycle Cannonball.
They began the quest on Sept. 8 and those who completed the adventure crossed the finish line on Sunday. A total of 45 riders covered all 3,390 miles.
The highest finisher from the northeast was Andrea Labarbara (#98) from Foxboro, MA, who came in third place on a 1913 Henderson.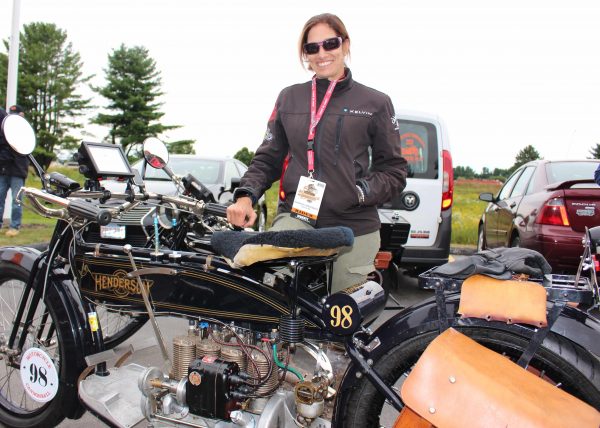 Brian Pease (#92) of Milton, VT on a 1916 Henderson F finished sixth, while Jody Perewitz (#79) of Halifax, MA came in 32nd on a 1926 Harley-Davidson JD. The final standings showed 107 riders listed, with the last place rider only completing four miles.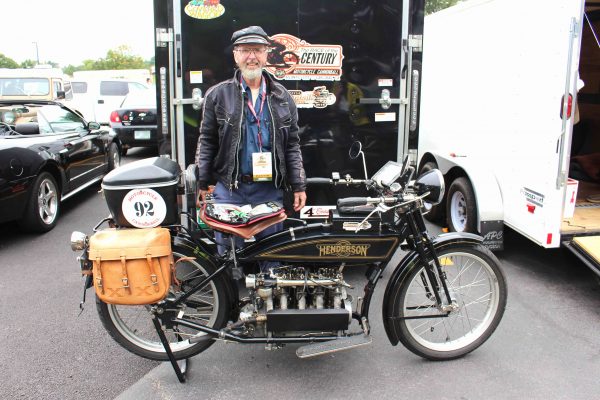 This is the fourth time that Dan Emerson of Woodstock, CT participated in the Motorcycle Cannonball. The route this time went from Portland to Portland – Maine to Oregon, although the finish line was actually in Stevenson, Wash. Emerson (#75) rode a 1911 Excelsior, covered 3,294 miles and finished 53rd.
"That's the question, isn't it? It's a challenge," he replied when asked why he keeps entering.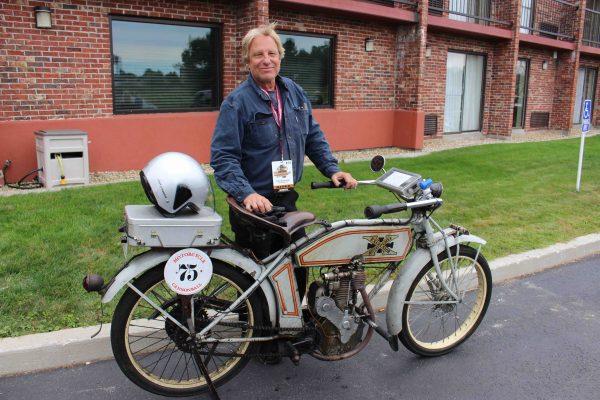 Emerson was relaxing on the grass near the entrance to the Best Western Plus motel in Keene, N.H. when he spoke those words more than two weeks ago, having just finished the first leg of the cannonball. Nearby in the parking lots, other riders were assessing their antique machines while spectators watched as stragglers rode in.
Denis Sharon (#20) of New Milford, CT was riding in the Motorcycle Cannonball for the third time. This time he used a 1916 Harley-Davidson 16F. Why did he compete again? "Because I'm a slow learner," he responded with a smile. "It's really a fabulous experience." Sharon covered 2,173 miles and finished 88th.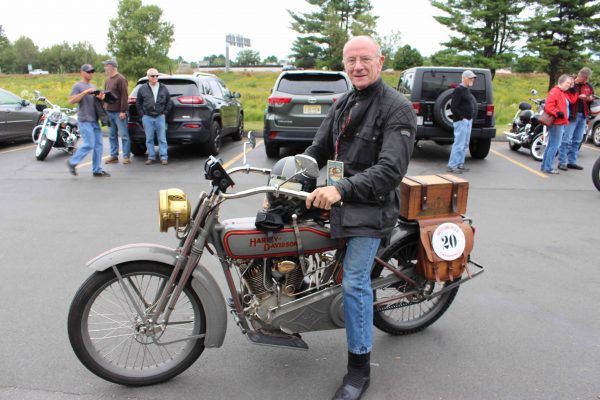 Sharon did have problems, though. Reached by phone a week ago, he hurriedly reported that the engine on his Harley-Davidson had seized a few days earlier and that he was in a Harley shop in Great Falls, Montana having it worked on. 
The state's third entry was first-timer Jeff Mcallister (#41) from Ridgefield, CT. He rode a 1927 Indian Chief. He'd previously assisted Sharon in 2016 and his reaction was "it's just so amazing, I've got to do it." Mcallister finished 50th and covered 3,338 miles.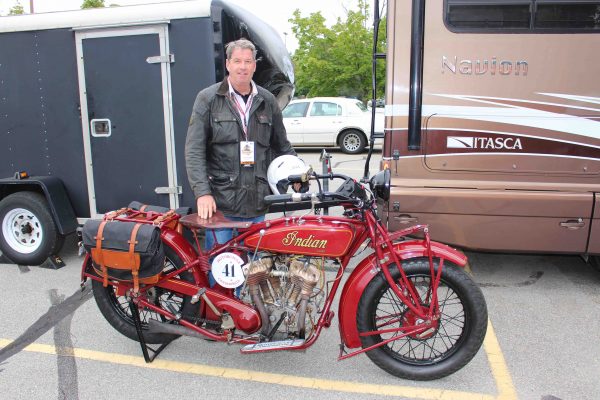 The Motorcycle Cannonball isn't a challenge that any rider attempts on a whim. It requires preparation and spare parts. Each rider needs a support team. Most have a pickup truck and a trailer filled with tools following along. The endeavor is complicated and costly. The bikes themselves are valuable collectibles. Experience helps. "There are a lot of little skills you learn," said Sharon. "Attention to detail in motorcycle preparation is clearly one."
Having successfully completed the first day of the journey, Mcallister was enthused. "Absolutely fantastic, but now the litany of mechanical issues is growing," he said. "If I can just overcome the little issues that keep cropping up, I'll be OK."
Also checking in last week by phone with only a few days remaining, Emerson said the cannonball was "going good now" after a bad day in Iowa on Sept. 14. The route that day took riders from Anamosa to Spirit Lake and Emerson suffered three flat tires. The first two flats he was able to fix but the third "put me on the truck," he said. 
What was good was the weather. "The weather has been unbelievable," Emerson said. The only really inclement day was Sept. 10 when heavy rain forced riders to trailer from Binghamton to Jamestown, N.Y.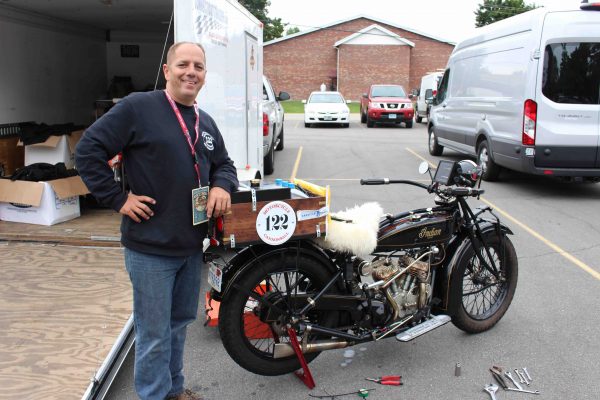 The other New England riders were Ben Pierce (#34) of Williston, Vermont on a 1923 Neracar and James Maloney (#122) of Upton, Mass. on a 1928 Indian Scout. Maloney finished in 71st place, covering 3,035 miles. Pierce only managed to navigate 1,681 miles and didn't finish. He ended ranked 94th.  
Maloney's purpose in doing the cannonball was to raise awareness of the problem of suicide among military veterans. His #122 signified that every single day 22 vets take their lives. Day one went "better than expected," said the three-tour combat vet. "I'm almost nervous about it."
Sixth-place finisher Pease, though, accomplished his goal of making it cross-country. He had participated in two previous cannonballs in 2014 and 2016, and dropped out along the way both times. "I haven't been able to ride all the way across," he said during the Keene stop, offering that it was "highly likely" that he'd make it this time. "I put 1,300 miles on the bike before we started. It's running fine." 
A day one prediction by Labarbara came true as well. "I'm going coast-to-coast with relatively little problem," she ventured.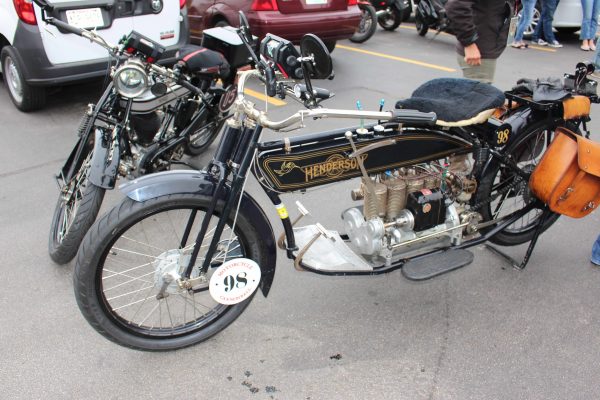 Getting to see such a collection of 100-year-old-or-so motorcycles in one location early-on was a treat. Knowing what their owners were attempting to accomplish made the viewing even more impactful. 
"It has Americana. It has industrial history," said Sharon of the Motorcycle Cannonball, noting that the camaraderie makes it special for participants. "There's something in human nature. We welcome being tested. We get satisfaction from taking on a challenge."