It's a new edition of Oil Drippings, a collection of news items from near and far that riders may find interesting or useful:
Indian Demo Truck To Visit Northeast
The Indian demo truck will be visiting six dealerships in the Northeast in the next six weeks or so, including three in Massachusetts and one in Maine.
Indian Motorcycle of Springfield in Westfield, MA welcomes the truck on April 26 and 27, followed by MOMS Foxboro in Foxboro, MA on April 29 and 30, and Wagner Motorsports in Worcester, MA on May 17 and 18. Paul Blouin Performance in Augusta, ME will be visited May 20-21.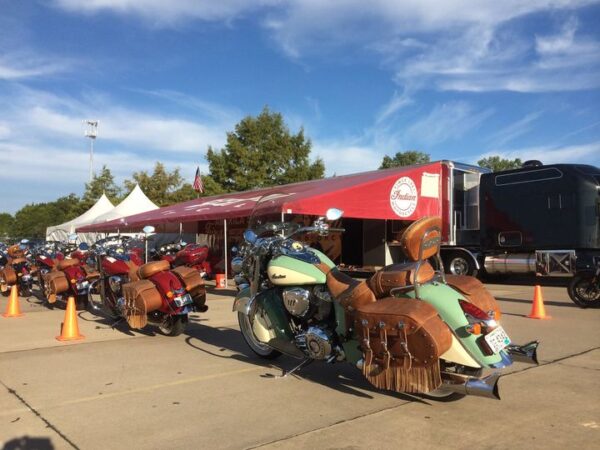 Two stops are planned in New Jersey at Indian Motorcycle of North Jersey in Belleville, NJ on April 21 and 23 and at Rollin Fast Indian Motorcycle in Lebanon, NJ on May 10 and 11.
American Road Group Adds PA Store
Anne and Steve Deli's American Road Group have added another Harley-Davidson dealership with the purchase of Pocono Mountain Harley-Davidson in Tannersville, PA, PowerSports Business reports. They also own Laconia Harley-Davidson in Meredith, NH and White Mountain Harley-Davidson in North Conway, NH.
Vermont D.M.V. Gets LiveWire
Vermont's Department of Motor Vehicles has a acquired a LiveWire electric motorcycle and kitted it for police work. The DMV says it's the first agency in the world to have a LiveWire modified for law enforcement work. WCAX-TV has the story. RIDE-CT & RIDE-New England contacted both the governor's office and the D.M.V. for more info, but neither replied to an email.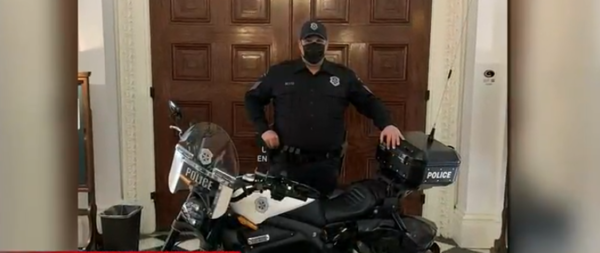 Be Aware Of Potentially Bogus "Sponsored" Facebook Post
An odd post appeared on Facebook last week from an entity called iMotorsports claiming "Indian Motorcycle has temporarily given us permission to over-pay for your trade-in." Really? Like any manufacturer has anything to say about what a local dealer allows on a trade-in.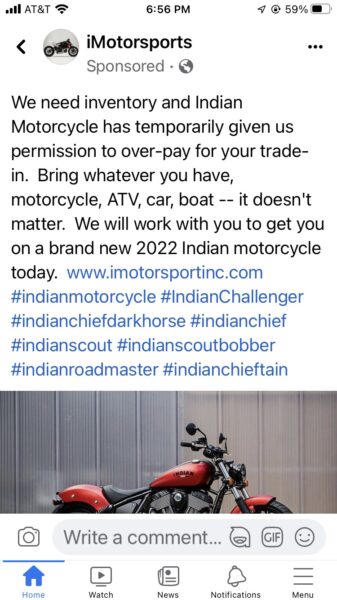 A check of imotorsportsinc.com turned up a rather drab, generic page that invited further clicking. At that point, RIDE-CT & RIDE-New England opted out. Looks suspicious to us.
Thomaston Day Trails Get Cleaned By Pathfinders
In anticipation of the impending riding season at the Thomaston Dam in Thomaston, CT, more than two dozen members of the Pathfinders Motorcycle Club of Connecticut recently staged a work party to clean up the trails behind the dam. Debris caused by flooding was cut up and moved and trails that had washed out were repaired.
Joe Schleis shot video of the damage and the cleanup and has posted seven videos on YouTube. Here's just one example of how much work is required to get the roughly 13-mile loop ready for the riding season, which opens in May.
Hello! If you found this post to be informative, please share it with other riders by clicking on the social media buttons below.