It's been a while but there is no reason there cannot be a new edition of "Oil Drippings," a post containing items from near and far that riders may find interesting:
Albany Getting Ducati-Triumph Dealer
If all goes as planned, the Albany, NY market will get a new Ducati-Triumph dealer sometime later this year. Signage for JSC Motorsports has been up for some time outside the work-in-progress dealership at 2054 Central Ave. (Route 5) in Colonie, and rider Scott Agnew recently shared a pic on social media.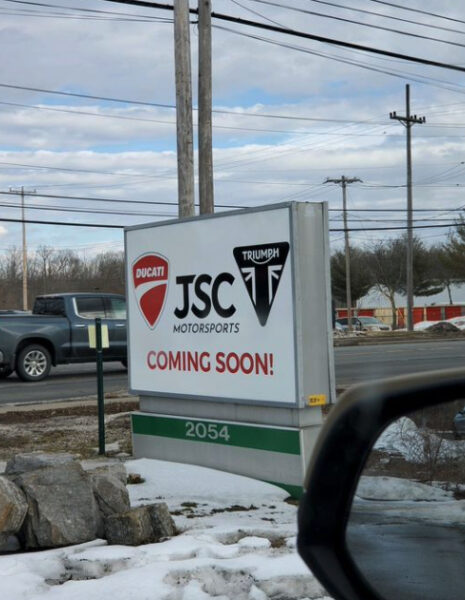 No word on when the store will debut as the opening depends on building renovation. The owners of JSC Motorsports are husband and wife Steven and Julie Cho. He's a former partner and head of foreign currency trading at Goldman Sachs in New York.
JSC Motorsports has already launched a placeholder website that proclaims "Opening Soon" and has established a presence on Instagram.
Suzuki SW1 An Odd Model That Lasted One Year
Was it a motorcycle that looked like a scooter? Or was it scooter disguised as a motorcycle? Mercedes Streeter at Jalopnik recently wrote a story on the rare Suzuki SW1 model. Only 200 examples were made for the 1992 model year, and they were only sold in Japan.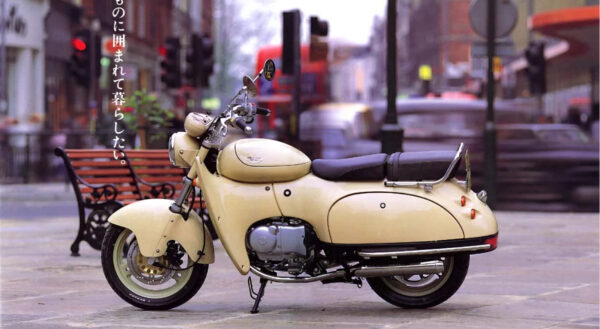 The "S" stood for "Suzuki" while the "W" stood for the Water Design studio where Naoki Sakai created it in collaboration with the manufacturer. The SW1 was powered by a 249cc, air-cooled, single-cylinder engine that was rated at 20 horsepower.
Streeter's story has more details and pics of this model that most riders certainly have never heard of or seen. It's worth checking out.
Motorsports International Adds A Brand
Motorsports International in Auburn, MA has added another motorcycle brand to its showroom floor. Husqvarna has joined Kawasaki, Honda, Suzuki and Yamaha.
BMW R90S Goes For Big Bucks
New bikes are scarce thanks to supply chain issues curtailing manufacturing and old bikes are becoming pricey. Earlier this month, a triple numbers-matching, award-winning 1976 BMW R90S sold for $60,000 in bidding on the website Bring A Trailer.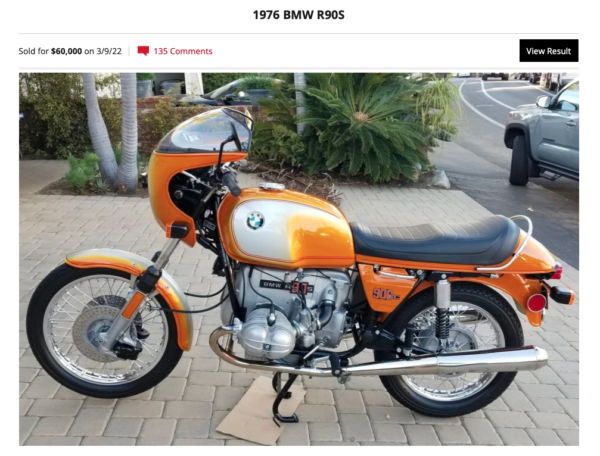 The Daytona Orange R90S has its VIN stamped in three places – on the steering neck, on the left engine case and on the manufacturer's plate.
Harley-Davidson Keeping More
A recent story at PowerSports Business quotes a market analyst as saying Harley-Davidson has opted "to reduce dealer margin, keeping more for itself on each bike sold." The story explains that dealer margin has been reduced to 18 percent from the previous 20 percent.
This means dealers get less per bike – unless they jack up the price to make up for the loss.
Our Dealer Perspective columnist, Bob Rosen, called the switch "a very nice addition to H-D's bottom line." He added, "I'm sure dealers are not happy about this. Beside the price gouging occasionally exhibited by dealers for short-supply models, this will incentivize them even further to raise prices above MSRP."
So where does this leave customers?
New Showroom For Street Stuff
Street Stuff Cycle, the Triumph dealer in Norwich, CT, recently posted a picture on social media of outside signage being added to a new showroom, along with a promise of "More exciting news to come!"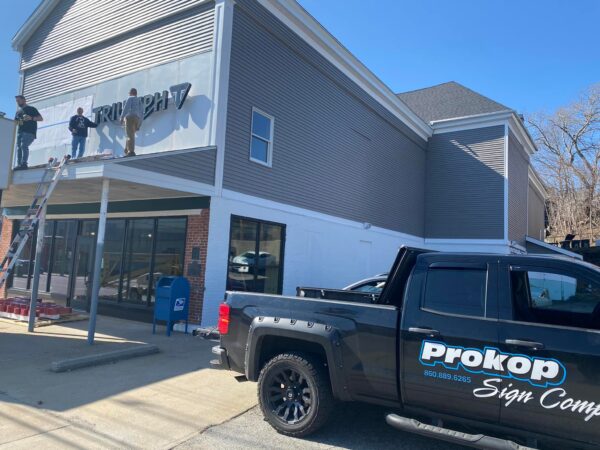 Does this mean that Street Stuff will finally, and publicly, reveal that it's adding the Indian brand. That's the guess here. This will give Connecticut a second Indian dealer. It joins Brookfield Indian Motorcycle at the opposite end of the state.
Hello! If you enjoyed this story, please share it with other motorcyclists by clicking on the social media buttons below.