Time for another edition of Oil Drippings, the catch-all column of news items that perhaps don't justify a standalone post or somehow got overlooked along the way. Here goes:
New 2023 Models From H-D Coming Next Month
If you're curious about Harley-Davidson's 2023 lineup and are available at 11 a.m. (EST) on Wednesday, Jan. 18, you can check the new models when the company live streams its model announcement.
"2023 marks the 120th Anniversary of Harley-Davidson during which we'll honor our rich heritage, celebrate with our fans and riding community, and reveal our newest motorcycles and product offerings," said Jochen Zeitz in a press release. Zeitz is chairman, president and CEO of Harley-Davidson.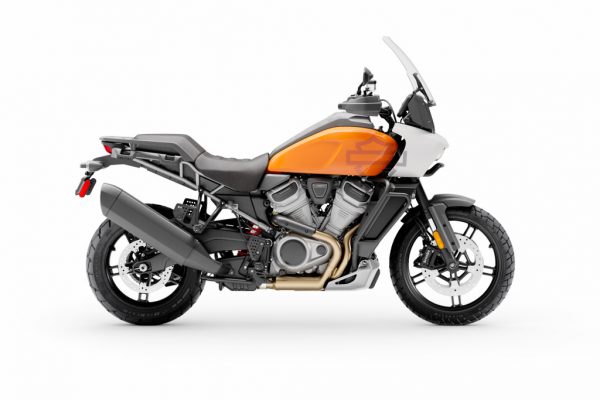 One question that may be answered that day is whether Harley-Davidson will confirm rumors that it will offer a Pan America 975 adventure model to go along with its existing Pan America 1250.
Harley-Davidson also plans to reveal the details of its four-day Homecoming event at its Milwaukee headquarters that's scheduled for July 13-16 on Jan. 18 as well as new accessories and gear.
Long Island's Gold Coast Motorsports Has New Owner
The particulars haven't been released, but in an email blast to customers today, Gold Coast Motorsports in New Hyde Park, NY revealed that it has "New Ownership, New Attitude, New Direction."
The identity of the buyer of the BMW and Ducati dealership wasn't revealed, but the communique said, "We intend to bring Long Island motorcycle owners the Premier BMW and Ducati experience they deserve."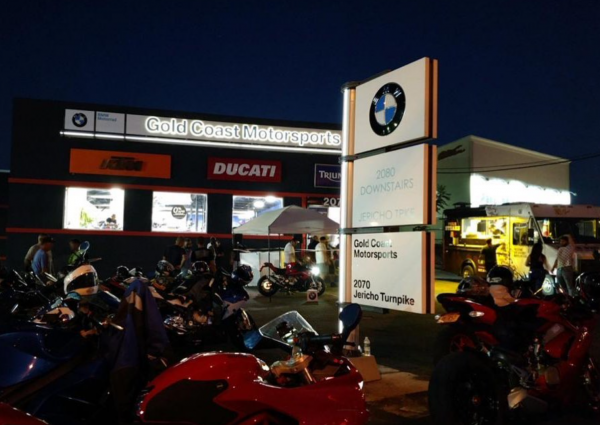 It continued, "Over the next few months expect many positive changes. We currently have 2 factory trained technicians and will be adding more. We offer free local pickup and discounted pickup for those living outside the local area."
The store has been limping along in recent months under previous ownership with limited staff and inventory. Any change will be an improvement.
Paint Job Celebrates Trump
There's still support for Donald Trump, even in deeply blue New England. The evidence can be seen in "a unique custom paint job" on a Harley-Davidson motorcycle. It presumably celebrates the former president and is seen in a 37-second video posted on Instagram earlier this week by Perewitz Cycle Fabrication owner Dave Perewitz, who provided the description in a comment on Instagram.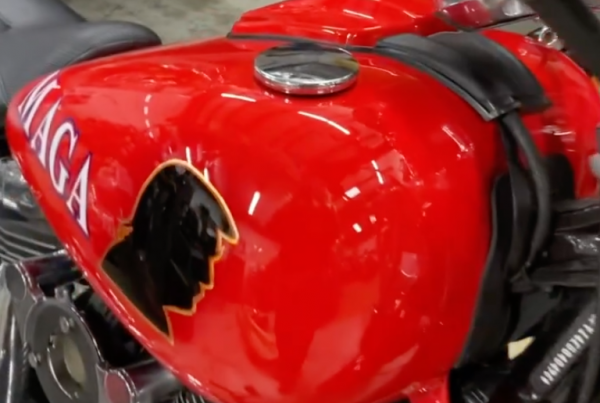 The bright red model has Trump's profile in black and the word "MAGA" (Make America Great Again) on the sides of the gas tank and depicts Trump riding a rocket (in scene seemingly taken from the 1964 black comedy "Dr. Stranglove") on the front fender. The rear fender has a skeleton face in red, white and blue and a Trump hairdo on top.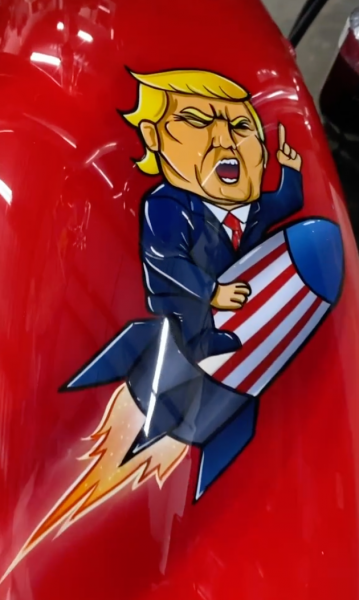 The effect is quite stunning, but does raise the question of "Why now?" Why wasn't the bike created back in 2015 when Trump announced his candidacy for a presidential run that ultimately saw him land in the White House?
RIDE-CT & RIDE-New England reached out to Perewitz to get the who, what, when, where and why on the bike but politely got rebuffed. "Thanks but no press. Too many haters" was his email response.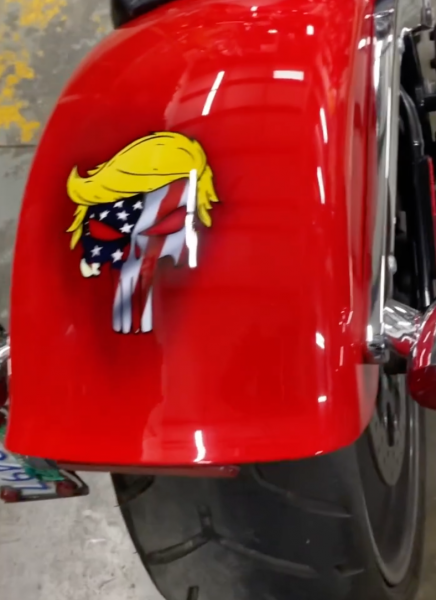 The response can certainly be understood and respected, but the paint job is nonetheless worth sharing as it's a well-done effort; warranting exposure and recognition for its artistry regardless of one's political leaning. Given the artwork on the front fender, the bike can maybe be viewed two ways – as both celebrating and mocking Trump depending on one's perspective.
Pathfinders Donating To Thomaston Food Bank
The non-profit Pathfinders Motorcycle Club of Connecticut, which maintains the off-road riding trails behind the Thomaston Dam in Thomaston, CT, plans a sizable donation to the Thomaston Food Bank next week.
A check for $5,582 will be presented at 4:30 p.m. Wednesday at Thomaston Town Hall, according to club president Jim Blais.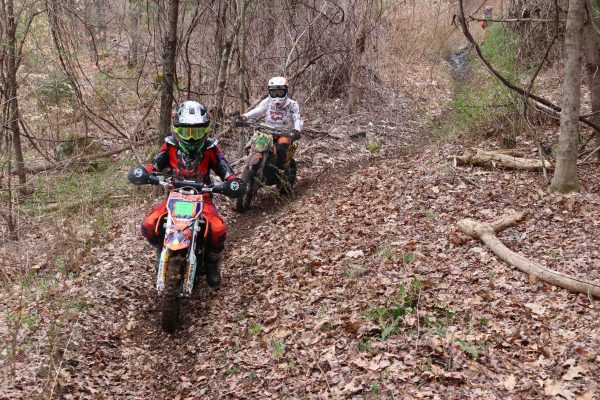 The Thomaston Dam is managed by the U.S. Army Corps of Engineers. The Pathfinders from Oxford, CT works in partnership with the agency. The trails at the Thomaston Dam have been open since 1975 and the Pathfinders have groomed the trails for more than 40 years.
Hello! If you enjoyed this post, please share it with other riders by clicking on the social media buttons below.