TORRANCE, CA – Honda's ongoing shift to an "all-electric future" for its products gets some high-profile exposure next month with its "Forever Determined" float entry in the 134th Rose Parade in Pasadena, CA.
The float will showcase electric-powered Honda products, including a private jet, a Honda S.U.V., an Acura race car and a motorcycle. Whether the drawing of the motorcycle provides any clues as to the future looks for an electric model or is simply generic isn't known.
It was back in September that Honda announced plans to introduce 10 or more battery-powered motorcycle models by 2025.
"From the road to the racetrack to the skies, Honda's float will feature a range of mobility products as Honda prepares for an electrified future," said the company in a press release issued late last week.
"Forever Determined" is Honda's current brand theme. "Honda is pursuing the global goal of carbon neutrality for all products and corporate activities by 2050, including a vision for 100% electrified vehicle sales in North America by 2040," the company said.
As the parade's presenting sponsor, Honda's float will be part of the Rose Parade's "Opening Spectacular." An all-new hybrid-electric 2023 Honda CR-V will serve as the parade's pace car. Honda has been promotionally connected with the parade for more than 60 years and first provided two-wheeled vehicles to the parade in 1962.
The Rose Parade will step off on Jan. 2, 2023.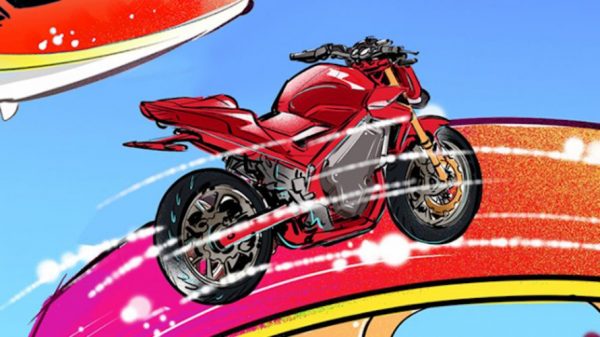 (Image provided by Honda)
Hello! If you enjoyed this story, please share it with other riders by clicking on the social media buttons below.