By Bud Wilkinson of RIDE-CT.com
Bike nights in Connecticut are as common as roadside vegetable stands. RIDE-CT made a quick stop this evening at the weekly Tuesday night gathering at McDonald's in Torrington to grab a few snapshots: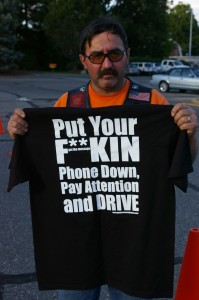 Steve Bristol of Torrington, who rode in on his 2009 Harley-Davidson Ultra Classic, was showing off a T-shirt that he just acquired.
Pardon the language, but doesn't it express the opinion of every rider when it comes to the conduct of drivers in cars and trucks?
When was the last time you screamed at someone for chatting on their cell phone when they should have been paying attention to the road?
I didn't notice whether the printing was on the front or the back. The back would make more sense. If we all wore T-shirts like this maybe drivers would take notice.
Randy Roy of Plainville was another attendee. He came on his new 2012 Victory High-Ball.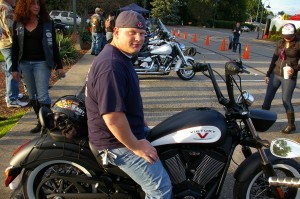 He's owned it for three weeks and has already put 710 miles on it. Asked his review, Roy replied, "Better than my Buell. The Buell was good for going fast." Roy became aware of the High-Ball when he attended Americade in Lake George earlier this year and just had to have one. It certainly received a lot of attention, with folks wondering if it was a custom or a bike that came straight from the factory. It's a factory model.
Skip Alborn's 2004 Suzuki Intruder has been customized with a rear fender that displays
his faith every time he slows down. The brake light is in the shape of a cross that is integrated into the fender. "I wanted something that would stand out," said Alborn, who is a member of the Christian Motorcyclists Association. His brother-in-law Steve Hayes, who lives in Tucson, Ariz., did the work and it looks fabulous, although it was a bit hard to photograph in the setting sun. In addition to the large cross in the center, the fender also has two smaller crosses as turn signals. Cool.
RIDE-CT rode to Bike Night on the 1969 Triumph T100R Daytona, which also made the 100-mile round trip to Brit Jam at the Haddam Neck Fairgrounds on Sunday. For those who were wondering, the bike ran fine, although taking a 42-year-old, 500cc bike on I-84 and Route 8 (from Waterbury to Harwinton) was a bit of a challenge in the wind in advance of the afternoon's thunderstorms.
The weekly RIDE-CT column in "The Republican-American" this Saturday will have a Brit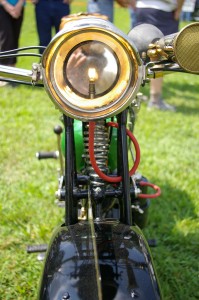 Jam report, but here's a tease. Check out this picture. Ever had to deal with one of these? Can you identify what it is? Can you explain how it works? Any idea of the year and make of the bike on which it sits? Don't be embarrassed if you answer "no" to one or more of the questions. Brit Jam was the first time that I'd ever seen one operating. I'll have details in Saturday's newspaper.
Before signing off… Buzz Kanter, the publisher of "RoadBike" and "American Iron" magazines was in T'town today to have Indian expert George Yarocki go over his black and red 1931 Indian 101 scout. I managed to invite myself along for lunch. It never gets old hearing road tales from Buzz and picking up minutia from George. They revealed over burgers that another coast-to-coast Motorcycle Cannonball Endurance Run has been confirmed for 2012 – this time from New York to San Francisco. While the 2010 run was limited to bikes from 1916 and earlier, the 2012 run will include bikes up to about 1930. Also joining the luncheon group were "Wild Bill" Eggers of Goshen, T.J. Root of Harwinton and George's right-hand guy, Tim Raindle.
Finally, RIDE-CT.com is trying to launch a Facebook page to provide news updates when necessary, but needs a sufficient number of riders who are on Facebook to "Like" the page before it can be established. If you like what you read here and in the newspaper, please "Like" our fledgling Facebook page. Check it out here.