By Bud Wilkinson of RIDE-CT.com
Maybe, just maybe, my rebuilt 1969 Triumph T100R Daytona will make it to Brit Jam this year. Dubbed "This Old Bike" when it was put back on the road in 2008 and chronicled in a long-running series of columns in "The Republican-American," the vintage 500cc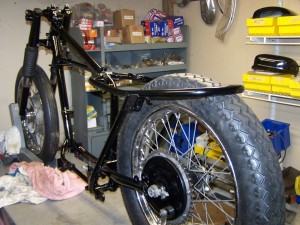 Triumph has yet to make the trek to the annual British meet at the Haddam Neck Fairgrounds. The reasons are varied.
In 2008, the bike wasn't finished. Despite being pulled from a barn and intensively worked on for seven months with attendance at Brit Jam being the goal, it wasn't all back together and tweaked in time.
In 2009, a leaky gas tank made riding the bike risky. In fact, once the bike got back on the road, the gas tank leaked several times, requiring repeated welding and repainting. Its tank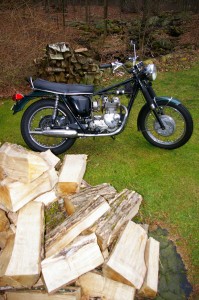 problems got so frustrating that it took a trip behind the wood pile and some tank sealer to get the bike to listen up.
In 2010, well, going to Brit Jam wasn't in the cards. At least I don't remember attending. I may be wrong.
But, tomorrow, when Brit Jam gets staged for the 25th time by the British Iron Association of Connecticut, the plan is to ride the Triumph. It's tuned, the gas tank is sound and, being British, it's leaking oil. What better sign for a successful cross-state ride than oil drips?
Brit Jam is always the year's best meet. It's well run and there's a broad cross section of vintage machines as all brands are welcome. The parking lot is as much fun too walk as the show ground. The only drawbacks are that the food line can sometimes be long and commemorative T-shirts can sell out. (Note to self – Buy one upon arrival.) Otherwise, Brit Jam's a great way to spend a Sunday and an opportunity to see some bikes that you don't often see on the road (as you can tell from the picture from 2007 below). Hours are from 10 a.m. to 5 p.m.