BRISTOL, CT – After more than 10 months of anxiously waiting for his new 2020 model-year motorcycle to be delivered, John Birden of Harwinton finally picked it up on Nov. 23 at Yankee Harley-Davidson in Bristol, CT.
Birden traded in a barely used 2019 Harley-Davidson Softail Slim with only about one thousand miles on the odometer for his new bike, and immediately stepped from motorcycling's past into the future. He purchased a LiveWire, the company's debut electric model.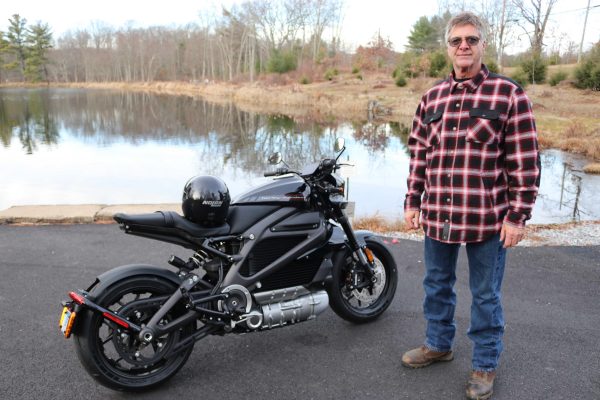 Birden's sporty Livewire, which has a starting price of $29,799, was the first one delivered in New England. It's rated at 105 horsepower and can go from 0 to 60 miles per hour in a mere three seconds. It has a touted range of 146 miles in the city and 95 miles city/highway, depending on the ride mode and the operator's throttle hand.
Having placed his order in mid-January, Birden had to wait for LiveWire to go into production at Harley-Davidson's factory in York, Penn. In the interim, he went to company headquarters in Milwaukee in August and got to ride a pre-production LiveWire around the city streets.
"The performance is outstanding, the handling. I knew going in being that it was a Harley-Davidson that it was going to be a good bike without a doubt, but it's actually a nicer bike than I really expected, especially for being a first-year production bike," Birden said.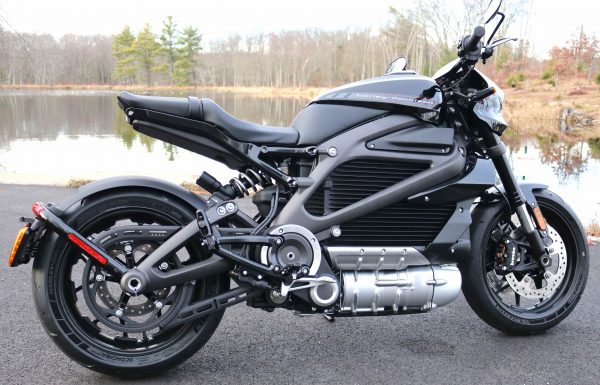 He's not concerned about potential gremlins in a new model. "They want us to drive the bikes, ride the bikes, because I'm sure there's going to be problems. There's going to be stuff that they're going to have to work out. It's a new product and I'm expecting that."
The LiveWire certainly has a more sporty profile than Harley-Davidson's traditional gas-powered cruisers. "I've had sport bikes in the past and I love sport bikes. That's why when I saw this I said, 'Yeah, I'm going to buy it,'" Birden said.
In riding it home, Birden was accompanied by RIDE-CT & RIDE-New England. He took a route that mixed back roads with state roads. He stopped at Bull Pond in Harwinton and gave a first impression of his new possession.
"Awesome. Truly, truly awesome," he said. "I don't want to get off. It's a heck of a ride. It's total performance. I tried three different modes. You could definitely feel the difference between 'em all." The model has a total of four ride modes that modulate performance – sport, road, range and rain.
Being electric, the Live Wire lacks any exhaust sound. All the rider hears is a futuristic whining whir. "I love it. You get to enjoy the peace and quiet. I'm not a big noise guy," said Birden. "I used to be but the last few years… maybe because I'm getting older, I guess."
The LiveWire also lacks a clutch and shifter pedal. The throttle is simply twist and go. "That's awesome. That's even better yet. It's like driving your car," said Birden.