VERNON, CT – It's commonplace to go to motorcycle shows and see as many interesting bikes in the parking lot as in the show itself, and that was the case Saturday at the opening of the New England Motorcycle Museum. The "Café Fever" event attracted riders who brought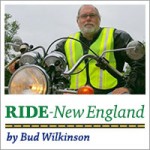 their café models to show off.
While RIDE-CT & RIDE-NewEngland spent most of the available time focusing on the museum's opening, there was time to chat with a few owners…
Ed Artale of Salem, CT brought his 1978 Harley-Davidson XLCR, a café racer that the company built from 1977 through 1979. Artale's bike has a "CAFE" license plate and, with 7,754 miles on the odometer, looks new. "It's been in a bag for three years," said Artale, who rode it to the museum.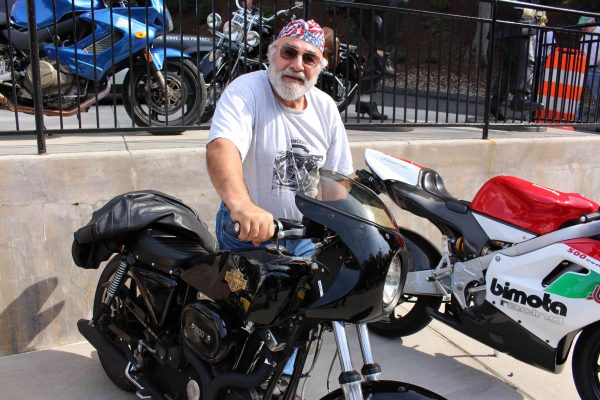 The XLCR wasn't a hit for Harley-Davidson but the model has become a collector's item with its distinctive fuel tank and bikini fairing. Artale was living in Groton, CT when he got it, trading in a Triumph Bonneville. "I've always had other bikes to ride," he said in explaining how the XLCR has so few miles despite being 40 years old. "I hide it, but I do ride it," he said.
Parked next to Artale's XLCR was sporty and rare Bimota 500 V-Due owned by Jim Urbano of Seymour, CT. The V-Due was a short-lived and exceedingly flawed model that is generally regarded as the model that killed the company. A 500cc two-stroke, the V-Due was hoped to be a game-changer when introduced in 1997 but increasing strict emissions requirements, high price and balky fuel injection crippled the model's chances.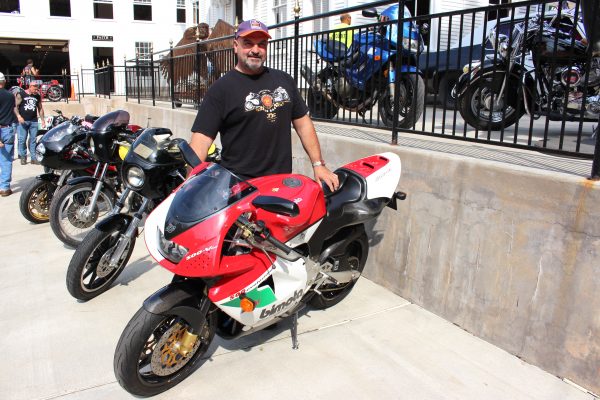 Urbano said only about 300 were built by the company, but that leftover parts were then acquired by one of the V-Due's project's designers, who later cobbled together more models. Urbano's was "conceived from spare parts" in 2009 and is #371. It has only been ridden about 1,800 miles.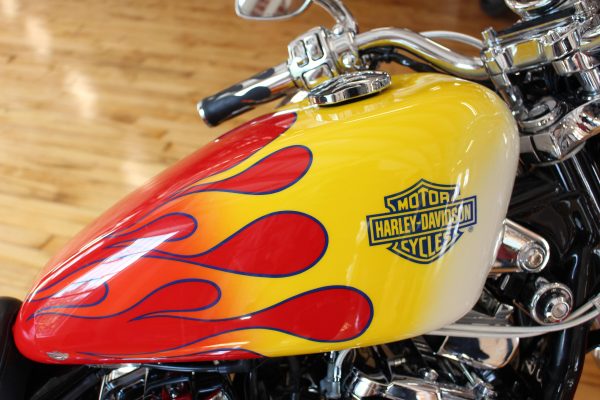 Inside the New England Motorcycle Museum, Stephen Spinelli of Manchester, CT was showing his colorful, limited-edition 1998 Harley-Davidson Sportster with a flamed out gas tank and fenders. Spinelli noted that it's #9 out of 200 built.
He's owned the Sportster, an 883cc model bored out to 1,200, for about 18 years and calls it "a project gone haywire" with lots of add-ons, including Vance & Hines exhaust, Progressive shocks and lots of chrome. The factory paint job was stunning.