CONCORD, NH – The driver of the 2016 RAM 2500 pickup truck involved in Friday evening's horrific crash that killed seven motorcyclists in Randolph, NH is headed back to New Hampshire.
Volodymyr Zhukovskyy was handed over to New Hampshire authorities after a brief arraignment in a Springfield, MA courtroom Monday afternoon. He will face seven counts of negligent homicide.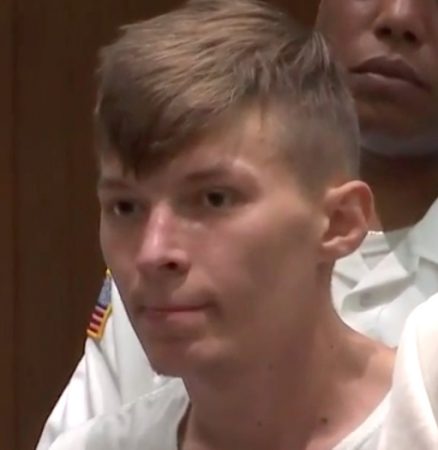 The 23-year-old was led into the courtroom in handcuffs, with his feet in chains. He was arraigned on a fugitive from justice charge and pleaded not guilty. The charge was dropped when he agreed to be taken to New Hampshire.
Meanwhile, the Associated Press reports Zhukovskyy has been arrested on drunken driving charges in the past. The AP says Connecticut court records show he was arrested by police in a Walmart parking in East Windsor, CT on May 11 after failing a sobriety test.
Massachusetts Registry of Motor Vehicles records show that he was arrested for drunken driving in Westfield, MA in 2013. "The Westfield News" reported that he was placed on probation for one year and had his license suspended for 120 days.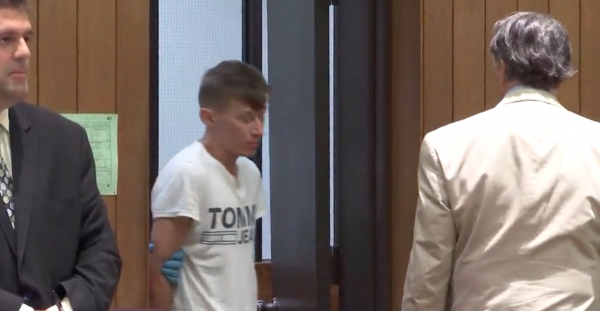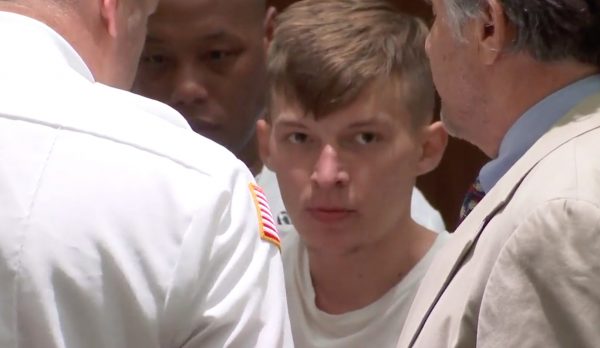 Zhukovskyy was arrested at his home in West Springfield, MA around 8 a.m. this morning by the Massachusetts State Police Violent Fugitive Apprehension Section.
Massachusetts State Police said troopers "located in the defendant's residence wax packets containing a residue suspected of being heroin." State police added no drug charges have been filed and that the residue will be tested by the state's crime lab.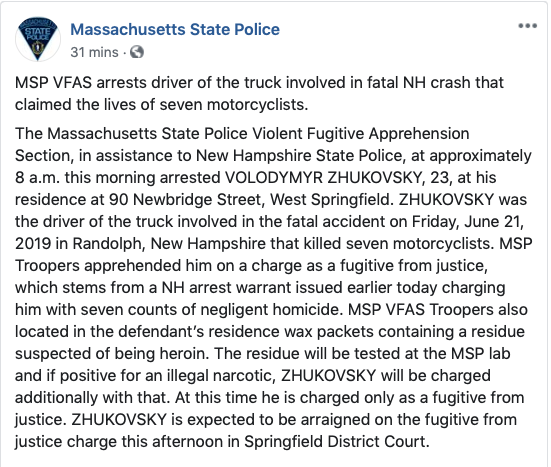 Zhukovskyy's apprehension was announced in New Hampshire by New Hampshire Deputy Attorney General Jane E. Young, Coos County Attorney John McCormick and New Hampshire State Police Col. Christopher J. Wagner.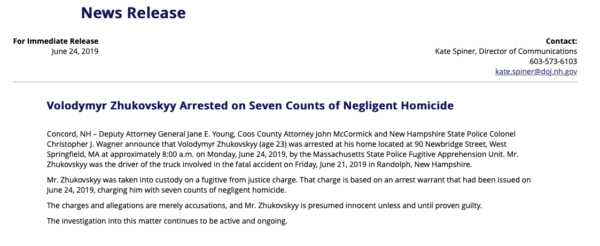 Zhukovskyy was taken into custody at 90 Newbridge St. in West Springfield on a fugitive from justice charge.
The tragic crash happened at 6:30 p.m. Friday on Route 2, a two-lane highway in rural northern New Hampshire. Five members of the Jarheads Motorcycle Club and two "supporters" were killed. The fiery crash is still being investigated local, state and federal officials.
WWLP.com in Springfield reports that the truck that Zhukovskyy was driving was owned by Westfield Transport, and quoted company owner Damien Gasanov as saying Zhukovskyy was on his way back to Massachusetts at the time of the crash.
Gasanov said Zhukovskyy was a new driver and the trip was his second since being hired.
WMUR-TV reached Zhukovskyy by phone over the weekend. He told the TV station, "It was a big tragedy. I'm trying to process this with my family. I'm feeling shocked. It happened so fast. I am cooperating with police. I feel mentally hurt."
The names of the victims were released on Sunday afternoon. The first funeral of those killed will be held Friday. A wake for 62-year-old Michael Ferazzi of Contoocook, NH will be held Thursday in Plymouth, MA with the funeral planned for Friday morning. Ferazzi was a retired Plymouth police officer..