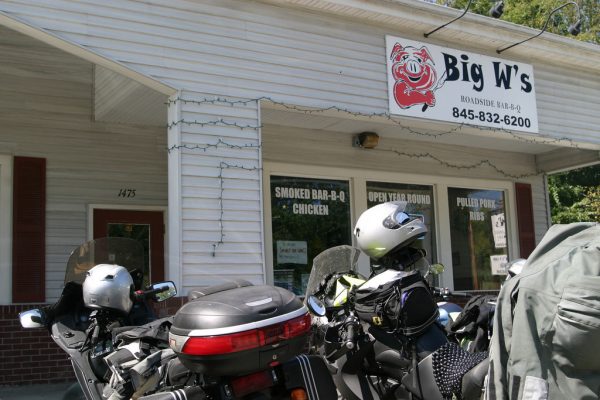 (Update: Big W's closed its doors on May 16, 2021.)
WINGDALE, NY – The next time you feel like "pigging out" while out on a ride, check out Big W's Roadside Bar-B-Q, 1475 Route 22.
The restaurant's proprietor and namesake Warren Norstein has been in the ribs business since 2003. Back then, the business was truly "road side" – running out of a commissary truck in Pawling, NY. Fast forward to 2007 when Warren moved out of the truck and into a storefront.
On arrival, the tantalizing hickory smoke aroma from the smoker shed next to the restaurant will quickly take over your senses. Inside is a very casual seating area with several tables and booths. There are a few picnic tables outside too. Take some time to study the food and portion size offerings on the large chalkboard menu. You get a good portion size, even with the sensibly sized sandwiches. Or opt for the regular portions for a heaping.
Besides the signature dry rubbed ribs, there are many other BBQ delights on the menu. If you can not decide consider the sampler with ribs, brisket, and something called "slow chicken." When asked and with impeccable timing Warren told us they are easier to catch. I suspect this is a common question and answer here at Big W.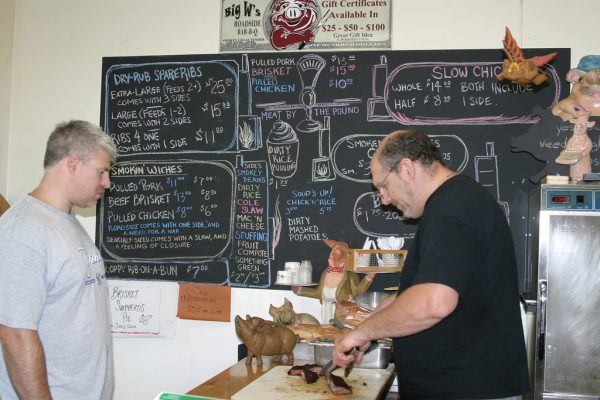 Part of the Big W experience is watching Warren carved up the meats at the counter and pile them high on a service tray lined with brown paper. There are several side choices, and Mr. Big W himself suggested the Smokey Beans, which was excellent. The sides are served up in small bowls and placed on the tray along with small container of sauces. The unusual homemade BBQ sauces are served on the side, and not on the meat. Be sure to try both the regular and the hot version of the sauce.
Big W's is conveniently located in southeast Dutchess County on Route 22 in Wingdale, and is surprisingly close to the Connecticut border for those find themselves riding in Kent on Route 7. Once hitting RT 22, Big W's is less than a mile south of the Wingdale Metro North station.
(Recommended by Steve Smith)