Harley-Davidson's new Pan America 1250 adventure model has a solid future, results of RIDE-CT & RIDE-New England's latest poll show. Nearly 70 percent of readers believe the model will be a success, and nearly one-third suggest that it can singlehandedly change the trajectory of the company, which has had declining sales for years.
A total of 37 percent believe the Pan America 1250 will be a modest success and will stick around for a number of years like the brand's V-Rod model did. Meanwhile, 32 percent voted that the Pan America 1250 will be a full-on game changer for Harley-Davidson and bring an entirely new crop of riders to the brand.
The remaining 31 percent think the Pan America 1250 will flop, though, because dealers won't "get it" or the customers the the model seeks to appeal to, and therefore won't sufficiently get behind in.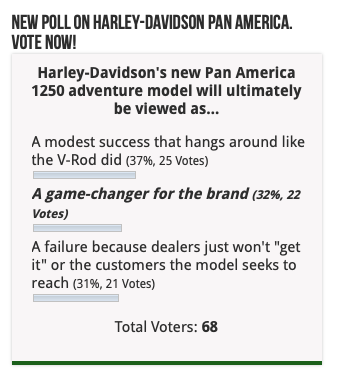 Turnout for the poll, which ran from May 19 until this afternoon, was lower than normal. The website's polls are non-scientific and are conducted for fun and out of curiosity.
New Poll In Importance Of Test Ride
A new poll has now been posted seeking readers' opinions on the importance of taking a test ride before buying a new motorcycle.
Some dealers don't allow it, while others encourage riders to take a spin, provided they sign a waiver. Their reasons dealers' policies vary and precipitate various reaction from those shopping for a new ride. After all, spending $10,000, $20,000, $30,000 or more is quite a monetary commitment.
Would you buy a new motorcycle without trying it out? Or would you pass on a model (or a dealer) without getting a little seat time first?
Vote now! The poll is atop the right-hand column of every page on the website. If you're on a cell phone or tablet, scroll down the page to find it.
The website's polls run for no set period; from a couple of weeks to a month or more. Some are serious, others are frivolous. If you have a suggestion for a poll question, please email budw@ride-ct.com.
Hello! If you found the latest poll to be fun, please help boost balloting on the new poll. Share this post with other motorcyclists by clicking on the social media buttons below.