FALLS VILLAGE, CT – While a date for publication and a price still haven't been determined yet, work continues on the soon-to-be released cookbook from the owners of Toymakers Cafe here and the editor of RIDE-CT & RIDE-New England.
As first reported in mid-July, Toymakers Cafe owners Ann and Greg Bidou, joined by this website's Bud Wilkinson, are producing a "motorcyclists cookbook" titled "Recipes for a Good Ride."
The book is now subtitled "The Toymakers Cafe Cookery Book," a revision from the original "The Toymakers Cafe Cookbook." The change to "Cookery" was made to better reflect the cafe's British-themed elements and menu items, along Greg's side business selling old British motorcycle parts.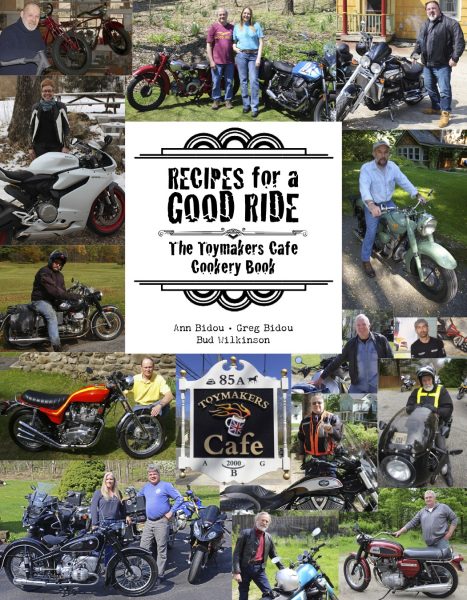 The cookbook, er, cookery book will feature more than 50 cafe-tested recipes and profiles of many of the regulars who have made the cafe a favored haunt over the past 18 years.
"Recipes for a Good Ride" is now in the final stages of design. Once that process is completed and the cost for printing nailed down, the price will be set and book will be published and released. This will hopefully occur in the near future, although not before the cafe shuts its doors on Labor Day.
As reported on Aug. 4, the COVID-19 pandemic has had an adverse impact on the cafe, forcing the Bidous to announce that Toymakers Cafe will close on Monday, Sept. 7. Business has declined 40 percent this summer, and projections for fall and winter made staying open unwise financially.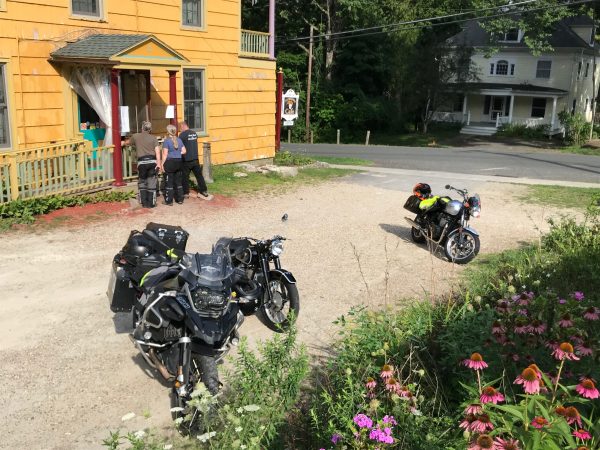 Greg and Annie, who live above the cafe, are looking at possibly leasing the cafe's first-floor space to someone else for an eatery, but haven't totally ruled out reopening Toymakers Cafe next spring if a useful vaccine for COVID-19 is found, the pandemic is licked, and safe indoor dining is permitted again.
Details on how to purchase "Recipes for a Good Ride – The Toymakers Cafe Cookery Book" will be announced soon.
Hello! If you enjoyed this story, please share it by clicking on the social media buttons below.