There comes a time for all motorcyclists when two wheels become too much. Either the body doesn't allow the rider to easily toss a leg over a seat anymore or the bike becomes too heavy to hold up.
The options are either to quit riding or find an alternative. The results of the latest RIDE-CT & RIDE-New England poll reveal that the first choice of riders is to switch to three wheels.
A total of 44 percent picked getting a traditional trike or some other three-wheeler, such as a Can-Am Spyder.
Their second preferred option for voters was switch to four wheels with a convertible car. A total of 38 percent voted this way, with only 18 percent choosing "Simply quit (riding) and find a more sedentary hobby."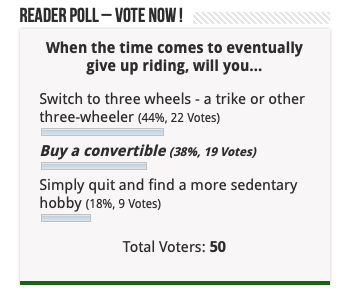 The poll ran from Sept. 17 through Oct. 17 with the question being posed "When the time comes to eventually give up riding will you…" Only three voting options were given. There was no space for write-ins.
Turnout was low with only with only 50 readers participating. Perhaps exquisite fall riding weather lured readers away from the polling place.
New Poll Gauges Winter Riding Habits
A new poll has been posted that seeks to gauge winter riding habits. It asks "When the cold weather arrives, do you…" Voting options range from immediately winterizing motorcycles to riding all winter. Readers may vot atop the right-hand column on any page on the website.
The website's polls are non-scientific and are conducted just for fun and out of curiosity. They run for no set period, usually for a few weeks.
If you have a suggestion for a poll question, please email budw@ride-ct.com.
Hello! If you enjoyed this post, you can help boost voter turnout for the new poll by clicking on the social media buttons below and asking fellow riders to share.