LITCHFIELD, CT – As the warmer months wane, we welcome the cozy comfort of autumn with hayrides and Halloween. The season also turns for our favorite frozen confection. Creameries all over the Northeast, such Peaches 'N Cream, celebrate the season with a bounty of flavors for leaf peepers to enjoy.
One of Connecticut's oldest creameries, Peaches 'N Cream was launched in 1982 by David and Joanne Redente and Lina Pietrantuno. Katerina Karavasili purchased the business in 2015 and continued the tradition of making and serving up a special menu of gluten-free ice cream and sorbets using the highest quality natural ingredients.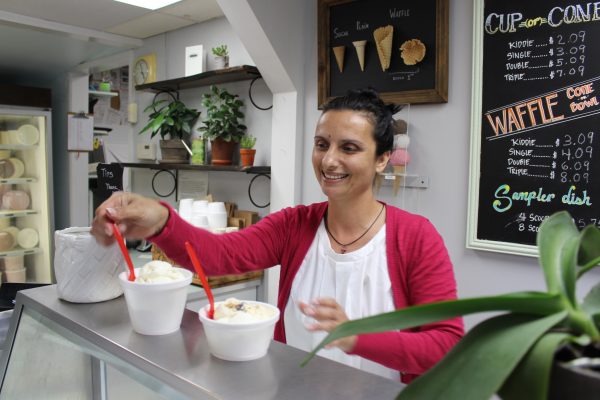 Peaches 'N Cream even makes its own hot fudge, syrups, fresh fruit toppings, waffle cones, Greek-recipe cookies (Karavasili is a native of Greece), along with whipped cream, dairy-free sorbets and sugar-free ice cream (for those looking for those options).
With warm temps and sunny skies, the recent ride over to Peaches 'N Cream was a most pleasant one. Greeted by two smiling young ladies behind the counter, I inquired on their most popular fruit flavors and was directed to the Bordeaux Cherry – a cherry-based ice cream with big cherry halves.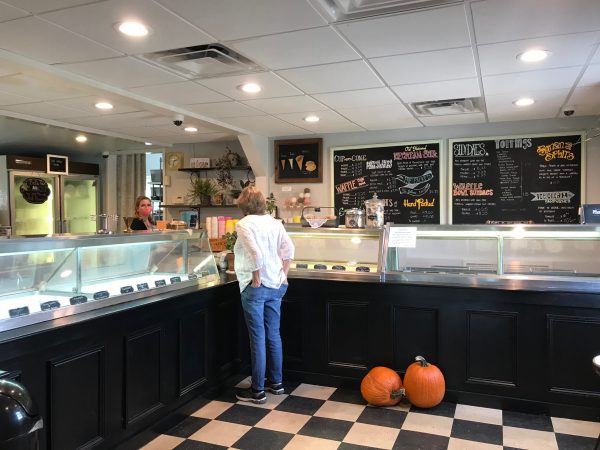 When in season, their Peaches 'N Cream flavor is a natural favorite but sadly was not on the menu during my visit. Other popular flavors include Red Raspberry and Toasted Almond.
With room for a second round, I then opted to mix two seasonal flavors – Pumpkin and a personal favorite, Mint Chip. The nutmeg came through in a big way on the Pumpkin and was reminiscent of frozen pumpkin pie – delicious!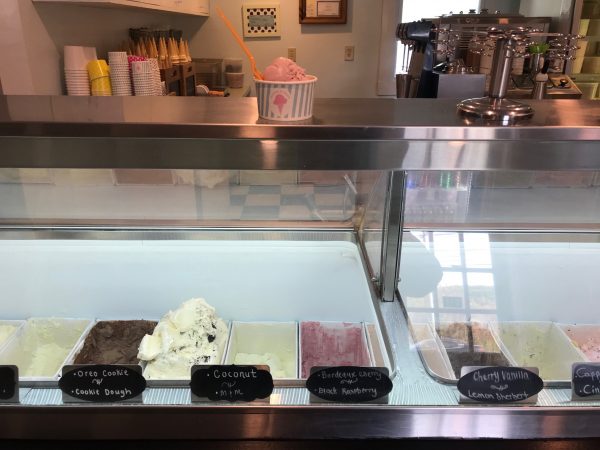 The Mint Chip did not disappoint, either. I was very pleased to see that no artificial flavors or dyes are used, leaving only the wonderful mint/chocolate taste to enjoy.
Peaches 'N Cream also offers up ice cream cakes, milk shakes (a very popular offering) as well as ice cream floats, waffle cones/bowls and 2½-gallon take home tubs or half gallon containers of their flavors with a bit of advanced notice.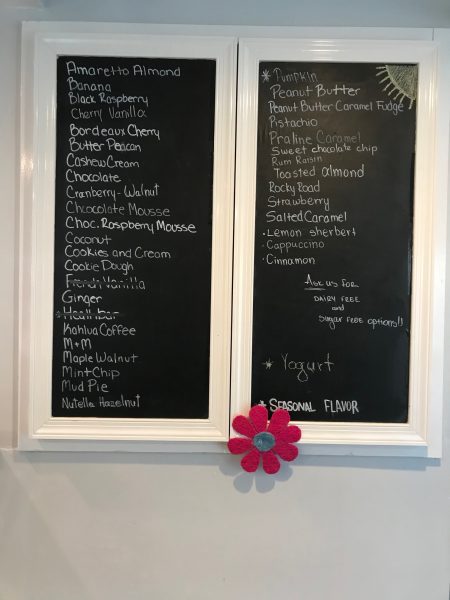 Some beautiful riding can be found nearby with Route 63 heading north into Goshen and up to the top of Connecticut in North Canaan. There's also Route 4 which passes through Cornwall to the west and on to picturesque Sharon, CT.
Route 272 is another favorite heading into Norfolk, the famed ice box of the state where a favorite fall foliage stop for motorcyclists can be found – Dennis Hill State Park. It's a 240-acre former estate with panoramic views. From the hilltop at 1,627 feet, visitors can enjoy views of the Berkshire foothills at their autumnal best.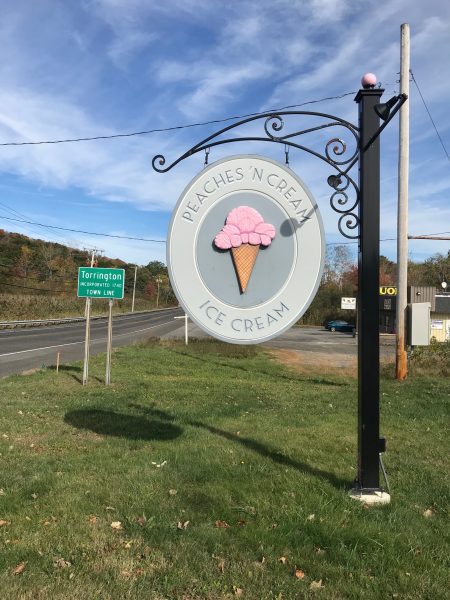 Peaches 'N Cream is located at 632 Torrington Road (Route 202) in Litchfield, right on the Torrington-Litchfield line. It is open from noon to 9 p.m. seven days a week.
Other stops on this year's "Great Northeast Ice Cream Run" include:
Hello! If you found this column to be a treat, please share it by clicking on the social media buttons below.