LITCHFIELD, CT – Jimmy Kelley, owner of Crabby Al's Seafood Restaurant in Thomaston, went to the Possum Queen Festival & Auction at the Litchfield Inn on Sunday afternoon with the idea of possibly bidding on a 1971 Honda CL 450 that was being offered. He watched, though, as the action between two bidders intensified.
The eventual winner was Mike Burr of Thomaston, who paid $3,000 for the 48-year-old scrambler. Burr then immediately gave it to his longtime friend Kelley as a birthday present. Kelley will turn 66 on Feb. 28. "I'm going to get this with my Social Security check," Kelley quipped after the shock of being gifted had worn off a bit.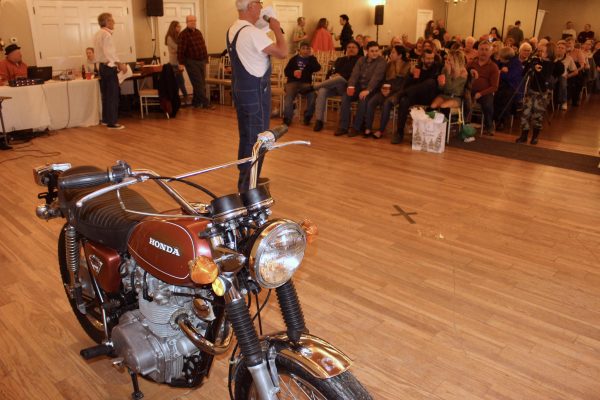 The bike had been donated by Brian O'Neil of Cornwall, put back in running condition by Jeff Crampton of Northfield and detailed by Dean Mojon of New Hartford. The $3,000 that it brought was part of a record take of more than $100,000 that the event raised through donations, the auction, a silent auction and "bribes."
"It just gets better and better," said Possum Queen organizer Billy Neller.
Bidding on the bike was fast and furious. A $1,500 reserve that had been set was eclipsed within seconds. Crampton was pleased with the amount of the winning bid, having said before the auction that he was hoping that it would bring $2,500 to $3,000.
"I'm very happy for all of the time and effort I put into it," said Crampton. "It's going to a good cause." The Possum Queen benefits families facing medical hardships and others.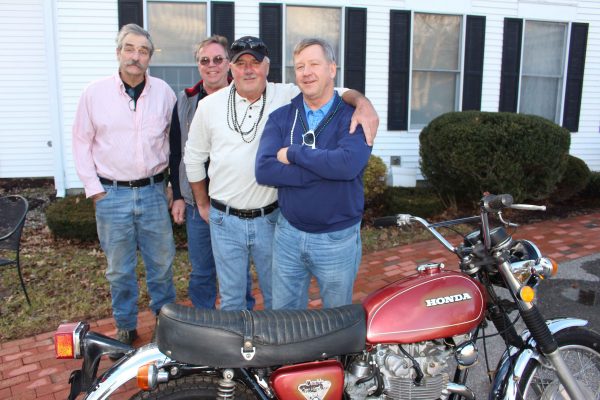 The Honda didn't go home with Kelley, who lives in Wolcott. It's expected to be delivered today to Crabby Al's. "I'll put it right on display in the bar," Kelley said. "I'll ride it next summer. Anybody who wants to see that bike, come to Crabby Al's in Thomaston."
– By Bud Wilkinson