MONSON, MA – Touting it to be the "Last Chance to Save the Hill," members of the Quaboag Riders Motorcycle Club and other supporters plan to "ride and protest" Thursday evening in response to the town's shutdown of its hillclimb events that have been staged for more than 75 years. The destination is Monson Town Hall for a hearing scheduled by the town's Zoning Board of Appeals.
No hillclimbs have been held this year, and only two were staged in 2021 on the 360-foot-high track. The non-profit club is now fighting against a town administration that appears set on ending the races that date back to 1945, a year after the club was founded.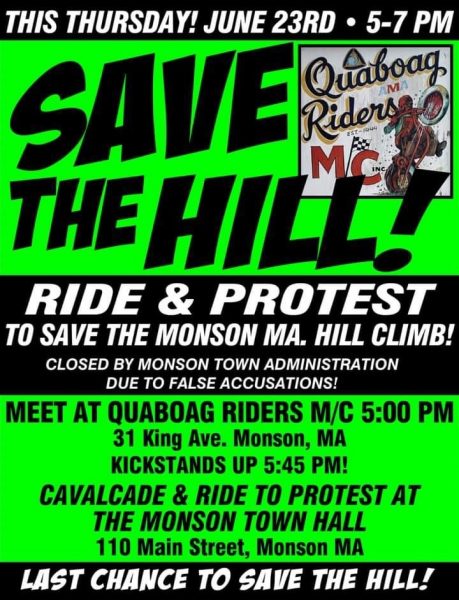 The club owns 80 acres at 31 King Ave. and hosts the oldest hillclimb facility in the Northeast. Quaboag Riders Motorcycle Club was formed by World War II veterans who primarily worked for the Indian motorcycle company in Springfield.
On March 22, though, the club received a cease and desist order from the town that banned the use of the hillclimb track and dirt riding trails. A complaint from a neighbor apparently spurred the town to act.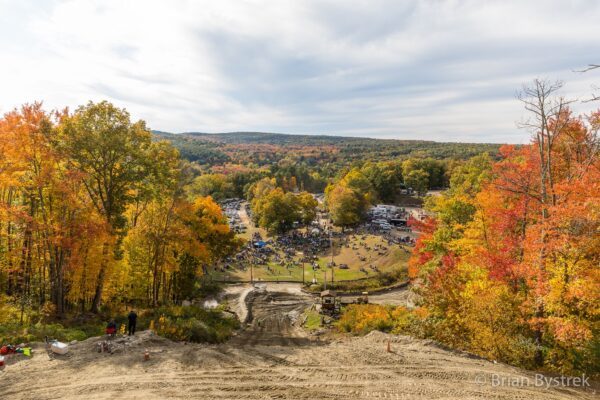 In April, the Quaboag Riders launched a GoFundMe campaign to help raise funds to fight the town's ban.
As of Wednesday morning, $12,560 had been raised from 122 donors but legal fees have already topped $100,000.
Supporters of the hillclimb facility are invited to gather beginning at 5 p.m. Everyone will ride to Monson Town Hall at 6 p.m. to offer a visible presence when members of the town's Zoning Board of Appeals gather for a 7 p.m. meeting and hold a hearing regarding the situation.
Despite being prohibited from staging events, the club still lists three upcoming hillclimb events on its Monson Monster website.
(Photos courtesy of the Quaboag Riders Motorcycle Club)
Updated: June 23, 2022 at 9:05 a.m.
Hello! If you find this story useful, please share it with other riders by clicking on the social media buttons below.