WORCESTER, MA – Artist Tony Freitas waited until a decent day in late April to pull out his ladder and paints to alter a mural on the Miss Worcester Diner here that had riled Harley-Davidson.
The hand-painted mural, which displayed the motorcycle maker's bar and shield logo, now also exhibits a sponsor name; that of Sheldon's Harley-Davidson in nearby Auburn, MA.
"Every job poses a problem, challenges," Freitas said Sunday afternoon. "The challenge here was painting without ruining the background. If I didn't get it right the first time, I'd have to repaint the flames."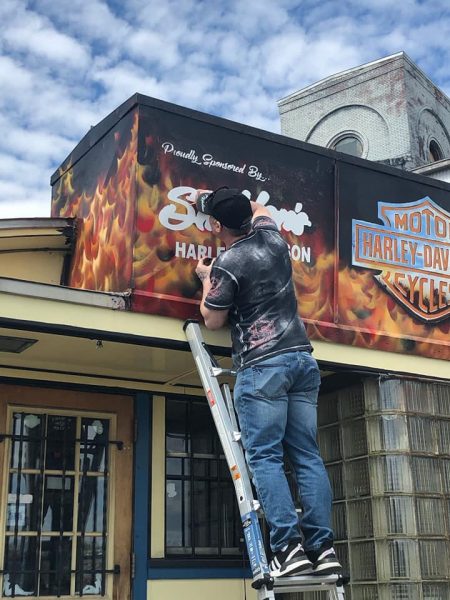 Freitas originally painted Harley-Davidson's logo resting on a bed of flames on an air conditioning duct above the diner's entrance last summer. In late January, however, diner owner Kim Kniskern received a cease and desist letter from Harley-Davidson claiming trademark infringement.
Harley-Davidson demanded that the diner "remove the Harley-Davidson Mark from the exterior of your business."
The letter continued, "While Harley-Davidson appreciates your enthusiasm for the brand, I hope you can understand that we must be diligent in protecting our trademark rights, including the policing of unauthorized use."
A firestorm ensued when news of Harley-Davidson's request became public. The situation received extensive news coverage, and Kniskern and Freitas vowed to fight Harley-Davidson's claim. Freitas called it "petty."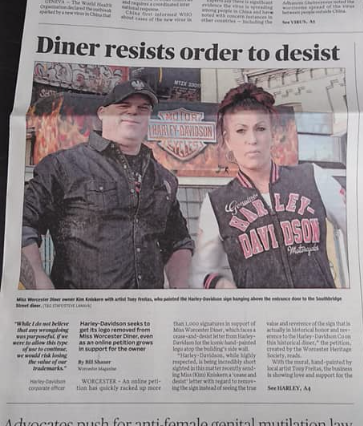 The situation resolved itself within a few days, though, when Sheldon's Harley-Davidson stepped up to sponsor the mural, essentially changing it from a piece of art into a commercial billboard.
That move satisfied Harley-Davidson, which, according to Freitas, requested that the modification of the mural be done by mid-April. Lousy weather and the COVID-19 pandemic delayed the job and it wasn't until April 25 that Freitas was to tackle it.
"It always looks easier than it really is. When you're up on a ladder, it's never as easy as it looks," he said.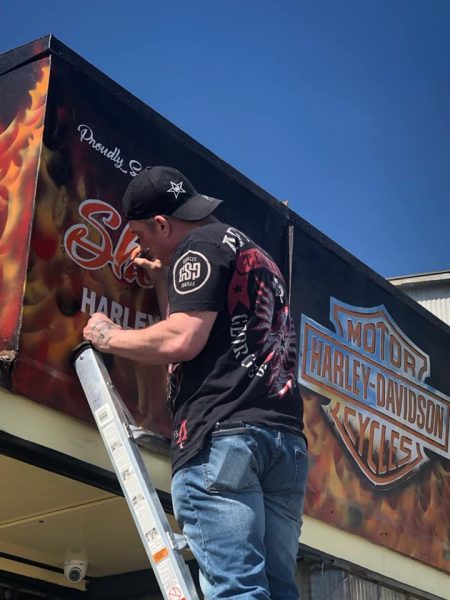 (Diner photos courtesy of Tony Freitas)
Hello! If you enjoyed this story, please click on the social media buttons below and share it.