By Bud Wilkinson 
Christmas is less than three weeks away. Have you put your bike(s) into winter storage yet? Or are you foot-dragging because you don't want to quit peg-dragging? The bikes can wait. Holiday shopping cannot and RIDE-CT always offers some gift ideas for motorcycle lovers. While some new over-the-calf heated socks from Gerbing's for $89.95 would be useful this month, some less expensive reading material for hunkering down by the wood stove over the snowy months will be what RIDE-CT buys as gifts. Two new books are suggested:
"Motorcycle Touring Bible" by Fred Rau
It's probably safe to assume that there are very few places in the world that motorcycle journalist and tour operator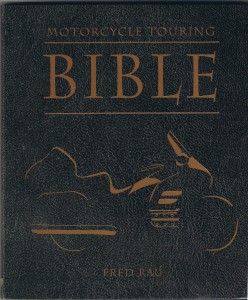 Fred Rau hasn't ridden – even Connecticut. He lived in Plainfield from fall 2007 to fall 2009. He "couldn't abide the winter doldrums," though, so he moved back to California. He lives in Hemet, about 60 miles west of Palm Springs, and rides 60,000 miles a year. He owns four motorcycles, two in California and two in New Zealand where he leads tours.
Rau, who writes the "Contact Patch" column for "Motorcycle Consumer News" magazine, offers the "Motorcycle Touring Bible." The concept behind the book was to share his knowledge of the road, an idea that came to him when friends visited and they went shopping for motorcycle gear. He suddenly realized that he had decades of experience testing motorcycles and equipment. He reports the book is crammed with "a lot of basic knowledge. It'll probably be most useful to people who are new to motorcycle touring. So much of it is trial and error; something as simple as buying a motorcycle jacket."
Rau didn't choose and doesn't like the book's title because of the religious connotation and admits that it wasn't a good read as originally written. "The first draft of the book had great information but it was boring as crap to read. For weeks I sat around thinking what I could do to make it more interesting," he said. He eventually "realized the Bible, in its own right, is an instructional manual, but it doesn't just tell you what to do. It teaches by parable, by telling stories." He then rewrote about two-thirds of the book using this model.
Motorcycle touring isn't for every rider, said Rau, but "for most people who ride there is some kind of touring that will fit to some degree. We not all tuned in to the same kind of touring by any means. There's people to whom a tour of a couple of days is wonderful. There's people like me who never want to stop. It's not for everybody."
Newcomers to motorcycle touring are prone to making errors. "The most common one would be over-planning. People get so fixated on where they want to go. They get locked into this schedule. They always plan on making too many miles. You really need to loosen up and not be so schedule-oriented or destination-oriented," said Rau. "The biggest problem is over-planning. Over-packing probably comes in second."
Rau's favorite place to tour is New Zealand.  "The roads in New Zealand are like the roads in the German alps. The scenery is mind-boggling," he said, noting that New Zealand lacks the traffic and tour buses that are common in Europe. The worst places to ride are Singapore and the cities in Malaysia.
One factoid found in the introduction of the "Motorcycle Touring Bible" is that more than 70 percent of Americans have never traveled beyond their home state, and Rau knows from personal experience that people do get stressed over traveling. "Most Americans are really home bodies. They're really afraid of getting out and getting away from their comfort zone. In truth, once you try it, it's so simple. It's getting over that first hurdle," he said.
The "Motorcycle Touring Bible" at $29.99 will help make leaping that hurdle much easier.
"365 Motorcycles You Must Ride" by Dain Gingerelli, James Manning Michels and Charles Everitt
There are so many bikes and such little time in a person's riding lifespan. That's why magazine moto-journalists have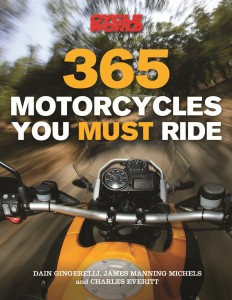 such great jobs. They get to ride nearly every bike that gets released by the manufacturers, and get loaner bikes to demo so they don't have to own a lot on their own. Dain Gingerelli, who lives in Mission Viejo, Calif. and who is editor of the Stamford-based "American Iron Motorcycle Bagger" magazine, reported that he owns three bikes when he phoned earlier this week.
"I have one dirt bike, one street bike and one old bike that is under wraps and would like to get on the street," he said, revealing the vintage ride to be a 1976 Honda 360 with only 3,000 miles on it. "Unfortunately, it sat outside for years. It's a semi-rust bucket."
You can bet there are no rust buckets in "365 Motorcycles You Must Ride," a book of iconic bikes of which Gingerelli is one of three authors. The book is licensed by "Cycle World" magazine. "There's a nice variety of motorcycles from early vintage stuff up to some of the current Harleys," said Gingerelli. "You'll learn about some motorcycles that you've never heard about, too, but it's real-world applicable. You're going to read about bikes you can go in and buy or (are) available on the used bike market."
Gingerelli has been riding for 45 years, having been schooled by his brother at age 15 on a Honda 50. He's been road-testing motorcycles for magazines since 1971. What are the worst bikes that he's ridden? "There were some Harley Sportsters back in the mid- to late-70s. There was no suspension at all and the engines were cantankerous," he recalled.
Some good models are missing from "365 Motorcycles You Must Ride" because of a lack of artwork. "There were several we wanted to put in and couldn't get the photography," said Gingerelli. Nonetheless, he's satisfied with the bikes that are included and with the end result. ""We have little factoids about them and little destinations. It's a fun read. It's not just a little description of the bike. We include little snippets, sidebars about the bike that kind of help put you in the seat vicariously."
Retailing for $21.99, "365 Motorcycles You Must Ride" will certainly gives riders some "wish list" ideas for future purchases.
Both books are available for online purchase at motorbooks.com.
(Originally published in "The Republican-American" on Dec. 4, 2010.)