FALLS VILLAGE, CT – It's now easier to buy "Recipes for a Good Ride – The Toymakers Cafe Cookery Book." The motorcycle-themed cookbook is now available for purchase at a limited number of motorcycle shops and dealerships in Connecticut and Massachusetts.
Brookfield Indian Motorcycle in Brookfield, CT; Doc's Motorcycle Parts in Waterbury, CT; and Yankee Harley-Davidson in Bristol, CT as well as Cape Cod Harley-Davidson in Pocasset, MA are stocking the cookbook. All will have it for sale this week.
Co-authored by Toymakers Cafe owners Annie and Greg Bidou and journalist Bud Wilkinson, "Recipes for a Good Ride" was released in late December. It is priced at $19.75.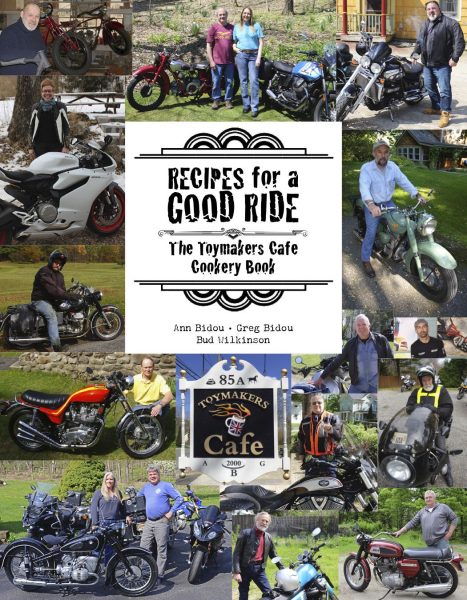 The cookbook mixes more than 60 cafe-tested recipes with profiles of many of the bike-riding regulars who made Toymakers Cafe in Falls Village a colorful and favored haunt in the riding community for more than 18 years.
The cafe closed in September due to the COVID-19 pandemic. However, plans are now under consideration by the Bidous to turn the cafe into a flea market-type shop on weekends that would sell coffee and pastry. That will mean motorcyclists could continue to gather on Sunday mornings. A decision should be forthcoming soon.
"Recipes for a Good Ride – The Toymakers Cafe Cookery Book" may be ordered for delivery by mail by emailing annbidou@yahoo.com. Dealers and motorcycle shops wishing to stock the cookbook should email budw@ride-ct.com.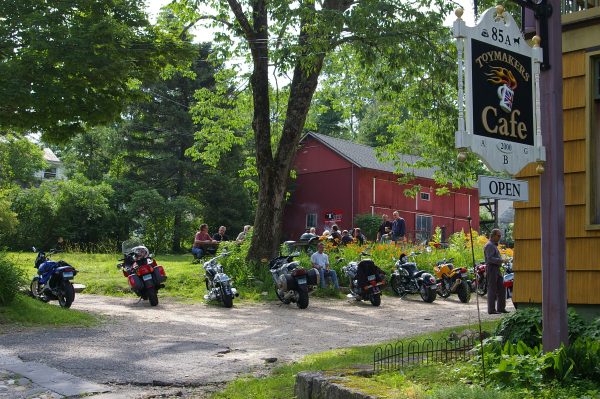 Hello! If you found this story useful, please share it with other riders by clicking on the social media buttons below.