WETHERSFIELD, CT – The popularity of motorcycling took another hit in Connecticut in 2019. The total number of registered motorcycles declined to 86,098 as of last month from 88,119 in January 2019, a loss of 2,021.
In 2009, there were 94,262 registered motorcycles. The drop-off can largely be attributed to aging riders giving up the recreation and not being replaced by younger ones.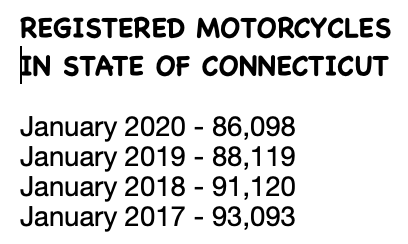 The shedding of registered motorcycles has been gradual. As recently as 2018, the number of registered motorcycles topped the 90,000 mark.
Factor in that many riders own more than one registered motorcycle and the number of riders in the state may be substantially less than the number of registered bikes.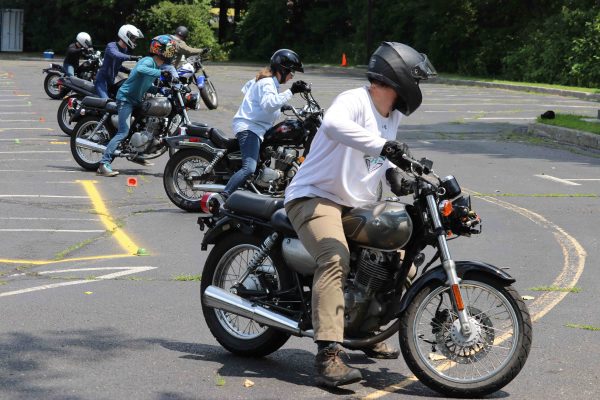 CONREP Enrollment Declines As Well
Meanwhile, enrollment in Connecticut Rider Education Program courses dipped significantly last year with total enrollment in 2019 at 3,453 students, compared to 3,891 in 2018. That's 438 fewer students.
A total of 3,252 students took the Basic Rider Course, which is required to get an "M" endorsement on a driver's license. That's a drop of 577 students from 2018.
Ten years ago, in 2009, CONREP enrolled 4,969 students for all of its courses.
"Training numbers continue a steady decline in Connecticut that seems to match the trend nationally," said CONREP supervisor Nick Just in an email.
"It appears that the rate at which new riders enter motorcycle riding is steadily declining as many young people choose not to own means of transportation and live closer to their jobs in a more urban environment and utilize public transportation."
Three other CONREP classes, for returning, experienced and three-wheel riders, saw combined enrollment increasing to 194 pupils from 62 in 2018.