GREENWICH, CT – Brendon Romcke's affection for old Indian motorcycles goes back to his childhood in Australia. 
"My grandfather worked for Indian in Australia in the 1920s, so I have a lot of old photos of him riding Indians. I have his business cards. Indian business cards. The original ones," said the Fairfield, CT resident, who was showing off his 1939 Indian Chief at the Greenwich Concours d'Elegance here on Saturday.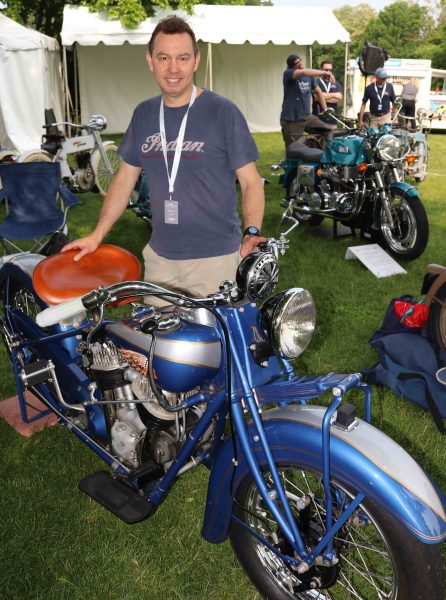 "That's what started me off, I guess. When I was a little kid, I was around his garage and there was all Indian stuff everywhere," he said. 
Romcke has owned four or five other Indians over the years. He's had the '39 Chief for about 15 years.  
"When I got it, it was a pile of rust. There was no paint, nothing. It had been sitting in a swamp for about 40 years in pieces, and about half the pieces were missing. I tried to piece it back together and it took me about 10 years to get it all back together – to find all the pieces, and get it painted, and restored and running," he said.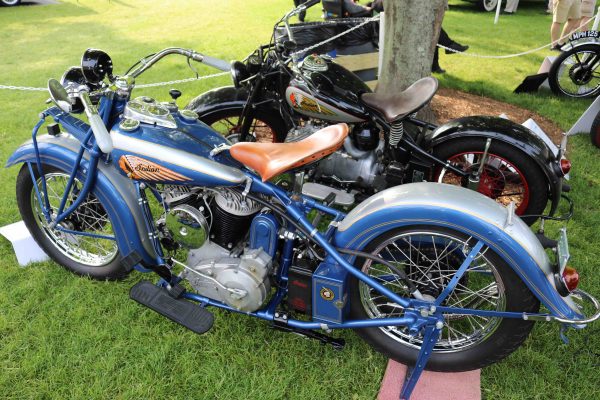 Romcke said he rides the Indian between 50 and 100 miles a year. "Actually enjoy working on it more than riding it," he said.
Parked beside the Chief was a 1941 Indian Model 841 owned by Jim Sims of Southbury, CT. The model features a transverse-mounted V-twin engine and shaft drive. Sims has owned it for two decades.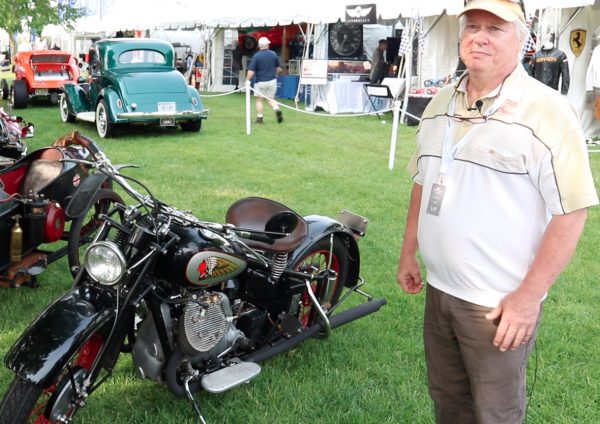 "I've been sourcing parts for 20 years. It was kind of complete but not totally complete. Things like the speedo, headlight, tool box, things like that had to be sourced," said Sims, who does ride it.
"Registered. Ride it. This is a rider. Basically around town. I don't do any long distance. It runs great. I ride it all the time," he said.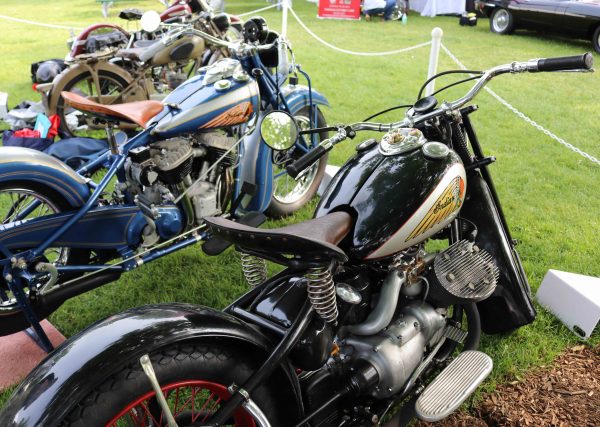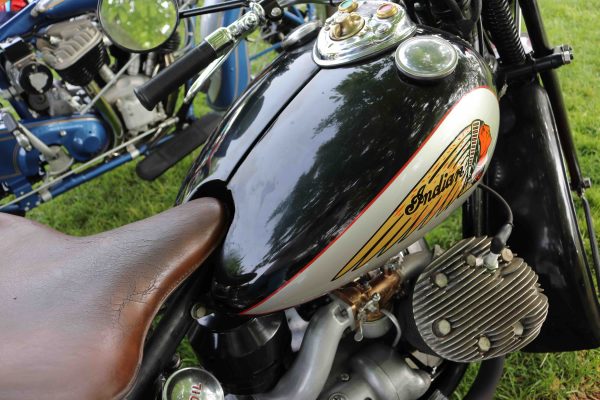 While the Greenwich Concours d'Elegance focuses primarily on high-quality vintage and exotic cars, the show does offer memorable motorcycles, which get the once-over from an expert panel of judges.
On display Saturday were a 1921 Victoria KR-1, a 1914 Excelsior 7C, a 1949 Peugeot P156 and a 1950 Vincent Black Shadow.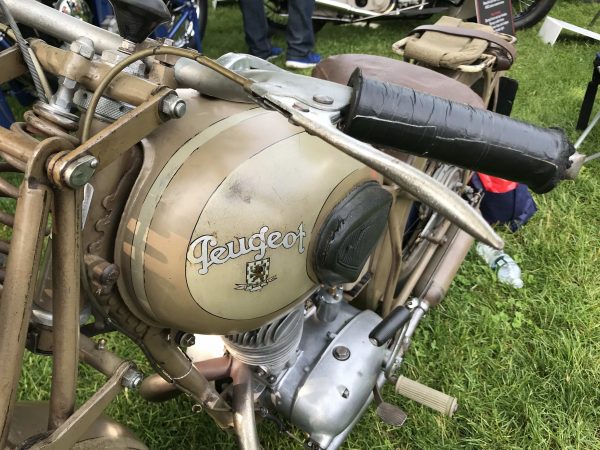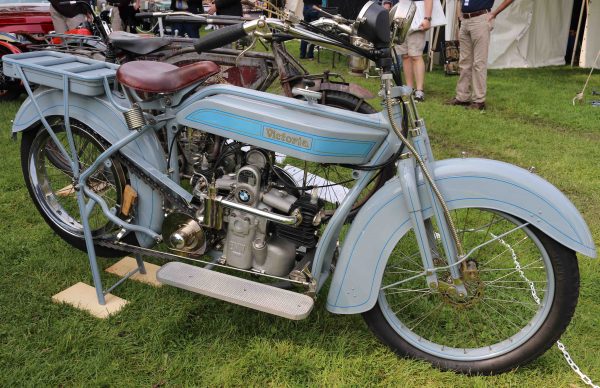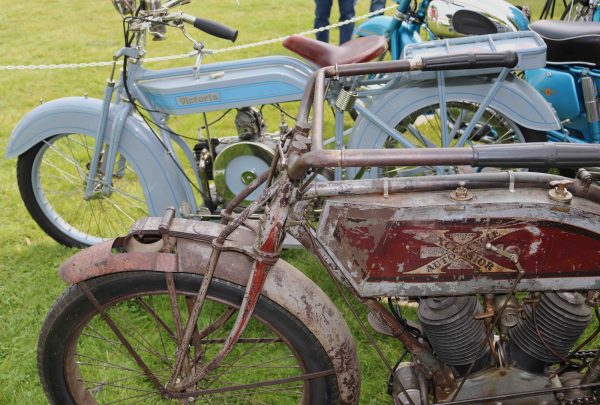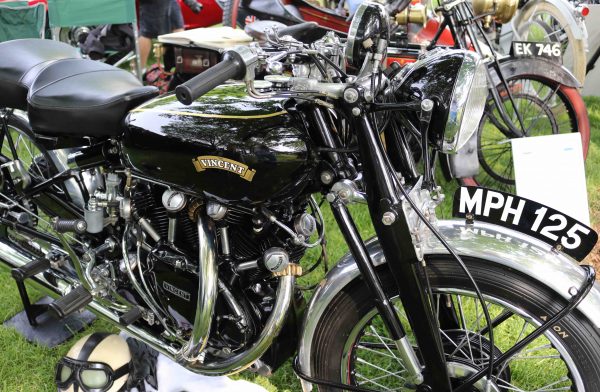 Klaus Huenecke came up from Jackson, New Jersey with two old motorcycles – a 1971 Munch 1200 TTS and a 1958 Zündapp Citation, a model made specifically for the U.S. market. Both sport catchy blue paint schemes, but the hand-built Munch got attention because of its rarity. They were created in Freidl Münch in Germany.
"He started designing and building them in 1965 until '78. Total number of bikes built – 484," said Huenecke. "Freidl Münch wanted to build a powerful touring bike; better than anything available at the that time, meaning 1965."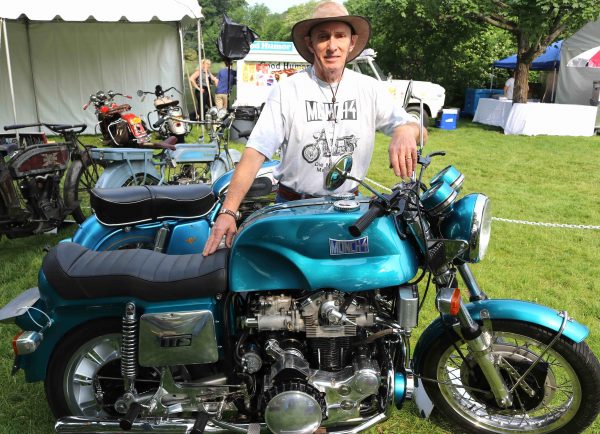 Munch models were powered by a four-cylinder, transverse NSU engine. "It was, at that time, the most powerful bike available," said Huenecke.
(Editor's note: more from Huenecke in a future post.)
Here are some more pictures of the Munch and motorcycle portion of the Greenwich Concours d'Elegance: