NEWBURGH, NY – Even non-riders know the names of the best known motorcycle brands – Harley-Davidson, Honda and the revived Indian. Maybe not so much the likes of Moto Guzzi, MV Agusta or Motus. But names like Motosacoche, NUT and F.B. Mondial can bring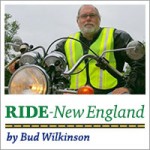 blank expressions to the faces of even the most experienced motorcycle enthusiasts.
That's a big reason why visiting the seven-year-old Motorcyclepedia Museum in Newburgh, N.Y. can be so illuminating, especially when tutored by someone like Dale Prusinowski. RIDE-CT was there when Motorcyclepedia opened in April 2011 and has been back several times since, but it wasn't until late last month when attending an indoor swap meet at the museum that I met Prusinowski.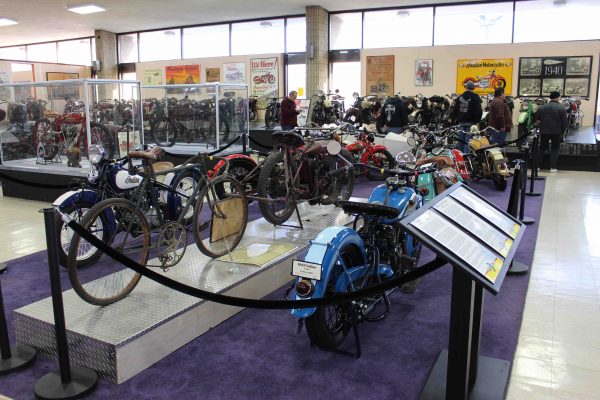 He's a member of the museum's board of trustees and a collector with 16 motorcycles. Most are vintage models; the lone modern bike being a 2016 Indian Scout that he'd ridden up that cold day from his home in Palisades, N.Y. to work at the swap meet. He took time away from the vending area to play tour guide and show off some of the museum's newest acquisitions as well as some of his own motorcycles that are displayed on loan.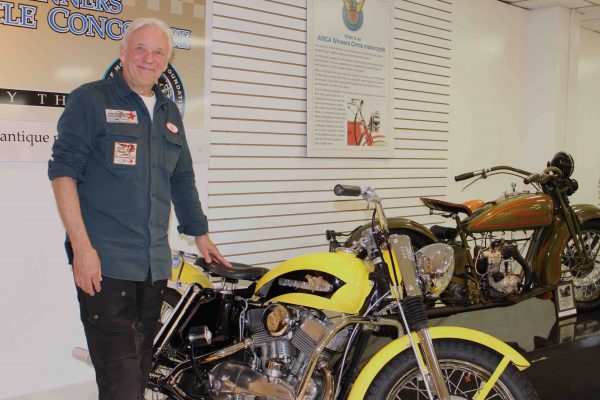 The visit began in a rear corner of the two-story museum's lower floor where more than a dozen antique bikes that had recently arrived were lined up behind metal fencing. "We're constantly revolving exhibits, changing exhibits," he said, explaining that the newcomers will eventually be displayed. Among them were old Harley-Davidsons and a Motosacoche.
The Harley-Davidsons came from a private collection. "They range from the early teens to the early '20s. There's one from each year – from 1910 through early '20s. They're becoming rarer but they're still a few around, and there are collections that are being sold. Our society is getting older and maybe some young heirs to estates are not as interested in maintaining them, so there are some coming available," Prusinowski said.
The 1921 Motosacoche, a 600cc model made in Switzerland, had some particularly interesting features – an enclosed chain, a crank starter instead of a kick starter, and front and rear brakes that can be be described as being the precursor to disc brakes.
Maybe 50 yards away on lower's floor exhibit hall was a roped off area of rarities, which is where we walked next. On display was a British-made 1924 NUT with a 680cc V-twin engine. The name signifies the bike's city of origin – Newcastle Upon Tyne. The brand lasted from 1912 to 1933. Like the Motosacoche, the NUT was acquired from a company called Yesterdays in the Netherlands.
It's the bygone brands that appeal to Prusinowski. "Most people have never heard of these," he said. "Quite honestly, that's what I like. I like the unusual models and I like the reaction, 'I've never heard of that.'"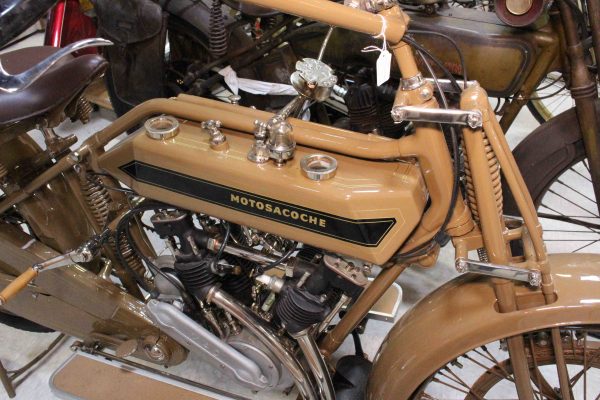 We then walked upstairs to ground level to look at his loaners, among them a 1928 Indian Scout, a 1957 Triumph TR6B, a 1956 Harley-Davidson KH and a 1959 F.B. Mondial Lusso. The bright yellow color of the KH immediately draws the eyes of those who walk in the room.
"There are many parts on this that are interchangeable with a Sportster," Prusinowski said, recalling that KH model was produced from 1954 to 1956 and that Harley-Davidson launched its successor Sportster in 1957. The Sportster continues to be built to this day.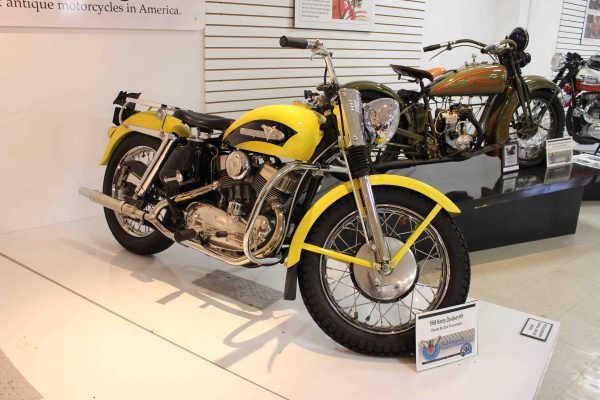 The Indian Scout warranted attention because it's a version that was built for international sale. It was originally sold in Australia where local law at the time required front and rear brakes whereas U.S. law didn't. It's also unique in that it has a front wheel stand.
The 125cc Mondial holds a sentimental attachment for Prusinowski. "Lusso means luxury in Italian," he said, prefacing the story of how he spotted the bike on eBay in Colorado. "My mom was at my house. I asked her what she thought about it. She said, 'You must buy that. It's beautiful.' I bought it and, unfortunately, she passed away a week later. She never got to see it."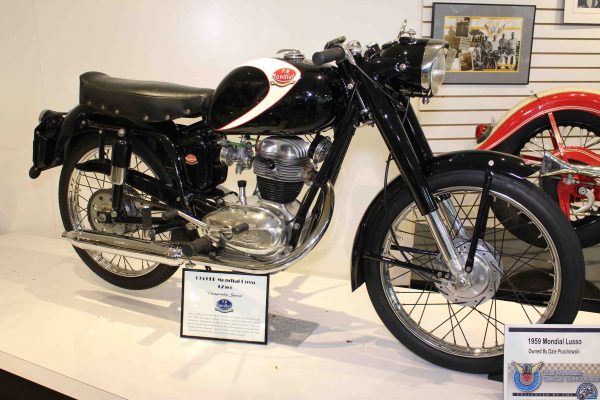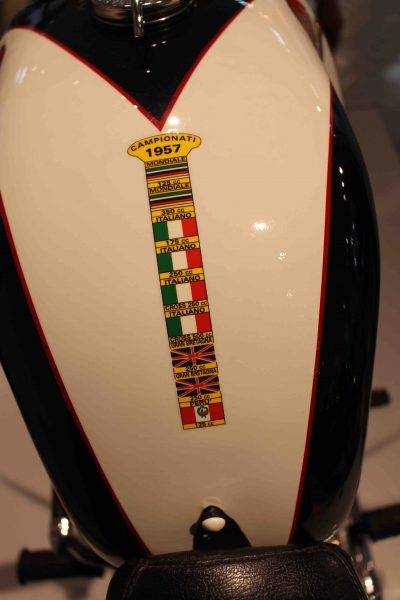 The clean-looking Lusso is adorned atop its gas tank with decals proclaiming the model's past racing success. "Mondial has a pretty good racing history back in the early '50s to early 60s. They competed with MV Agusta, and Gilera, and Parilla. This model was done in 1959 to commemorate its racing history," he said.
With hundreds of motorcycles on display, including a timeline of Indians, the Motorcyclepedia is a must-visit place for any motorcycle lover.
"For first-timers, they often say, 'It's just an unbelievable place. I can't believe I haven't heard of this before.' People are just impressed by the collection; the massiveness of the collection itself," said Prusinowski.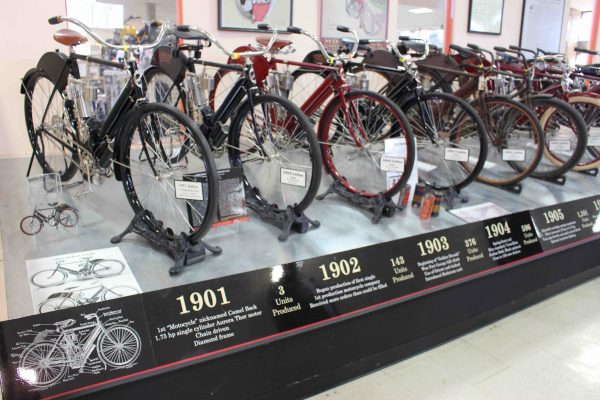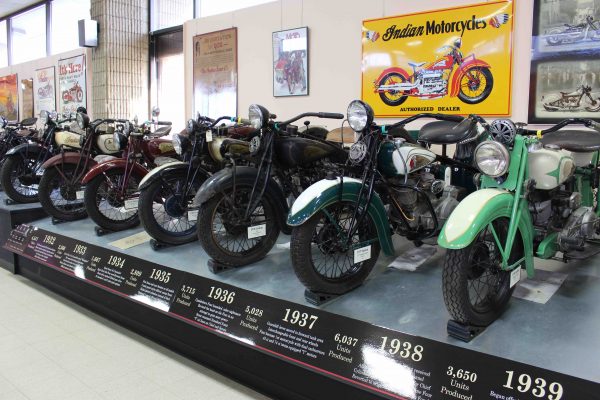 (Originally published in the "Republican-American" on Feb. 10, 2018.)