NORTH GRANBY, CT – It was 42 degrees Friday when someone in a car shouted at me, "It sure is a wonderful day for a ride." With a big smile on my face, I replied, "It sure is."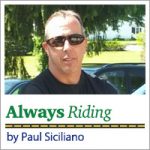 The person's motive in getting my attention was likely to get a picture of my dogs who were accompanying me in the sidecar, rather than point out the weather. Yet it somehow led me to think about motorcycles returning to the roads this year.
I ride all year long. As a result, I see things differently compared to the rider who doesn't venture out in winter. During Friday's ride, though, I passed three oncoming motorcycles – a sight I have not seen in months. Were these year-round riders or fair weather sorts who were taking advantage of a nice day?
When seeing other riders, I always take note of motorcycle brand, gear and if the rider waves back when we pass. I really watch their riding habits, too. I use what I learn in teaching Connecticut's Basic Rider Course to explain "rider character." Today only one of those three riders gave the proverbial wave back and none had any riding gear on other than a helmet.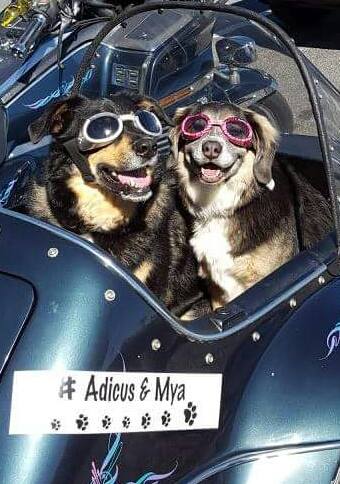 It was while traveling Route 44 thru Canton, CT that I noticed a different driver trying to capture a picture of the dogs. The driver was looking at their phone while driving and it was worrisome enough for me that I threw a blinker on and pulled into a parking lot. I often do this when riding with the dogs as I know we are a cause for distracted driving.
I always ride in a heightened state of awareness when the dogs accompany – which is often. They love the wind as much as humans do. Turning off works well and it allows me to stop to check on my riding partners.
During this stop a man on a Honda Valkyrie pulled up to comment about the dogs. He asked where we were heading, which turned out to be in the same direction. He asked if I wanted to ride together and no sooner than my saying yes, he said, "I will go slow so you can keep up."
The 10 to 12 miles that I was behind this rider I was in disbelief. This rider seemed to enjoy showing me how fast his bike accelerated over short distances. Because of his actions, he lost control not once but several times, including one time when he went so wide on a turn that he skidded in a sand/salt mix – only barely keeping the bike up.
When he came to a stop at a traffic light, he revved his bike repeatedly while looking back at me. As I stared at his balding rear tire, he pulled away, throwing the bike's rear to the left and barely staying up again. When I finally caught up to him as he was turning off, he fist pumped me and I heard the roar of his bike again as I continued past.
I am not sure if this was the rider's everyday character or whether in some way he was trying to impress me. I do know that those who saw his behavior looked at me as if I did it myself. It was the first time ever that the dogs in a sidecar did not attract smiles.
As everyone returns to the roads this spring, I urge you to not only ride safely but show "good rider character." You really are a representative of the entire motorcycle community. Coming out of winter warrants slow speeds and greater awareness as we all get our motorcycle legs again this season.