NAUGATUCK, CT – Riding a motorcycle isn't for everyone. While an estimated 85 percent of students taking the Motorcycle Safety Foundation-designed Basic Rider Course are successful, passing the course doesn't make one a skilled rider or even road-ready. That only comes with seat time and a willingness to constantly work to improve riding skills.
During my many years as a Connecticut Rider Education Program instructor, I've seen beginners who weren't ready to ride anywhere except in the training parking lot – even after passing the course.
As unpleasant as it can sometimes be to tell a student that they didn't pass the BRC, more frustrating is seeing someone pass the class who will be a hazard to themself and others the second they venture out on a public road on a bike.
BRC Offers No Guarantees
To those who fail, the reason (or reasons) is often self-evident. I counsel them that that the course and evaluation focus only on basic skills and that taking the course does not promise success, nor does it guarantee future safety. I suggest that they reflect on the class and do some serious self-assessment of whether motorcycling is something they wish to continue to pursue.
If they're determined, most times repeating the class will allow them to get past the apprehensions they may have had and build on the previously learned techniques to help them gain the skills and confidence necessary to successfully complete the course.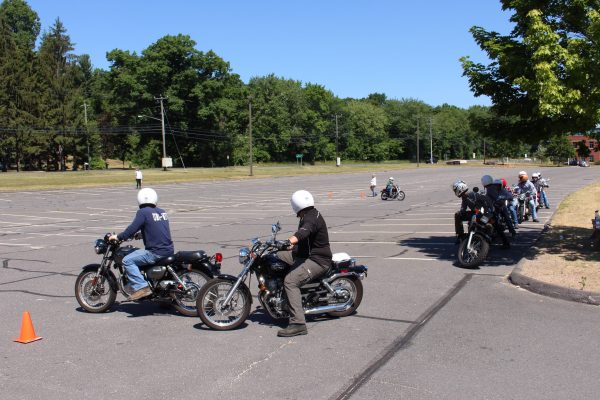 Early in my career as an instructor I had a mature, female student who had an obvious passion for becoming a motorcyclist. It motivated her to learn, even though her skill development was slower than a typical student. She failed – not just once, but twice. "Third time's the charm," she said when she was awarded her completion certificate.
My greatest personal exasperation in teaching is the small percentage of students who achieve a marginally passing score but who are not at all ready to be out on the road. These students take away a completion certificate and will be able to receive an "M" endorsement, but the professional in me knows that gaining additional experience by retaking the beginner course is what is really needed.
Some Students Have A Hard Time
Recently, I had a student who had a great attitude and desire to learn. However, beginning with the first riding exercise, I observed that additional coaching and encouragement would be necessary. This continued throughout the course. By the end, the motorcycle was still controlling the rider, not the other way around.
The student's significant apprehension resulted in mistakes being made during the evaluation, followed by emotional outbursts and long hesitations. This was clearly a student not ready to mingle with traffic, yet to my surprise a marginal passing grade was attained.
During private consultation after the course, my teaching partner and I noted the student's shortcomings to the student and cautioned against interacting with traffic for a while. While this conversation didn't change the passing grade, the goal was to convince the student to continue to self-assess beyond the course.
This isn't being harsh; just honest having observed and evaluated the student.
Riding a motorcycle isn't for everyone, and there are some riders who have no business being on two wheels.