By Steve Smith
NAUGATUCK, CT – You've been riding for a while. You're no longer a fresh-from-class "newbie," rather a novice street rider with some actual seat time. In progressing from novice status to being an experienced rider, though, it's easy to become complacent and to forget to apply the knowledge and skills previously learned.
The way to prevent this from happening is to participate in different types of rider training once in a while. Not everyone has the time or budget for annual experienced rider training. One thing we all can do is put a little effort in each time we ride. Practicing the reactive and proactive knowledge and skills previously learned may help reduce the risk of a crash.
Reactive Skills…
Reactive skills are the ones used to avoid an immediate hazard. Most often these are physical skills. Braking is one reactive skill set that comes to mind where important concepts are forgotten or skills are not refreshed often enough.
Practicing quick stopping is what many riders think of first. Practice should also focus on threshold braking – a technique using progressive front brake pressure and controlled rear brake application that provides maximum braking with both wheels without locking either one.
If braking skills are not practiced often enough there is a chance that rider panic can lead to over-braking and a wheel lock-up.
Front wheel lock-up leads to total loss of control. Immediate release of front brake may allow the rider to recover once the wheel begins spinning again.
Rear wheel lock-up results in loss of steering ability. It is important to remember not to release the brake in a rear wheel lock up on a road with good traction because there is significant danger of a high-side crash.
Proactive Skills…
Proactive skills are the ones used to reduce risk, and possibly avoid the need to use reactive skills.
It begins with seeing and being seen. Looking well ahead can help riders identify potential hazards before they become situations that require reactive skills to be used.
Develop and use 360-degree awareness. Learn to look for potential traffic traps so you can react properly. Do what you can to be more visible in traffic. Choose lane position appropriately so that other roadway users can see you and you can see potential hazards. Wear bright-colored and retro-reflective gear to stand out from typical traffic.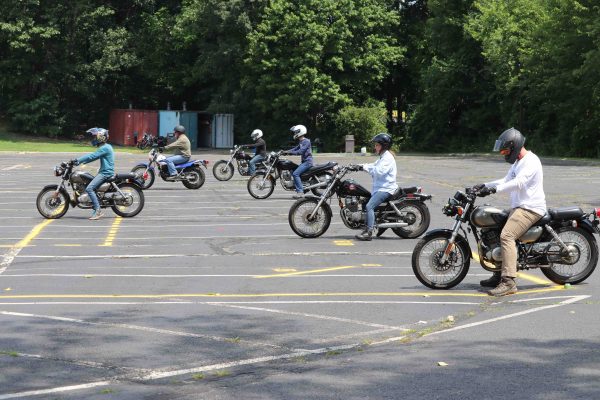 Is it better to focus on proactive or reactive skills?
John Purdy, the motorcycle training coordinator at Naugatuck Valley Community College, has the perfect comment on this, "A great rider uses their superior strategies in such a way that they almost never need to use their superior riding skills."