For satire to be effective, it must be imaginative yet plausible. A shocking story last week on the new website "2 Stroke Chronicle," which boldly promises "The Latest Motorcycle News" but doesn't actually offer any real news, has generated laughs. It has also possibly fooled some less-than-attentive riders who've stumbled across it.
A link was sent to RIDE-CT & RIDE-New England on Monday to a story that claimed a fraternity member at Boston University accidentally rode a Harley-Davidson electric LiveWire model into a swimming pool. The frat boy was said to be trying to jump the pool on "a poorly constructed ramp made of pool chairs and beer cases." Instead, it said he electrocuted 69 of his frat brothers.
The story suggested that the swimming pool was located at the fraternity house but failed to mention the fraternity by name. That had RIDE-CT & RIDE-New England smelling a set-up. Frat houses don't routinely have swimming pools and, if they did, the pool chairs would likely be at the bottom of the pool.
The story went on to report that the pool was "filled with fellow frat students: 30 Kyle's, 24 Brad's, 13 Chad's and 1 Keith," another huge clue that the story was fake. No nicknames? My fraternity had a "Smasher," a "Moon Dog" and several others.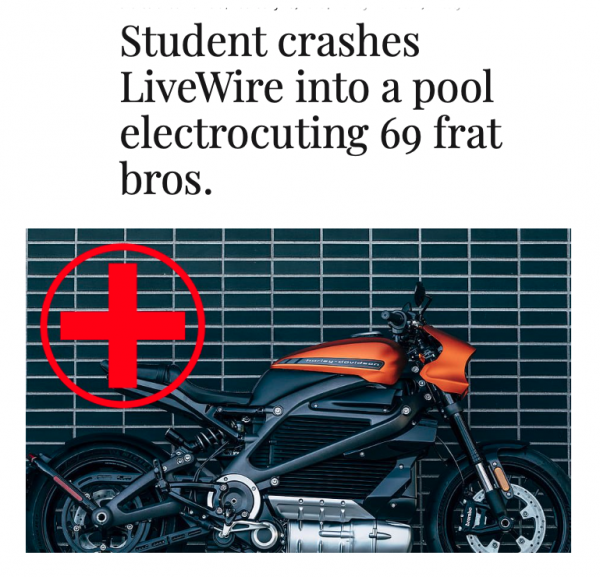 A quick check of the legitimate websites of the "Boston Globe" and "Boston Herald" newspapers as well as the BU student newspaper "The Daily Free Press" failed to confirm the story, effectively confirming the bogus nature of the story.
Further study of "2 Stroke Chronicle" revealed some fine, fine print on the website's "Hate Mail" page that reveals it's a "news satire and parody publication" and that all articles "are fictitious and should not be taken as truth."
Other recent stories claim "Harley-Davidson offers counseling to riders thinking they're the Sons of Anarchy" and "Yamaha sued by KitchenAid after leaked documents show they plagiarized sound for V-Star."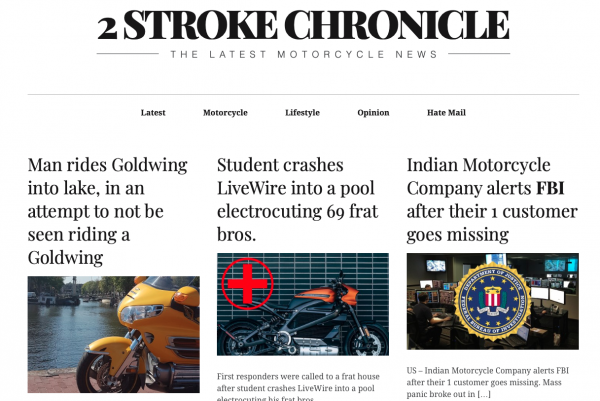 The ".ca" suffix on the website suggests that it's based in Canada. An email sent this morning to the website seeking info on its origin and goals had not garnered a response by late this afternoon.
RIDE-CT & RIDE-New England also contacted the Boston University Police Department. Spokesman Colin Riley said his department was unaware of the spoof, and added that none of the fraternities at BU have that many members.
One final tipoff that the story was false? What debt-laden college kid can afford $30,000 for a LiveWire?
Hello! If you enjoyed this story, please click on one of the social media buttons below and share it.