TERRYVILLE, CT – Wet weather put a damper on the Yankee Chapter of the Antique Motorcycle Club of America's first-ever National Meet at the Terryville Fairgrounds a year ago, but Mother Nature is cooperating this weekend, which resulted in a large opening day turnout on Friday.
"I'm ecstatic," said Ted Smith, president of the Yankee Chapter, reporting that 100+ vendors had arrived and set up by late morning. "We have a greater variety," he added.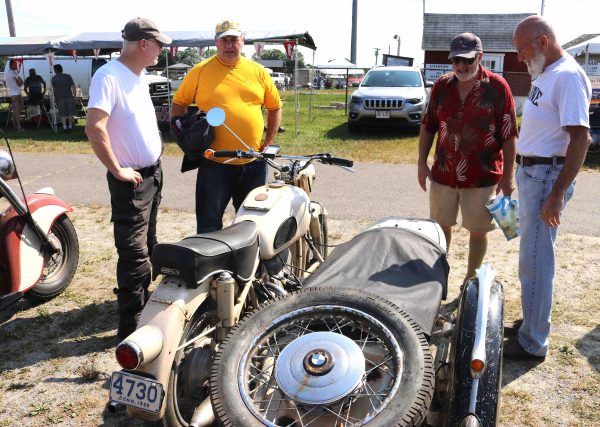 The meet is part show and part swap meet, and is great place to see and even buy rare vintage motorcycles. Smith said vendors have come from as far away as South Carolina. They've brought thousands of parts and countless bikes.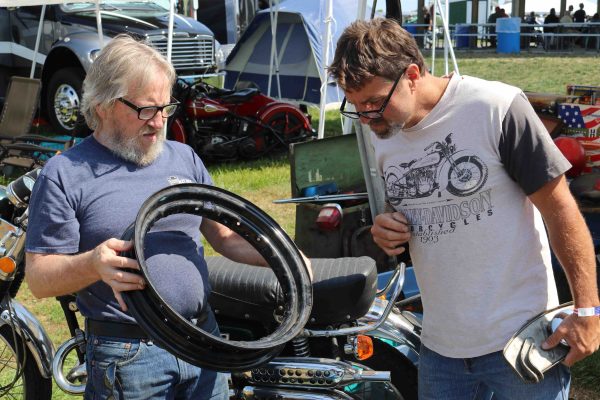 "This is a big draw," said Smith. "Tomorrow's our big day. Today's it's people who are genuinely looking for stuff."
Collector Dave Wasserman of Morgantown, WV had two vintage motorcycles for sale today. A mostly original 1941 Harley-Davidson FL for $55,000 and a 1973 Harley-Davidson FLH Custom for $9,500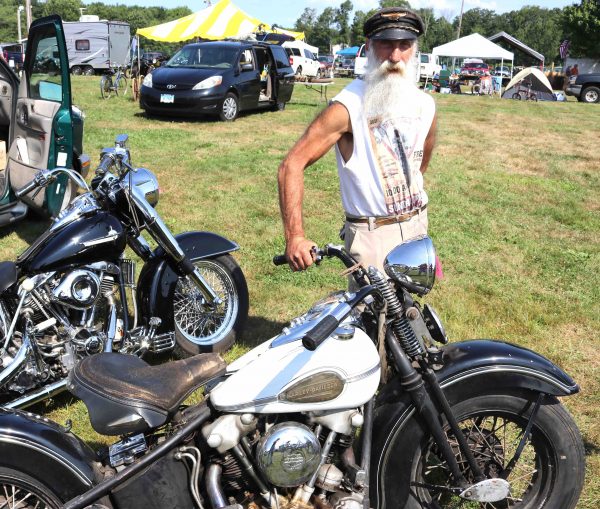 "I'm not a wrench. I'm a picker," said Wasserman as he showed off his bikes. He reported that the '73 FLH is the newest Harley-Davidson that he's ever owned.
Walking the show grounds, it was hard not to do a double-take for two reasons:
The quality of some of the old bikes, such as a old Cleveland, manufactured by a company that went out of business in 1929.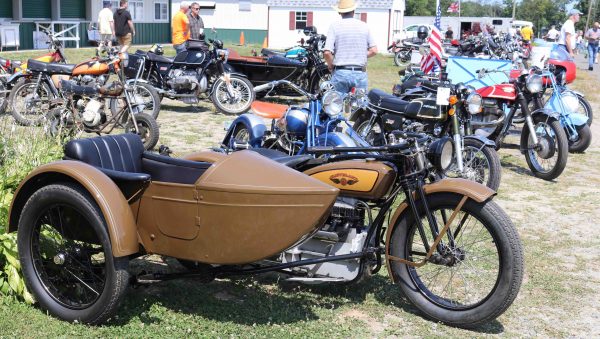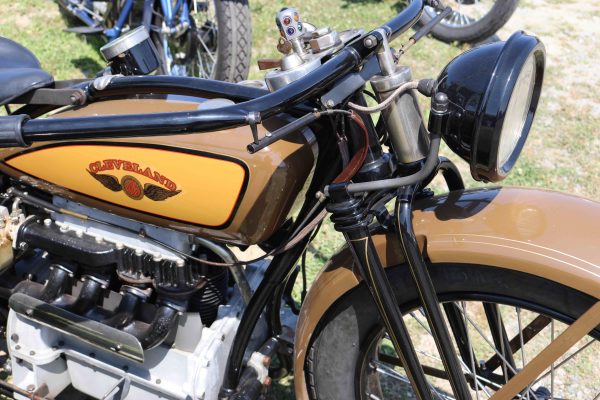 And because bikes had a way of moving around – some ridden by their owners and others sold at one spot on the show ground only to pop up somewhere else with a new price tag. That was the case with an antique Velocette.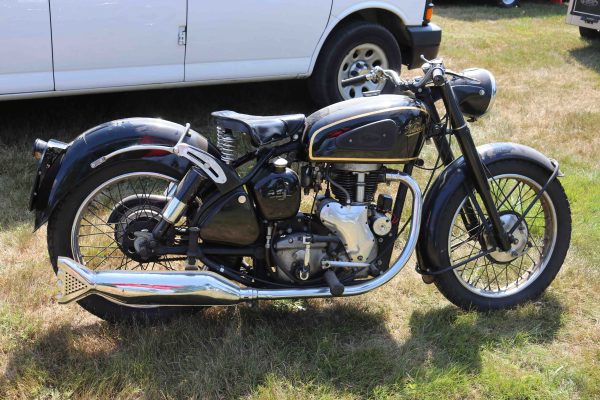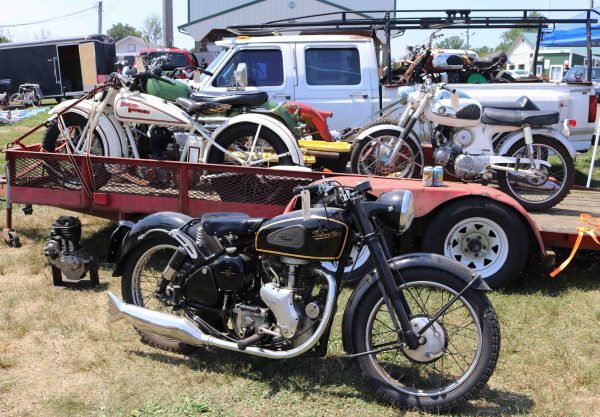 Selling vintage license plates was Gerry Griffin who operates the New Hampshire License Plate Museum in Mount Vernon, NH, who reported owning at least 100,000 car and motorcycle tags. "It's a crazy hobby. It's a disease," he said. "I was exposed to it when I was about 16."
He said he recently purchased a large batch of plates that included 2,000 from Connecticut. His prices range from $5 to "up to thousands."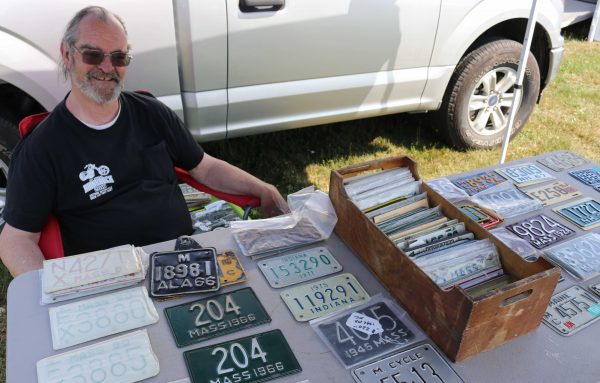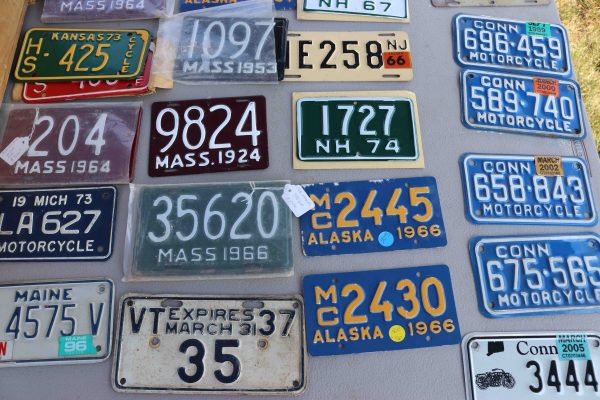 Prior to relocating to Terryville last year, the Yankee Chapter's National Meet was held in Hebron, CT. The inaugural event in Terryville was a bit of a washout, resulting in less money than usual being donated to charity, but Smith was confident this year's show will do well.
Asked what he learned from last year's show, he replied, "Pray for good weather, and evidently the weather gods listened."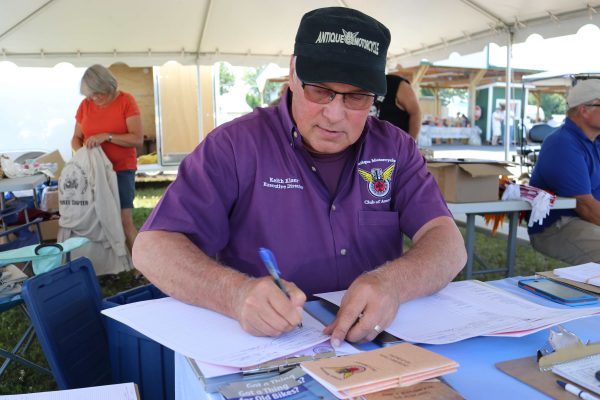 On hand for the event is Keith Kizer, executive director of the AMCA. In addition to offering vendor tables and tents and judging of the old motorcyles, the Yankee Chapter also hosts a dinner and stages a fun run of old bikes. More than 20 went out for a 40-mile loop around Litchfield County on Friday afternoon.
Here are some more pics of opening day: