WORCESTER, MA – Sheldon's Harley-Davidson in neighboring Auburn, MA, has stepped forward and apparently rescued the Miss Worcester Diner from a trademark infringement claim made by Harley-Davidson against the diner for a two-year-old mural atop the eatery's entrance.
"We can finally put this whole thing to rest now," wrote diner owner Kim Kniskern in a Facebook post Tuesday afternoon. "Sheldon's is now the proud sponsor of the sign. The sign stays!!!!!"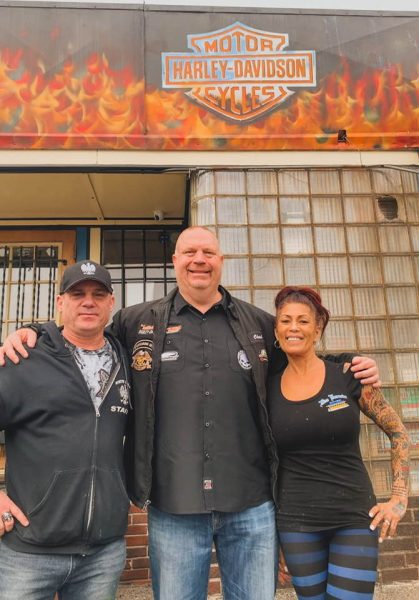 It was last Thursday that Kniskern received a polite but firm cease and desist letter from Harley-Davidson asking that the mural displaying the company's bar and shield logo on a bed of flames – hand-painted on an air conditioning duct by artist Tony Freitas – be removed.
Harley-Davidson Protected Its Turf
In the letter, the company's Jesse Johnson stated, "While Harley-Davidson appreciates your enthusiasm for the brand, I hope you can understand that we must be diligent in protecting our trademark rights, including the policing of unauthorized use."
Since news of the letter became public support for the diner and its mural from riders and backlash against Harley-Davidson has been vigorous. Media coverage has extended as far away as Australia.
"Thank you for all the support and love," wrote Kniskern in her Facebook post. "I'm very blessed to have so many people on my side." She added that Sheldon's logo will be added to the sign by Freitas as soon as the weather gets warmer.
RIDE-CT & RIDE-New England has left a message seeking comment from Sheldon's Harley-Davidson co-owner Chad Clark on how the deal with the Miss Worcester Diner came about.
Some Questions Still Not Answered
One unanswered question is what fallout there might be from adding Sheldon's name to the mural. While the mural as originally conceived might be considered an homage to an iconic brand and simply artwork, the addition of a dealer name might conceivably transform it into a commercial billboard that would be forced to adhere to Worcester's zoning regulations.
RIDE-CT & RIDE-New England has contacted the City of Worcester to determine the mural's status.
(Update: Mike Vigneux, city media relations specialist, reported Thursday that the addition of Sheldon's name won't change the zoning status of the mural. )
Harley-Davidson was also contacted to see if Sheldon's Harley-Davidson's participation in the mural satisfies the company and whether it conforms to company guidelines for intellectual property. "We remain without comment on the situation," said company spokeswomen Jen Hoyer.
Updated at 5:19 p.m. Feb. 5, 2020