SOUTH WINDSOR, CT – A proposed town ordinance that, if enacted, would punish dirt bike, ATV and snowmobile riders as well as others for operating their rigs on public and private property is causing a stir in the motorcycle community; and well beyond the town's borders.
As requested by Mayor Andrew Paterna, the ordinance "Concerning Public Nuisances Affecting Public Health and Safety" would essentially prevent the operation of unregistered motorized vehicles, other than farm tractors or riding lawn mowers, on "public property or private residential property or non-residential private property within 2,000 feet of a residential property line."
The penalties for violating the ordinance would be a $750 fine for the first offense, $1,000 for the second offense and $1,500 for the third offense. A fourth violation would result in the town confiscating the owner's vehicle and auctioning it off.
The wording of the proposed ordinance was posted Friday on the Facebook page of New England Motorcycle Museum founder Ken "Kaplan America" Kaplan, but is not easily detected on the town's website and has not been confirmed by RIDE-CT & RIDE-New England.
Meeting Tonight To Discuss Proposed Ordinance
The proposed ordinance will be discussed at a regular meeting of the Town Council at 7 tonight at South Windsor Town Hall. A large crowd is anticipated, spurred by social media efforts made over the weekend by Kaplan, who is protesting what he views as a draconian ordinance.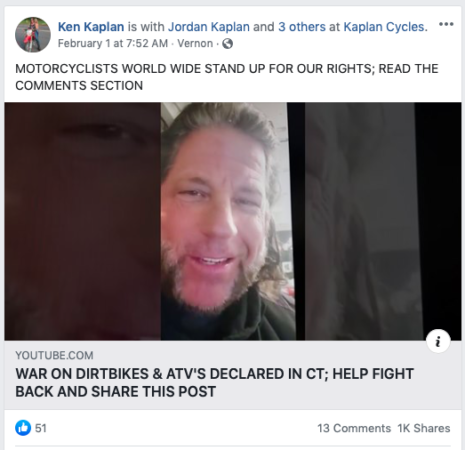 "This is an emergency situation for motorcycle owners," Kaplan declared in a Facebook post Friday. "I need every red blooded patriot that rides a motorcycle to show up Monday night."
Over the weekend, Kaplan continued a Facebook tirade with other posts. Kaplan's museum is located in Rockville, CT, which is just east of South Windsor.
Video, Petition Oppose Proposed Ordinance
In an accompanying YouTube video that has been viewed more than 30,000 times since Friday, Kaplan rails somewhat disjointedly, "I'm not sure who the asshat who decided this was a good idea, but if you like motorcycles and you want to able to continue riding them, if they pass this in South Windsor, rest assured it's going to come to your town."
Meanwhile, a petition opposing the proposed ordinance has been posted on change.org and has been signed by more than 11,000 people as of 10 a.m. today.
The presumed purpose of the proposed ordinance is reduce disruptive, intrusive noise produced by dirt bikes, quads and other vehicles, especially in residential areas.
RIDE-CT & RIDE-New England has emailed South Windsor's mayor seeking comment.