There are many who are all-year riders here in New England, but many wait for spring to bring their motorcycles out of hibernation. Experienced riders know it's a good idea to perform an inspection and possibly some servicing of the bike prior to each ride, especially the first time the bike will be ridden at the start of the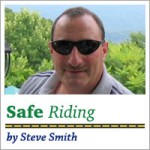 season.
A basic inspection is fairly straight-forward. Anyone can learn to do it at home. The Motorcycle Safety Foundation has a T-­CLOCS Inspection Checklist on its website.
 T-CLOCS stands for Tires and Wheels, Controls, Lights and Electrics, Oil and other fluids, Chassis, and Stands.
The one thing many riders forget is to tune up themselves. Riding skills need a spring tune-up as well because it can be up to six months since the bike was put away for the winter sleep.
Most rider education programs offer experienced rider courses that can help riders get a much needed spring skills tune-up. It is well worth the time and money to get a day of professional coaching and skill development. I promise you will come away with learned and practiced skills.
Another option is to find an empty parking lot to practice in. The parking space markings can be used as rough measurement marks to set up the practice area. On average, parking spaces are around 10 feet wide. Brightly-colored tennis balls can be cut in half and used as markers for the practice.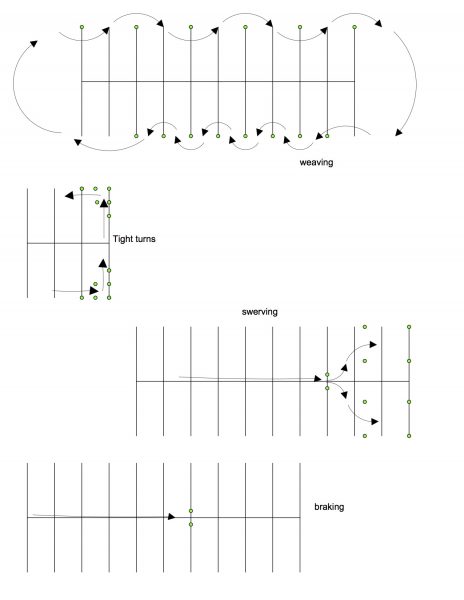 Focus practice on basic riding skills such as turning, braking, and swerving. At first, practice each of these alone, then consider combining them together, if possible in the space you have.
Basic turning can be practiced using a weave pattern:
Use six to eight markers set up in a straight line every two spaces (20'). Begin weaving to the right of the first cone and left of the second, and so on.
Use eight to 10 markers set up in a straight line every one space (10'). Begin weaving to the right of the first cone and left of the second, and so on.
Work on slow, smooth and steady speeds through the weave. Keep head and eyes up, and look ahead not down at the markers.
Tight turns can be practiced setting up an "L":
Use six markers set up as shown for a four-foot-wide "L" and practice riding in both left and right directions. Practice both sharp turns with and without stopping before the turn
Swerve maneuvers can be practiced by setting up an obstacle avoidance, providing left and right escape paths as shown in the diagram.
Approach 12-15 mph and practice swerving in each direction.
Braking skills are practiced with a straight-line practice area with marker cones designating the place to begin braking as shown in the diagram. Practice a normal stop and quick stop in a straight line. The markers may be altered to practice a normal stop and quick stop in a curve.
Approach 12-15 mph and practice stopping when front tire passes through markers. Note the stopping distance and work toward shortening stopping distance.
These drills will better prepare you for the riding season ahead.