STAMFORD, CT – This shoreline city in Fairfield County will soon have a new motorcycle dealer when Riley Motorcycles opens and begins selling Ducati, Husqvarna and KTM models at 747 E. Main St.
"Yes, we purchased the rights to the franchises," Jameson Riley confirmed in an email Thursday. Riley is general manager of Riley Volvo Cars in Stamford. His family also owns Riley Mazda and Riley CAKE Bikes. 
The bike brands are shifting to Stamford from exiting dealer MotoFIT in Danbury, CT. 
"We will be opening our store for sales, service, and parts in the next month or so," Riley wrote. A grand opening event is planned for next spring.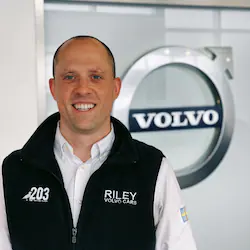 References to the Ducati, Husqvarna and KTM brands have already been removed from MotoFIT's website. Websites for the manufacturers no longer list MotoFIT as selling their products, but have yet to add Riley Motorcycles.      
MotoFIT's website now only shows scooters made by Kymco and trailers built by Haulmark as being sold at the store at 10 Mill Plain Road. The store is open only "by appointment."
MotoFIT, owned by Michael O'Mahony, has been shedding brands for the past five years and has even tried to find a buyer for the property. A real estate listing in January 2021 had an $895,000 asking price for the .21-acre parcel with a 2,160-square-foot building.  
MotoFIT sold its Aprilia franchise to Moto Guzzi dealer Hamlin Cycles in Bethel in 2018. Hamlin later dropped Aprilia citing lack of sales. Kawasaki moved down the street to Danbury Powersports in spring 2021.
While motorcycles represent a new direction for the Riley family, they do already sell two-wheel models – CAKE bikes from Sweden. They are high-performance, electric models. 
Colonial Power & Sport Adds Royal Enfield
Meanwhile, Colonial Power & Sport in Milford, CT has been expanding its brand lineup in recent months. What began nearly two years ago as only a KTM dealer is now also selling Husqvarna, Can-Am and Royal Enfield models. 
Colonial Power & Sports added Royal Enfield roughly two months ago, becoming the fourth dealership in Connecticut.