SPRINGFIELD, MA – It's often the case at motorcycle shows that unique or interesting models can be found in the parking lot as well as on the show ground. That was true last weekend at Indian Day at the Springfield Museums where a rare, modern-day 2000 Excelsior-Henderson Super X was spotted.
Owned by Steve Clarke of Holyoke, MA, the Super X was one of a reported 1,950 units produced for the 1999 and 2000 models years by the revived Excelsior-Henderson before it went belly up.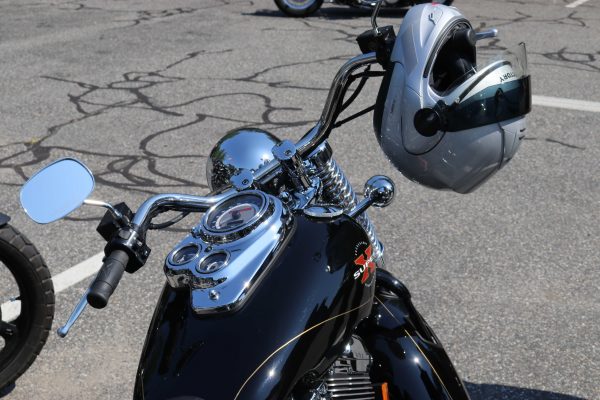 Amazing, the Super X only had 909 miles on the odometer.
Clarke spotted the Excelsior-Henderson on Craigslist and bought it four months ago out of Burlington, VT. "I'd put it in my living room, but I'm afraid it would fall through the floor," he said, explaining that he already has a Kawasaki W650 on display there.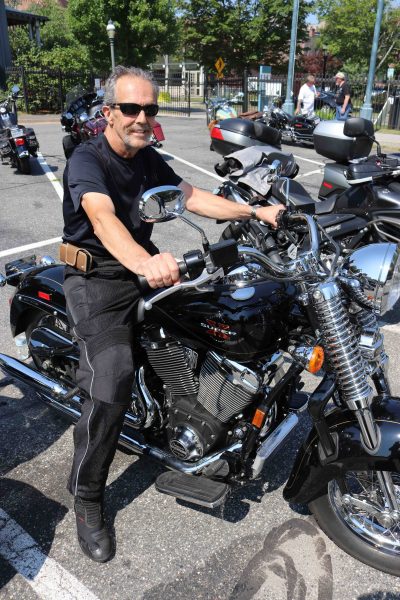 "It's a dream. It's beautiful," said Clarke of his rare ride. And that it is. A most noticeable feature is the "unique anti-dive front suspension."
The belt-driven Super X is powered by a 1,386cc (75-cubic-inch) V-twin engine. It has a five-speed transmission and weighs in at 755 pounds (dry).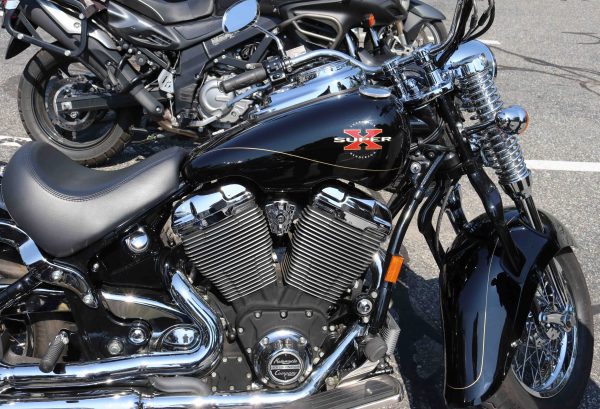 The Super X had an MSRP of $17,950, although Clarke only paid roughly one-third that amount for it.
The original Excelsior company operated in Chicago from 1907 to 1931. It was purchased by bicycle manufacturer Schwinn in 1912 and absorbed Henderson in 1917.
By the end of the 1920s, it was the third largest motorcycle manufacturer in the U.S. behind Indian and Harley-Davidson. Its Super X model debuted in 1925 with a 737cc (45 cubic inch) V-twin.
It was the Great Depression, though, that prompted Schwinn to suddenly shut down the brand in 1931.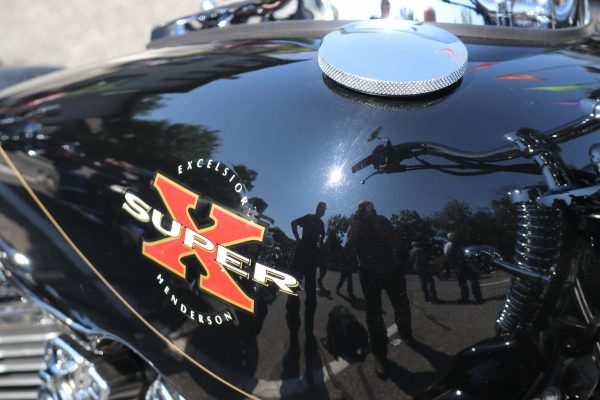 It wasn't until Christmas 1992 that an idea surfaced to revive the Excelsior-Henderson brand, followed by the founding of Hanlon Manufacturing in Minnesota in 1993 by Dan Hanlon, joined by brothers Dave and Terry, and Dave's wife, Jennie.
Eventually, Hanlon's Excelsior-Henderson company built a 160,000-suare-foot plant in Belle Plaine, MN. It had a production capacity of 20,000 motorcycles a year.
The company's website is still active and its full history can be found here.