FALLS VILLAGE, CT – A lot of decision-making is involved when Wayne Olson of Tillson, NY decides to go for a ride. Will he ride an old bike or a new one? Will he ride an American-made cruiser, a classic British bike, or something more sporty from Italy or Japan?
Olson owns six motorcycles. For him, riding is a case of decisions, decisions, always decisions.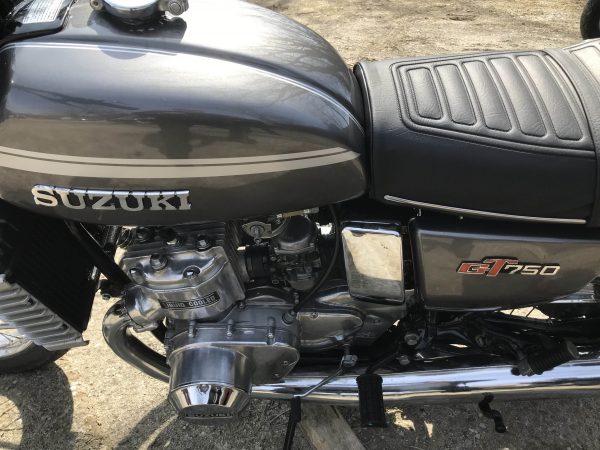 When RIDE-CT & RIDE-NewEngland first met him in mid-May 2015 at Toymakers Cafe here, he was riding a dark green 1970 Norton 750 Commando that he'd restored. On Sunday, he showed up at the same spot on something very different – a 1975 Suzuki GT750.
Other riders seated at the picnic tables immediately noted the arrival of the "Water Buffalo" as it was a landmark model back in the day. Introduced in 1971, the GT750 was a water-cooled, three-cylinder, two-stroke, sport touring model that lasted until 1977.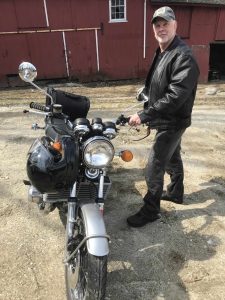 Olson acquired the GT750 last May and set about to restoring. "It was up in Albany. It was in pieces. It needed to be gone through completely. I did a complete rebuild of the engine, Powder-coated the frame," he said.
The rehab took six months. Parts were hard to find, but he managed to get good advice from Water Buffalo enthusiasts in Georgia and Ontario. He bought it "just because they're unique. When I was a kid, I never would have considered owning one. What was a 1970s ugly duckling is kind of in demand."
While the acquisition was inexpensive, Olson has spent some bucks in getting the Suzuki looking good. "I did just buy a new exhaust system for it," he said, putting the price for the new pipes at $1,350. He estimated that he has $2,500 to $3,000 in the GT750 total.
The ride on Sunday was its first long adventure. "This was kind of like a maiden voyage. I think I've put about 300 miles on it," Olson said.
Also in his garage is the 1970 Norton, a 1967 Triumph Bonneville, a 1984 Kawasaki Ninja, a 2000 Moto Guzzi V11 Sport and a 2016 Harley-Davidson Road Glide Special. "The herd is growing," he said.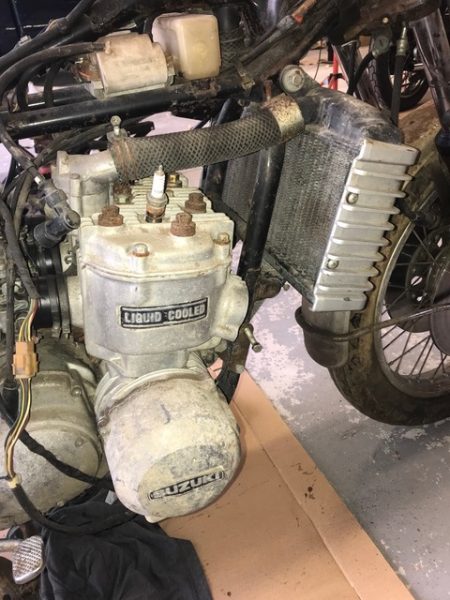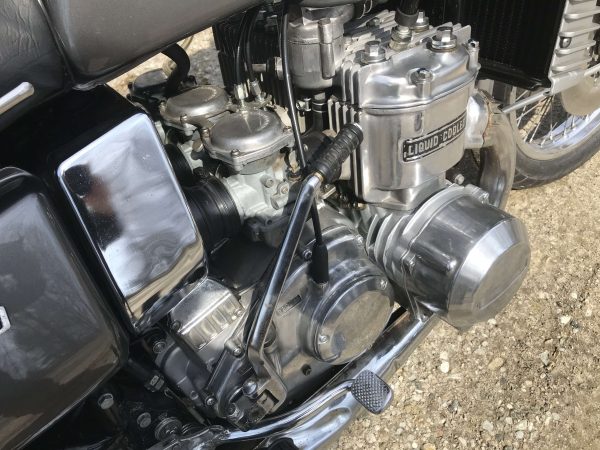 Besides re-doing the Norton and the GT750, Olson has also restored and sold a 1970 BSA Victor. He has the time as he retired as a major in the New York State Police in the fall of 2016.
"I've always been a bike guy," he said. "The joke around the house is that there's always room for one more. If I get one more, there will be one for every day of the week."