BRIDGEPORT, CT – It's a four-team tournament showcasing Connecticut's Division 1 college hockey squads, and "Connecticut Ice" offered some exciting action over the weekend at the Webster Bank Area. Quinnipiac University won the trophy, topping UConn on Sunday in a tightly-contested championship game by a 2-0 score.
Connecticut Ice is the state's answer to Boston's Beanpot, which will be staged for the 69th time next month at TD Garden. First staged in 2020, and canceled in 2021 due to COVID-19, Connecticut Ice is still in the toddler stages of development. Having attended both times, though, I've come away with some impressions.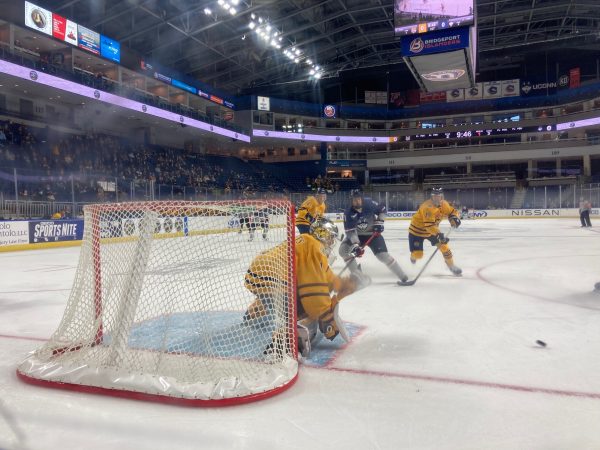 Here are the takeaways:
The quality of play is fantastic. This year's final between Quinnipiac and UConn was fast-paced and aggressive. Scoreless through two periods, and with an empty net goal sealing the win for Quinnipiac in the third period, the game featured stellar goaltending, too.
The modest crowd size was perhaps what was expected considering Connecticut Ice is still a new event and the fact that there was a blizzard on Saturday for the opening games. I have to believe that the event will eventually grow from half-filled to the point where raucous, sellout crowds are routine. Having seats on the glass made the games even more fun.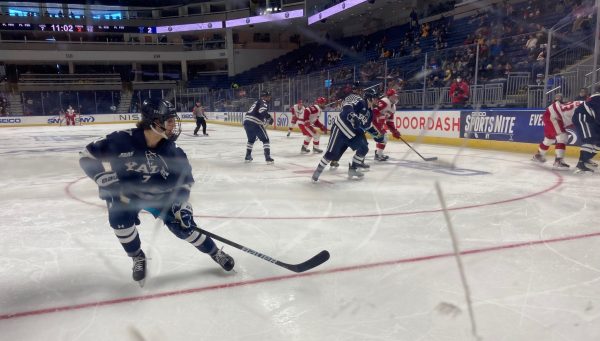 Getting to see a hockey doubleheader – Yale and Sacred Heart played in Sunday's consolation game with Sacred Heart winning 4-3 – is a rare treat for any hockey enthusiast. Being on the glass really drove home how fast-paced the game is at this level.
While there were signs and P.A. announcements reminding spectators to wear masks at all times – whether in food areas or in the bowl – too many folks ignored them, potentially turning Connecticut Ice into a super spreader event. There was no mask enforcement of any kind. Disappointing.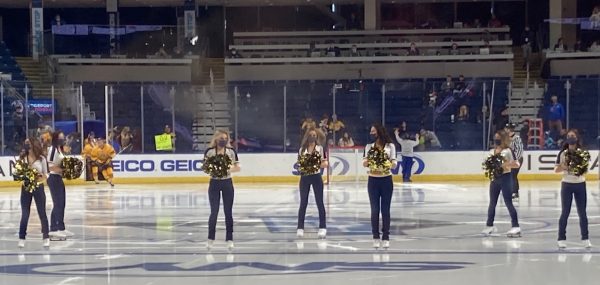 On a brighter note, there were cheerleaders on skates. While I tend to view coeds (talk about an outdated word) in tight sweaters as being an anachronism and borderline sexist, seeing them on skates was, well, a treat.
When it came to food, Webster Bank Arena was a high-priced disappointment. Yes, there was a wide selection of craft beer (another Naughty Nurse, please!), food options were more limited and pricey. A slice of pizza for $7.50? Really? I'm fearful of pulling the receipts from the pockets of my jeans and seeing how much I actually spent yesterday.
Parking cost $10, which is pricey as well, although I suppose you say it only cost $5 per game. Lacking in the parking garage adjacent to the Webster Bank Arena were any charging stations for electric vehicles, which my game-mate happened to be driving. This needs to be rectified sooner rather than later.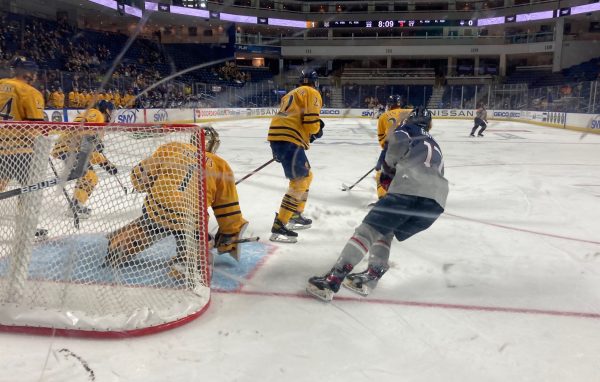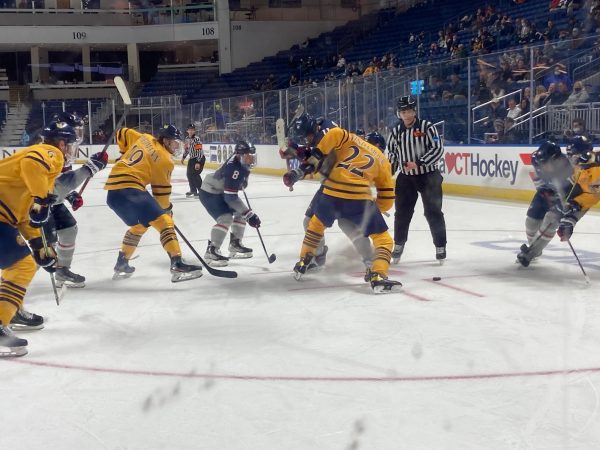 Getting back to the hockey, UConn's uniforms are atrocious. Ugly and embarrassing is being too kind. Mostly a drab gray with dark blue pants, they feature tacky reflective numbers, while the stripes on the jerseys and socks are narrow and weak. They don't even look good enough to serve as practice jerseys and need to be replaced.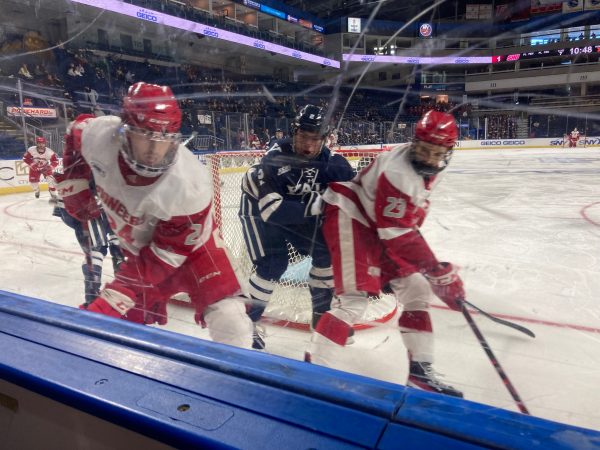 The same can't be said of the other teams' unis. Yale's blue with white accents are traditional and classy. Sacred Heart's that mix red and white are eye-catching and subtle, too, while Quinnipiac's that emphasize gold simply pop. Woe is UConn.
Also needing an upgrade is the event logo. It's simply boring and not prone to making customers fork over their credit cards for event gear. For that matter, why not a catchier name for the tournament. "Beanpot" is memorable. "Connecticut Ice" isn't.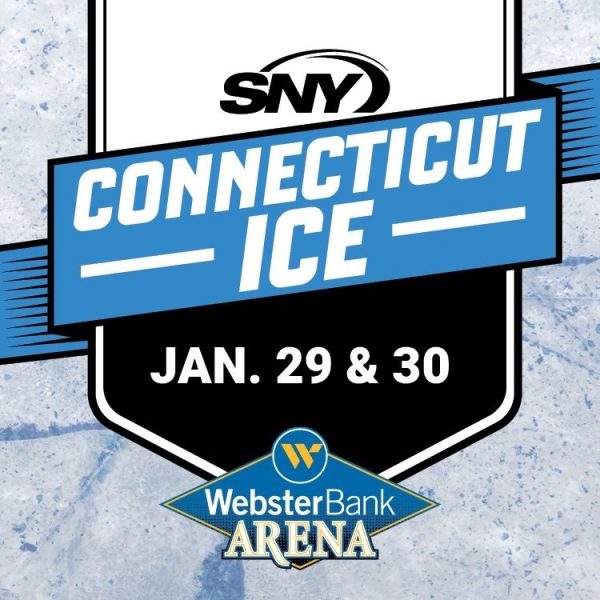 Another big gripe about the games were the interminable TV time outs. SNY is the prime sponsor of Connecticut Ice and televised both games. Stoppages for commercials were too frequent and too long.
Regardless of the complaints, the on-ice action at Connecticut Ice was more than worth the price of admission. Here's hoping it grows into a must-attend, packed event. Can't wait to go back next year. One final suggestion: Perhaps it could be rotated between Webster Bank Arena and the XL Center in Hartford. A change of scenery would be nice.